Lake County hospitals receive statewide recognition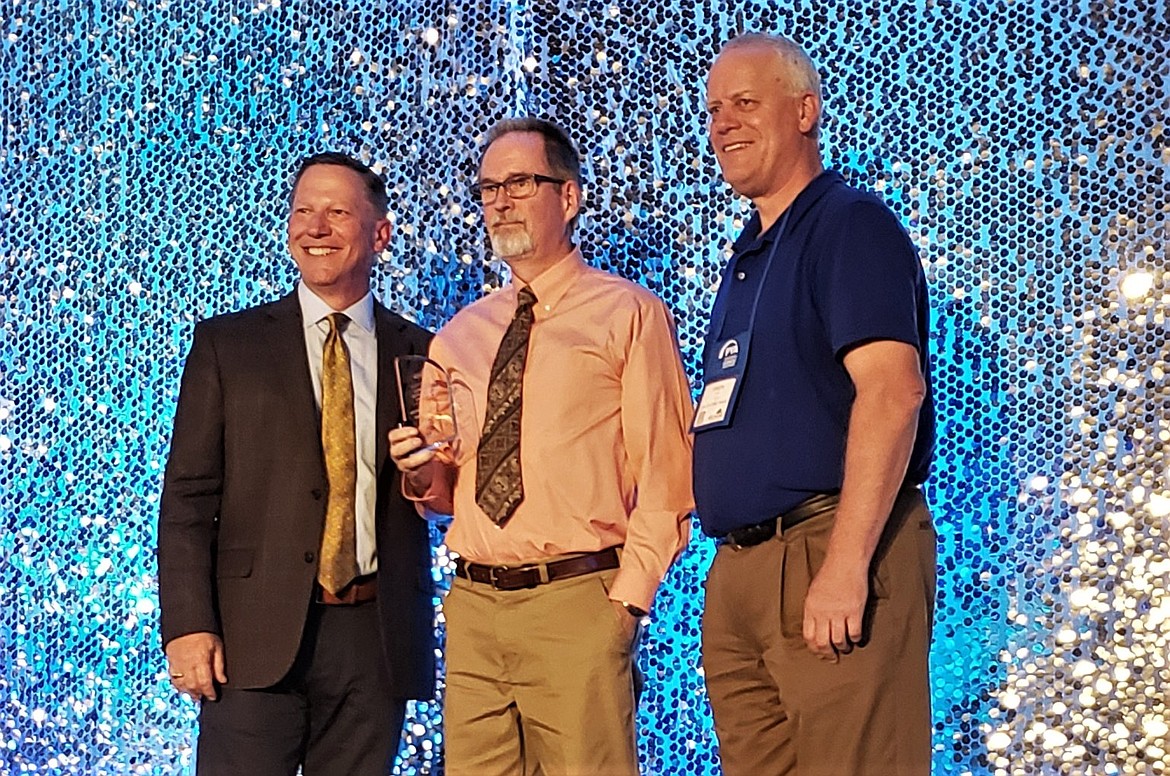 Marion Cooper, center, was awarded Montana's Caregiver of the Year award by the Montana Hospital Association. (Courtesy of St. Joseph Medical Center)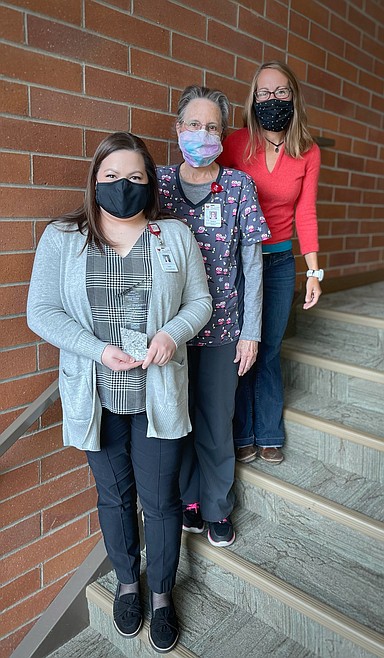 Front to Back: Carly Ryther, Quality Improvement Coordinator; Deb Thompson, EVS Department Manager; and Jill Pennington, Case Manager at St. Luke Community Healthcare. (Courtesy of Whitney Liegakos)
Previous
Next
by
Lake County Leader
|
October 14, 2021 12:30 AM
Providence St. Joseph Medical Center in Polson and St. Luke Community Healthcare in Ronan recently were honored with 2021 Montana Hospital Association service awards at the annual Montana Healthcare Conference and Trade Show in Billings. Each hospital received two major awards.
St. Joseph Medical Center received the Leadership in Quality and Patient Safety award, and the Caregiver of the Year award, given to Marion Cooper, director of the assisted-living facility.
St. Joe's was recognized as the top hospital in the state in quality and patient safety for their multidisciplinary infection prevention plan, which resulted in five years and five months without a case of hospital-onset C. difficile infection. C. difficile is the single most common pathogen responsible for healthcare-associated infections in the United States.
"St. Joseph has some of the best quality scores not only in the state, but in several categories within the Northwest region," Chief Operating Officer Devin Huntley said. "The great thing about the recognition is that it doesn't just belong to our nurses and physicians. This award reflects amazing dedication and teamwork by every caregiver in this facility, [from] housekeeping doing such a great job cleaning and keeping infection rates low, to our facilities crew keeping our HVAC systems running in peak condition, to our kitchen staff serving delicious and diet-appropriate meals. I just couldn't be prouder of every single one of our caregivers."
Cooper was named Caregiver of the Year. His preemptive actions at the center resulted in not only zero COVID-19 deaths but zero COVID-19 infections within the assisted-living facility for 18 months, according to an award announcement.
"This is a remarkable feat. We all watched extended care facilities across the nation as they were literally ravaged by the covid virus," Huntley said. "Out of the thousands of caregivers in Montana, St. Joseph caregiver Marion Cooper was bestowed this award. I can't begin to tell you how meaningful this award was to Marion personally, but also to the residents and their families that have undoubtedly lived much of the last year and a half in utter fear. Marion and his team kept their residents entertained, happy and safe — exactly what our most vulnerable and precious treasured residents deserve."
St. Luke Community Healthcare was awarded the Montana Rural Healthcare Performance Improvement Network's Quality Improvement award, and the Quality Program of the Year award.
The performance improvement award was for the St. Luke team's work on reducing 30-day readmissions as part of a Quality and Patient Safety Fellowship Project.
"St. Luke has demonstrated a commitment to its community and the region it serves through its involvement with the MT Rural Healthcare PIN," stated the award announcement.
The Montana Rural Healthcare Performance Improvement Network (PIN) is a voluntary membership of 49 critical access hospitals throughout the state. Through the network, member hospitals are able to benchmark their performance with their peers on a variety of financial, utilization and direct patient care measures that encourage safe, effective, patient-centered care delivery in even the most remote communities of the state.
The team at St. Luke is so dedicated to quality improvement and reporting that they have been recognized by PIN for 11 years in a row, Community Education and Public Relations Manager Whitney Liegakos said.
The second award, Quality Program of the Year, celebrates St. Luke as Montana's top-performing critical access hospital quality program, for their work on reducing 30-day readmissions as part of a Quality and Patient Safety Fellowship Project, and for their continued commitment to quality improvement in patient care and outcomes.
St. Luke Community Healthcare quality program is inclusive of all staff, led by St. Luke's Quality Improvement Coordinator Carly Ryther.
"I am really grateful and honored that the St. Luke team has been recognized by the Montana Hospital Association for all of their continuous improvement work even in a difficult year," Ryther said.
The Readmissions Committee was a group of medical staff and patients who met over the course of a year to focus on improving discharges and reducing readmissions.
"It gave us a chance to think creatively about our community's needs," said Jill Pennington, a case manager at St. Luke. "I loved that it was not just comprised of medical staff. Patients got involved in our quality processes as well, which brought a unique perspective to the project."
With proper planning, the Environmental Services department (EVS) staff have been able to maintain the cleanliness and sanitation of St. Luke during a challenging time, despite dealing with fluctuations in supplies and staffing, said EVS Department Manager Deb Thompson. "Quality is an integral part of what we do because it affects everything we do. Whether it's hand hygiene or laundering linens, it requires everyone in the department to be involved."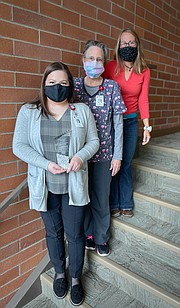 ---