Polson Police Department hosts Drug Endangered Children workshop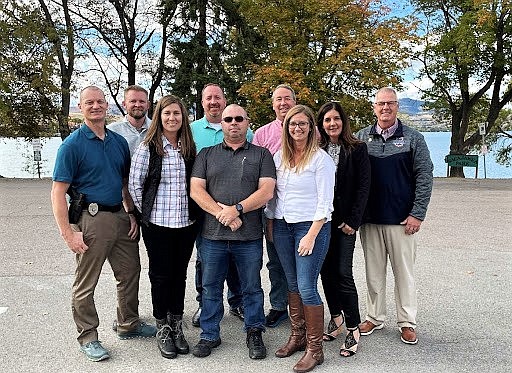 From Left: Polson Police Sgt. George Simpson, Officer Matt Timm, Director of DEC Network Development Stacee Read, DEC director of Training and Development Eric Nation, Det. Lt. Fredrick Cornelius of Caygua County Sheriff's Office (New York) and Chris Cooper MDT. (courtesy photo)
by
Polson Police Department
|
October 17, 2021 3:26 PM
The Polson Police Department hosted a two-day summit aimed at sharing our local Drug Endangered Children (DEC) initiatives with practitioners from New York. The two-day presentation provided an overview of our DEC efforts in Polson and with our alliance partners of the Confederated Salish and Kootenai Tribes (CSKT) on the Flathead Indian Reservation. In relation to drug endangered children, we discussed where we have been, where we are now, and where we would like the program to go.
Discussion and presentations included:
Mayor Paul Briney discussed the need for a DEC program and his experience as a retired educator.
Chief of Police Wade Nash discussed the DEC program from a law enforcement executive perspective, and his Montana legislative experience and challenges.
The Honorable Deborah "Kim" Christopher of the 20th Judicial District discussed the DEC program from a judicial perspective and our unique criminal justice system on the Flathead Indian Reservation.
K-9 Officer Cody Doyle gave a K-9 demonstration and discussed our K-9 program and community outreach efforts.
Sgt. George Simpson discussed Montana drug trends; the Handle with Care program; partnering with the Confederated Salish and Kootenai Tribes; working with government, nonprofits and private organizations in a DEC alliance; DEC investigations and tactical considerations; strengthening working relationships and pushing through roadblocks; training every officer to be a DEC officer; mental health and wellness for DEC professionals; and sharing policies and other promising practices.
National DEC directors Stacee Read and Eric Nation facilitated discussions on what has worked well in Montana and what national DEC can do to help New York establish a DEC alliance. The directors also provided many tools and documents to aid in DEC training and cases. The National DEC Roadmap and Tool Kit were highlighted throughout the two-day training.
Polson Police would like to thank our colleagues from New York who took the time out of their schedule to see how the Polson DEC program works. It is so refreshing to hear about the work that is being done in New York for drug endangered children. The Polson Police Department was excited to share our concepts and practices with members of Cayuga County and to hear ideas about how Polson can improve as well.
---