Chiefs savor victory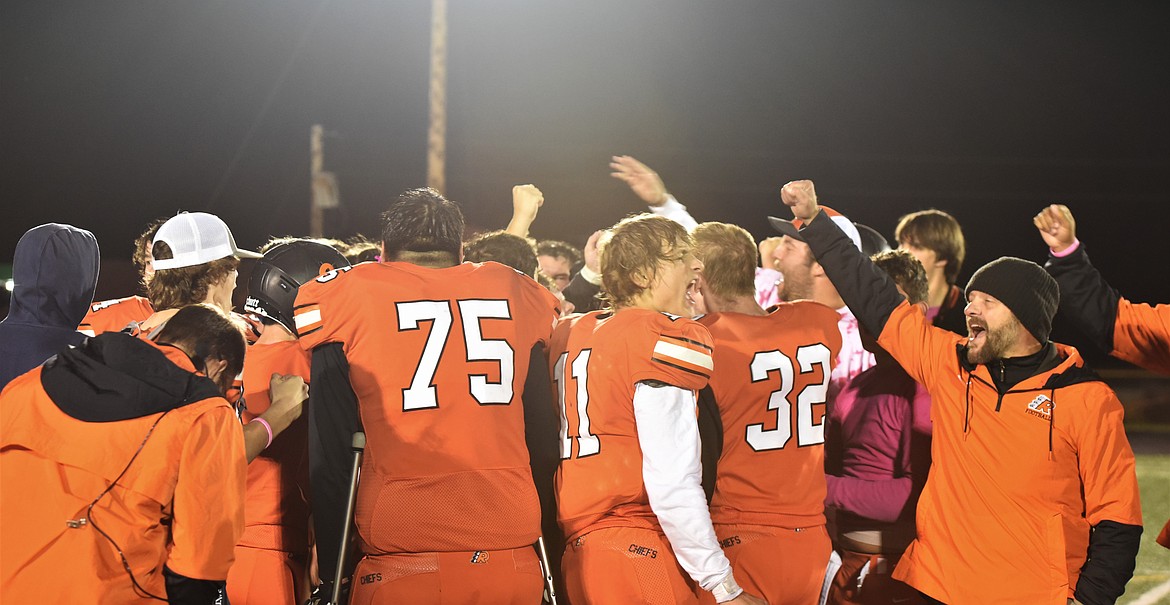 The Chiefs players and coaching staff gather to celebrate a 34-7 home victory over Corvallis. (Scot Heisel/Lake County Leader)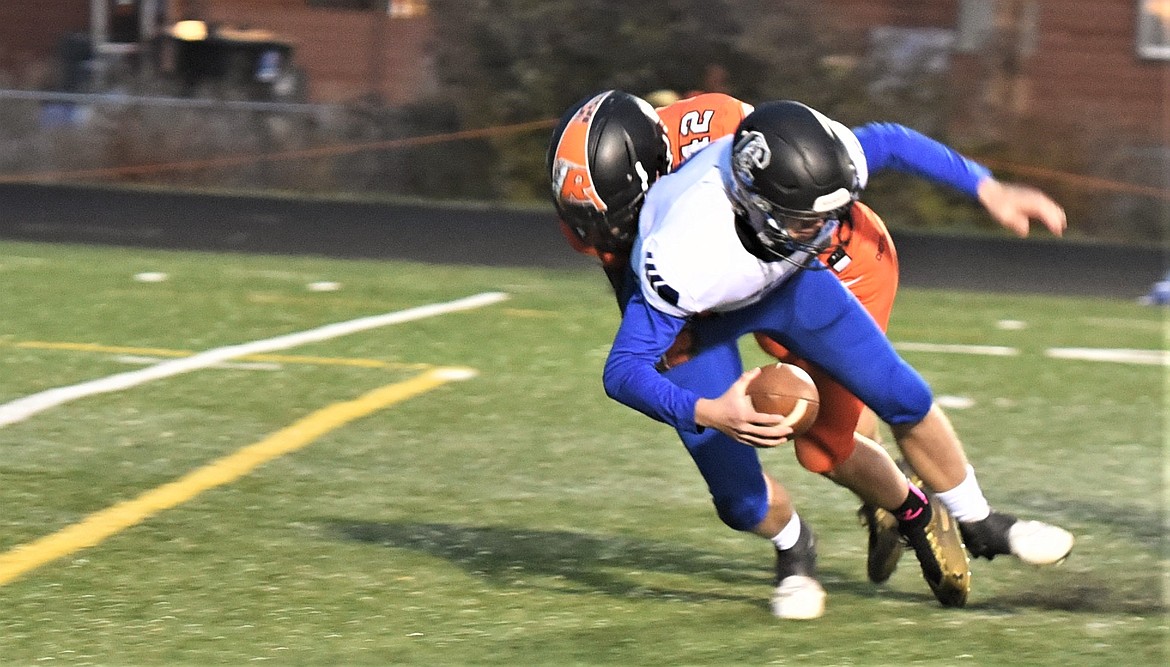 The Chiefs' Tristan Fisher sacks Corvallis quarterback Chase Tucker during the first quarter Friday in Ronan. (Scot Heisel/Lake County Leader)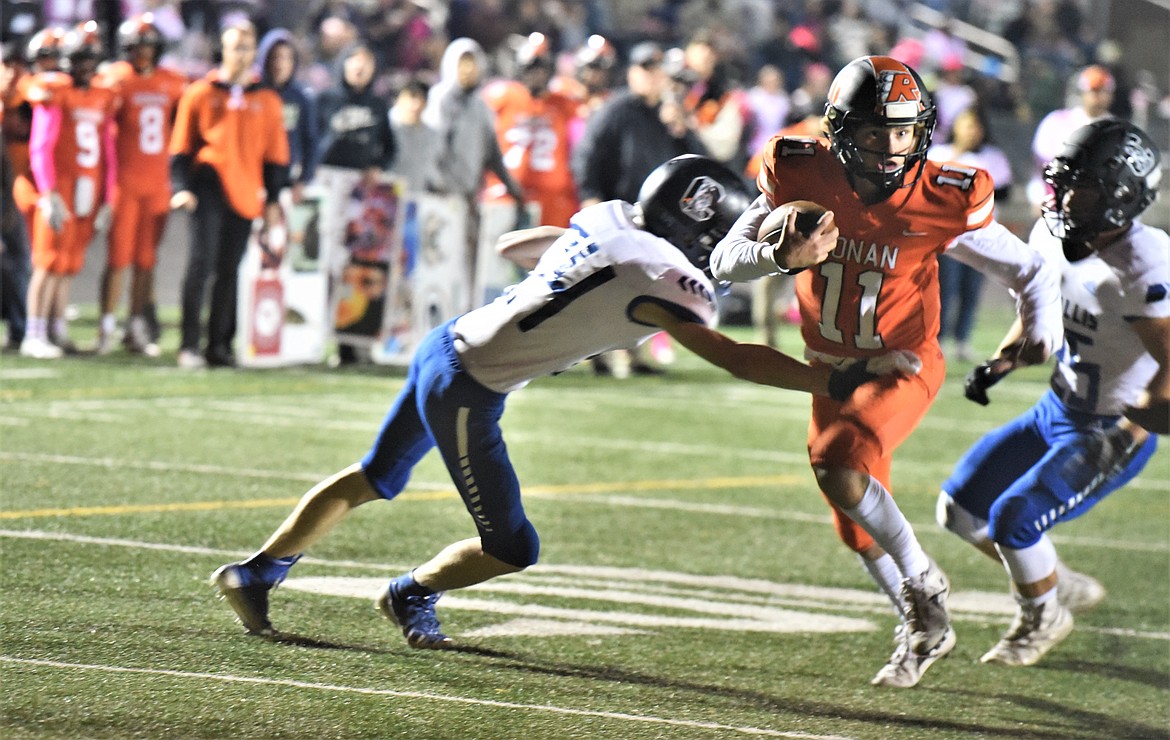 Ronan quarterback Caleb Cheff heads for the end zone on a keeper against Corvallis. (Scot Heisel/Lake County Leader)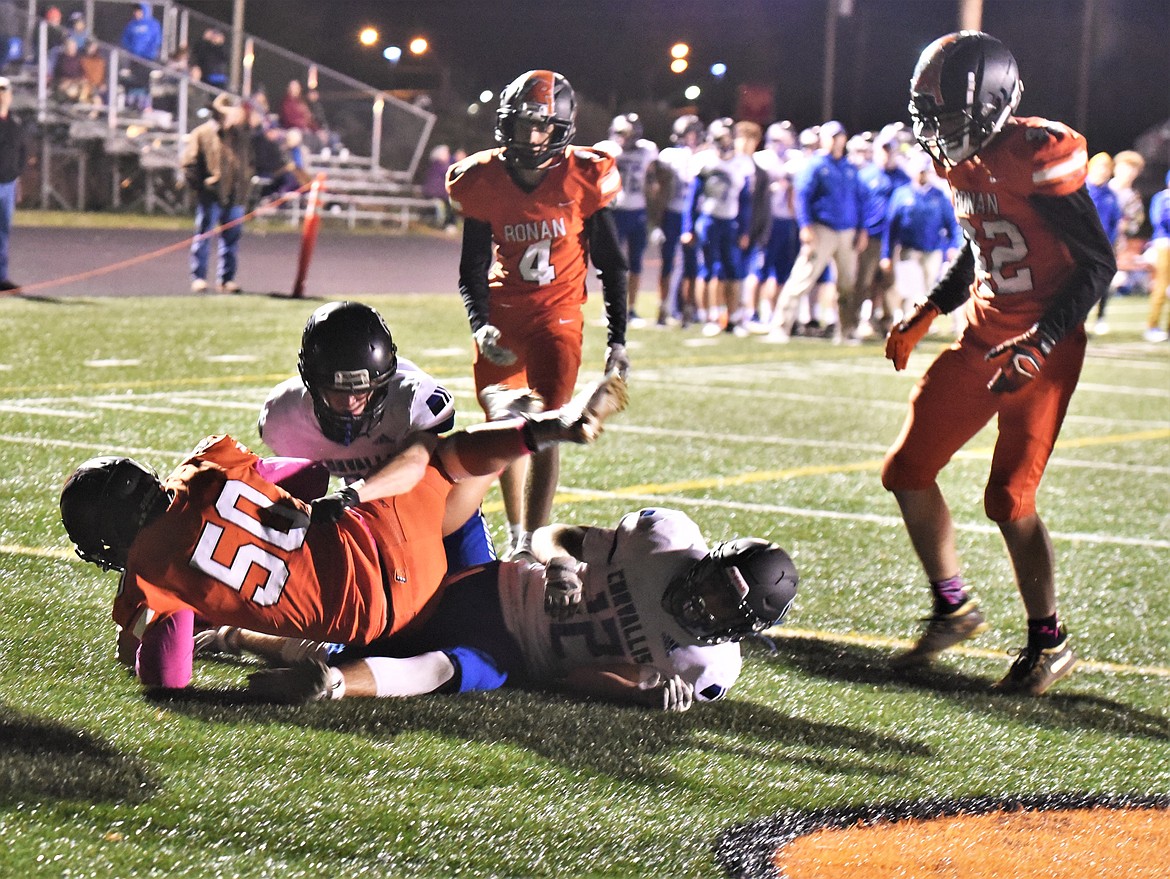 Senior lineman Jasen Rodda (50) finds the end zone on a reverse run. (Scot Heisel/Lake County Leader)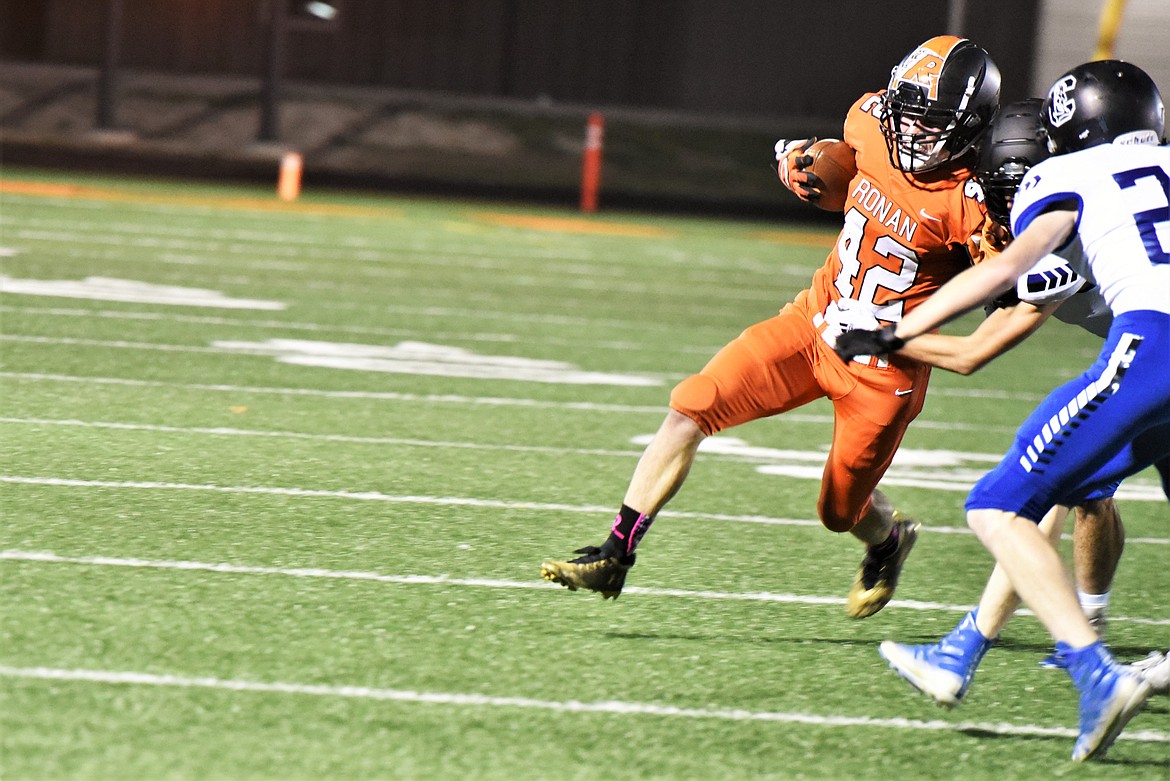 Running back Tristan Fisher heads toward the sideline as the Corvallis defense closes in. (Scot Heisel/Lake County Leader)
Colter Cornwell turns the corner on a sweep against Corvallis. (Scot Heisel/Lake County Leader)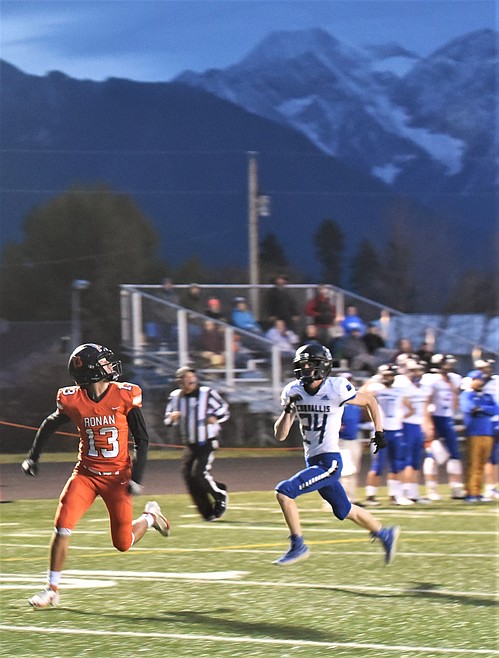 Ronan receiver Colter Cornwell (13) looks back for a deep pass from Caleb Cheff in the first half. The pass was a touch too long and fell incomplete in the end zone. (Scot Heisel/Lake County Leader)
Previous
Next
by
SCOT HEISEL
Lake County Leader
|
October 19, 2021 4:55 PM
RONAN — All that hard work finally paid off.
Caleb Cheff returned from injury to rush for 184 yards and three touchdowns on 19 carries, and Tristan Fisher carried the ball 25 times for 159 yards and two touchdowns as the Chiefs (1-6, 0-5) earned their first victory of the season, a 34-7 nonconference win over Corvallis (1-6, 1-4) at home Friday night.
Cheff also pulled down three interceptions and had a team-high nine tackles on defense.
The junior quarterback hadn't played since leaving during the first half of a game against Browning on Sept. 24 with a possible concussion. He sat out losses to state title contenders Whitefish and Hamilton prior to his return Friday.
"It was nice to have him back," head coach Matt Detwiler said after the game. "We've missed him big time."
It didn't take Cheff long to find the end zone. The Chiefs moved the ball 54 yards on their second drive, and he capped it off with a 3-yard keeper up the middle to start the scoring.
On the third play of Corvallis' ensuing drive, sophomore Colton Cornwell picked off a deep pass down the right sideline. The Blue Devils got the ball back on the next play when Dillen Potter picked off a deep Cheff pass. Corvallis gained 20 yards on the back-to-back turnovers, but their drive stalled in the red zone and they turned the ball over on downs at Ronan's 15.
The Chiefs then marched 85 yards without attempting a pass. Along the way, Fisher popped a big run off tackle, which was followed by Cheff taking off for a huge gain on a misdirection play that ended with a late hit call against Corvallis. Fisher punched in the score on second and goal from the 1, and the Chiefs led 12-0 with 5 minutes left in the half after a second failed two-point conversion. Neither team scored again before the half.
Sophomore Ted Coffman opened the second half with a big kick return to the Corvallis 47. Four plays later, Fisher took off on a 34-yard run that ended with three Corvallis defenders barely keeping him out of the end zone. Cheff scored on a 1-yard keeper, then connected on a pass to Cornwell for the conversion and a 20-0 lead.
Ronan sophomore Uriah Ulutoa scooped up a fumble on the Blue Devils' next drive, but the Chiefs once again followed a turnover with a turnover when Cheff threw to the middle of the field under pressure and was picked off by defensive lineman Isaac Stoker.
Two plays later Corvallis quarterback Chase Tucker tossed a perfect pass to Potter on a deep post that went for a 62-yard touchdown.
That's all the Blue Devils would get on offense. Their next drive ended when Cheff pulled the ball from a receiver's hands on a deep route for an interception. Then Cheff grabbed his second pick of the night on another deep ball to end Corvallis' next drive. The Blue Devils gave up the ball on downs on their next drive, and their final drive ended with a third Cheff interception in the game's final minute.
Senior Jasen Rodda recorded nine tackles and a sack for Ronan and scored a rushing touchdown while playing offensive lineman in the second half. It's a quick reverse play Ronan has run a few times this season in which Rodda turns his back to the line, thus becoming eligible for a handoff. A running back takes one handoff, then gives it to Rodda, who heads in the opposite direction. Rodda's score from 7 yards out prompted the biggest celebration of the game.
"We've had (the play) in for a while," Detwiler said. "It's a little reverse to our tackle there, and it finally popped. ... He wanted it. You could tell."
Detwiler said Rodda was the only member of his class to come out for football during his freshman year, so it was great to see him score.
The Chiefs will celebrate Senior Night against Dillon (6-2, 5-1) at 7 p.m. Thursday in their season finale. The game was moved to Thursday due to a shortage of available referees. Subsequently, the Maidens' home varsity volleyball match was rescheduled to 4 p.m. Thursday to avoid overlap.
Detwiler said the Chiefs had just five seniors on their roster at the beginning of the season and three were still playing Friday.
"We'll get to see where we are against a good Dillon team next week," Detwiler said. "And then with this many young guys, it's really up to them to get into the weight room right off the bat, play other sports, get faster and stronger. I really think the sky's the limit for those young guys."
Fisher finished with six tackles and a sack on defense. Coffman had four tackles. Freshman Laurance Lozeau had three tackles and a strip sack.
Chiefs 34, Blue Devils 7
RON — 6 - 6 - 8 - 14
COR — 0 - 0 - 7 - 0
1st quarter
R - Caleb Cheff 3-yard run (pass failed) 3:01
2nd quarter
R - Tristan Fisher 1-yard run (run failed) 5:08
3rd quarter
R - Cheff 1-yard run (Colter Cornwell pass from Cheff) 9:31
C - Dillen Potter 62-yard pass from Chase Tucker (James Nordenstrom kick good) 6:52
4th quarter
R - Jasen Rodda 7-yard run (pass failed) 14:30
R - Cheff 6-yard run (Cheff run) 8:03
PASSING - Ronan: Cheff 3-10-2, 0 TD, 2 INT. RUSHING - Ronan: 53-355, 5 TD; Cheff 19-184-3; Fisher 25-159-2; Watkins 4-5-0; Cornwell 4-4-0; Burland 1-3-0. RECEIVING - Ronan: Fisher 3-21. TACKLES - Ronan: Cheff 10, Rodda 9, Fisher 6, Coffman 4, Lozeau 3, Cornwell 3, Ulutoa 3, Burland 3, Morency 3, Claremont 2, Wandering Medicine 1, Sherman 1. SACKS - Ronan: Lozeau 1, Fisher 1, Rodda 1. INT - Ronan: Cheff 3, Cornwell 1. FUM REC: Ulutoa 1.
---