Bulldogs defend their turf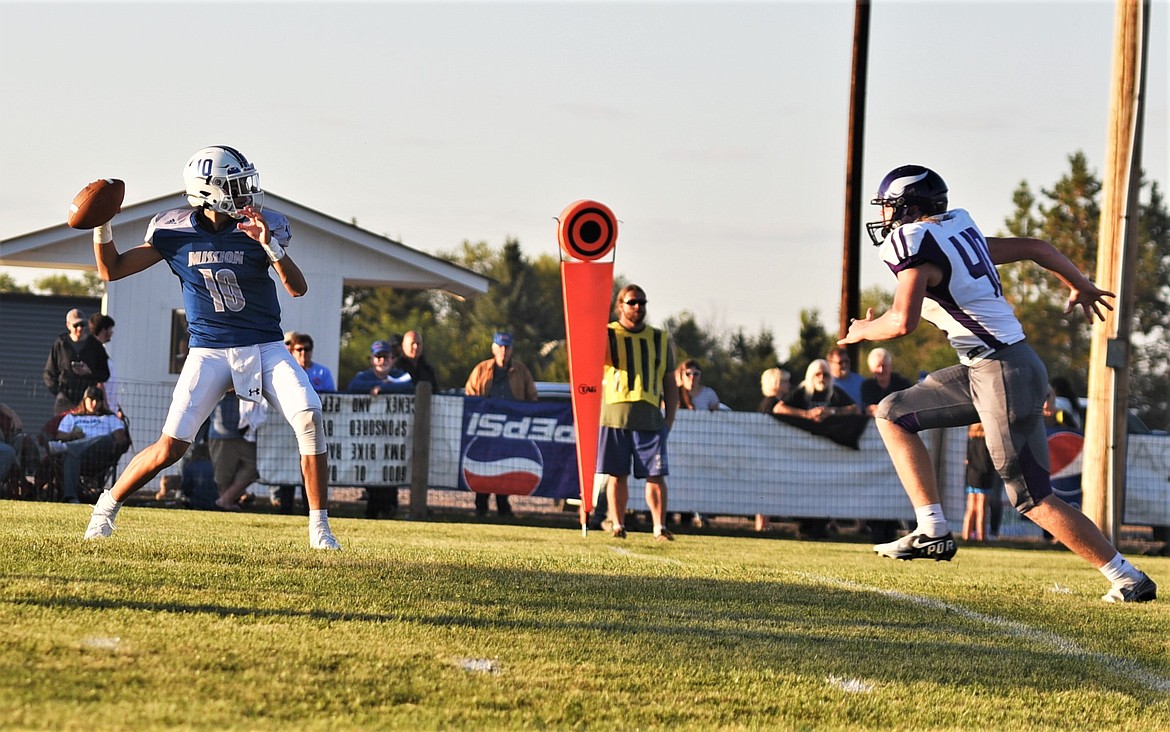 Mission quarterback Kellen McClure prepares to pass under pressure from Charlo's Wesley Anderson. (Scot Heisel/Lake County Leader)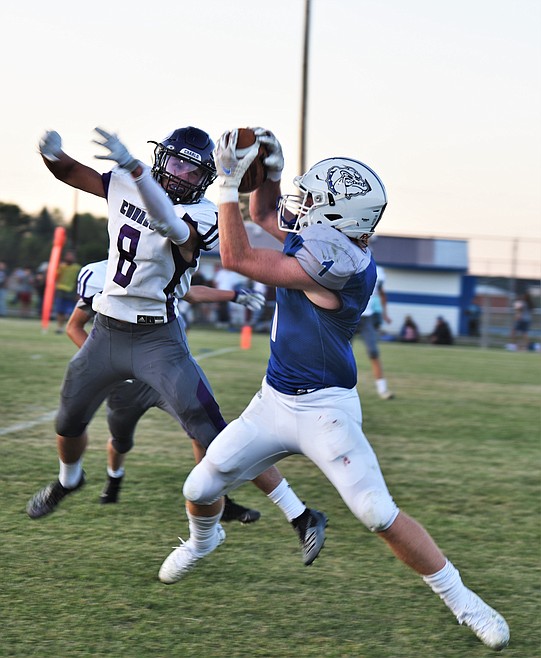 Mission receiver Bryce Umphrey pulls down a touchdown reception in front of Charlo's Braydon Zempel. (Scot Heisel/Lake County Leader)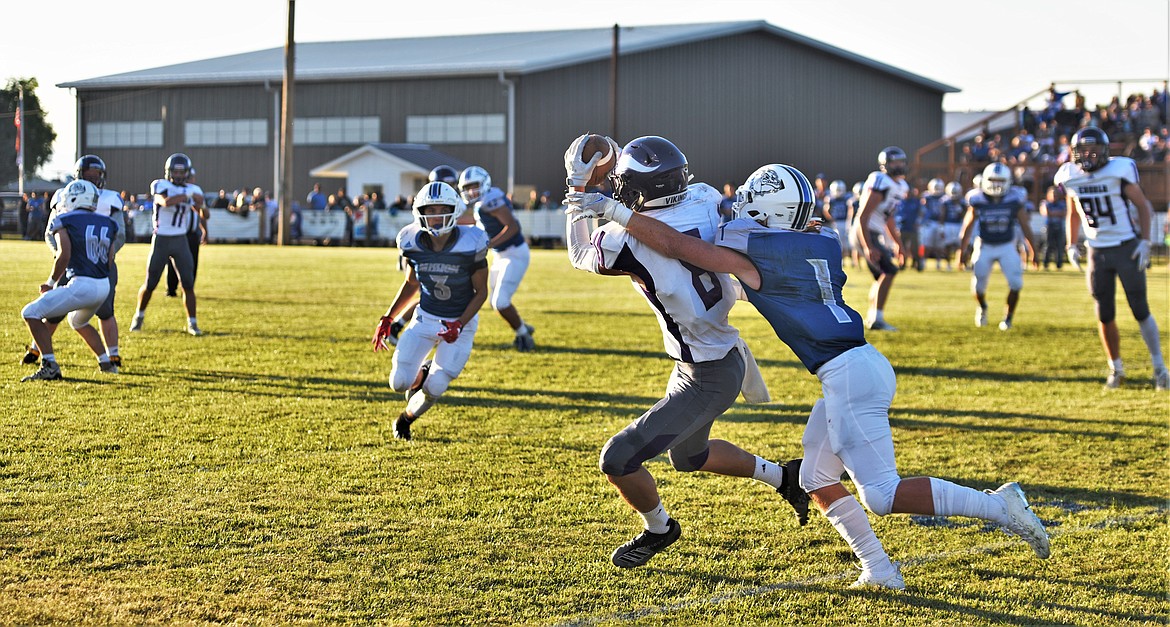 Charlo's Braydon Zempel (8) makes a catch in front of Mission defender Bryce Umphrey (1). (Scot Heisel/Lake County Leader)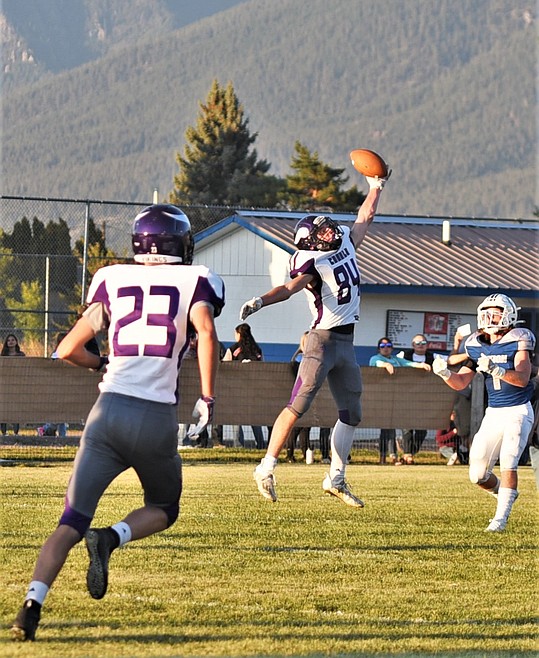 Charlo's Keaton Piedalue knocks down a long pass intended for the Bulldogs' Bryce Umphrey. (Scot Heisel/Lake County Leader)
Previous
Next
by
SCOT HEISEL
Lake County Leader
|
September 8, 2021 12:45 AM
ST. IGNATIUS — Kellen McClure tossed a trio of deep touchdown passes to Bryce Umphrey, who also scored on a 15-yard run, as the Mission Bulldogs (2-0) won their home opener, 36-26, against a scrappy Charlo squad.
Umphrey consistently found space behind the Charlo secondary and McClure rarely missed his mark. The pair combined on TD passes of 40, 30 and 49 yards.
It was the Bulldogs' first home game under first-year head coach Carson Oakland, who replaced new East Helena head coach Tyler Murray.
The Vikings (0-2) arrived with a thin bench that only became thinner as the game progressed. Senior lineman Colt Hovet suffered a serious shoulder injury in the first half, and a few other injuries left Charlo with just nine active players heading into the second half. Hovet was taken away from the field by ambulance during the game.
Junior quarterback Coyle Nagy kept several Charlo drives alive by scrambling for first downs and scored two short rushing touchdowns.
Mission scored quickly on its first possession when a wide-open Umphrey pulled down a big pass on the game's third play from scrimmage.
The Charlo offense stalled on its first possession, and Isaiah Fields blocked the ensuing punt to give the Bulldogs the ball in Charlo territory. But the Vikings defense held, and the offense marched down for its first score, a 1-yard Nagy run.
Charlo senior lineman/linebacker Anthony Castro injured an ankle near the end of the first half and sat out the rest of the game.
Down 22-12 Braydon Zemple opened the second half with a big kickoff return to give the Vikings the ball at Mission's 19-yard line, but the offense lost yards before turning over possession on downs.
"That Charlo team, they're battlers," Oakland said after the game. "I'm so proud of our guys. Our biggest thing is we just need to take care of the football."
"I love it here," he said of his new home. "It's by far one of the most supportive communities I've ever been in."
Despite the loss, Charlo head coach Reese Cox was upbeat after the game.
"We came in short-staffed, and we got ding after ding," he said.
"Tonight I just asked them to play and protect each other. And then let's limit our penalties."
The Vikings had 11 penalties the prior week against Thompson Falls, but cut that number considerably against Mission.
Cox said he expected to lose Hovet for the season, though it was still too early to tell. But he also expects to have new players joining the team soon who will be meeting eligibility requirements.
The Vikings host Darby at 1 p.m. Saturday. The game originally was scheduled for Friday but was moved a day due to a shortage of officials.
Mission moved to No. 10 in the 406mtsports.com state standings and will travel to No. 5 Thompson Falls on Friday night.
Charlo - 6 6 6 8 - 26
Mission - 8 14 8 6 - 36
M — Bryce Umphrey 40-yard pass from Kellen McClure (Charley Adams run)
C — Coyle Nagy 1-yard run (Braydon Zemple run failed)
C — Keaton Piedalue 5-yard run (Nagy run failed)
M — Umphrey 30-yard pass from McClure (Adams run failed)
M — Umphrey 15-yard run (Adams run)
M — Umphrey 49-yard pass from McClure (Adams run)
C — Nagy 1-yard run (run failed)
M — Jose O'Brien 10-yard run (pass failed)
C — Piedalue 1-yard pass from Nagy (Nagy run)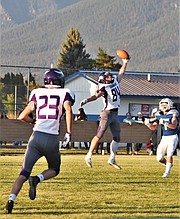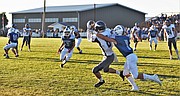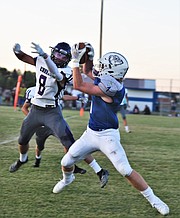 ---