Lady Pirates earn first win on new home court
by
SCOT HEISEL
Lake County Leader
|
September 8, 2021 12:35 AM
The Lady Pirates volleyball squad found a way to right the ship and earned a five-set victory Thursday over Stevensville in their inaugural match at the new Linderman Gym.
The two teams flip-flopped through the first four sets, with Polson (2-1) falling 11-25 in the first but rebounding to take the second 25-12. The third and fourth were much closer, 25-19 to Stevi, then 25-21 to Polson.
Sophomore Mckenna Hanson came up big for the Lady Pirates in the deciding set. She had a kill to put Polson up 5-4 followed by a block on the next point, and another kill to give her team a 9-8 edge and a lead they would not relinquish on their way to a 15-12 fifth-set victory.
Junior Grace Simonich ended the game with a shot to the corner.
Hanson led Polson with 10 kills and four aces.
Camilla Foresti, an exchange student from Italy, had eight kills and three aces for the Lady Pirates. She also recorded 20 blocks. After the match, a raucous student section welcomed their new European classmate with chants of "It-a-ly."
Hanson and Simonovich each recorded 12 digs for Polson.
Polson junior Clara Todd recorded five kills, three blocks and two digs in the win. Todd suffered a serious knee injury during an eighth grade basketball game and has had two surgical procedures since, the most recent coming 18 months ago.
Todd said she's feeling "really well," though her days playing soccer and basketball are over. She also was a member of Polson's state champion tennis team last spring.
In other matches last week, the Lady Pirates defeated Hamilton 3-2 at home Saturday, then lost to Corvallis 3-1 the same day.
Polson def. Stevensville 3-2
NWA Polson (1-0), SWA Stevi (0-1)
Polson def. Stevensville 11-25, 25-12, 19-25, 25-21, 15-12
KILLS – S42(Daphne Engel 13, Berkley Robinson 8), P35 (Mckenna Hanson 10, Foresti 8, Liz Tolley 5, Clara Todd 5, Simonich 4, Pierre 2, Barnard). ACES – S6(Berning 2), P14(Hanson 4, Foresti 3, Simonich 3, Starr 2, ). ASSISTS – S34(Sophie Berning 32), P28(Avery Starr 14, Grace Simonich 11, Foresti, Tolley, T.Pierre) BLOCKS – *S7(Shilo Lampi 4bs2ba), P6(Tolley 2, C.Todd 2, Hanson, Simonich). DIGS – S79(Engel 21, Kelti Wandler 15), P75(Camila Foresti 20, Hanson 12, Simonich 12, Tolley 11, Starr 9, Barnard 5, C.Todd 3, Burrough 2, Nikki Kendall).
Corvallis def. Polson 3-1
NWA Polson (2-1), SWA Corvallis (1-1)
21-25, 25-21, 26-24, 26-24
KILLS – C41 (Madeline Gilder 16), P (Mckenna Hanson , Turquoise Pierre ). ACES – C9 (Hailey Anderson 4), P ( ). ASSISTS – C36 (Tahnee Lewis 20), P (Avery Starr , Grace Simonich ). BLOCKS – C9 (Tylin Sorensen 3, Maddison Lewis 3), P (Liz Tolley , Clara Todd ). DIGS – C19 (Gilder 6), P (Camila Foresti , Simonich ).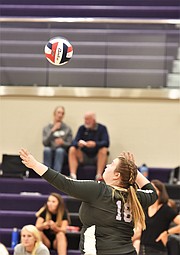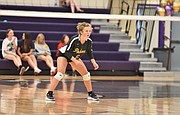 ---