Code Girls program a problem-solving confidence booster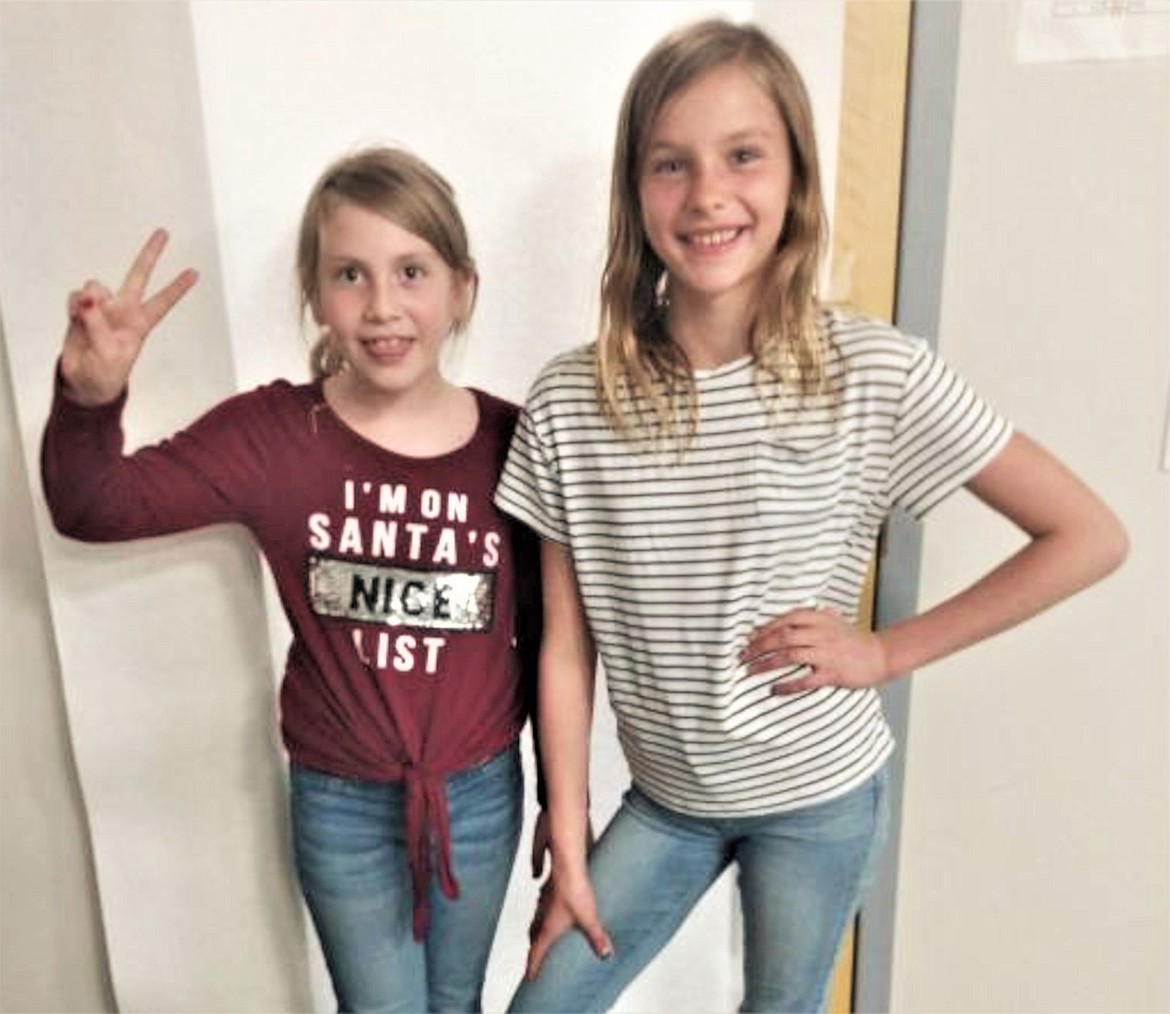 Alliannah Young, left, and Madison Childers were among two teams to finish the initial Code Girls program last year. Young and Childers created an app called "Plant the World" to encourage people to plant trees. (Courtesy of Code Girls United)
by
CAROLYN HIDY
Lake County Leader
|
September 9, 2021 12:30 AM
Girls in grades 4-8 are invited to participate in the Code Girls after-school program starting this fall at Polson and Ronan Boys and Girls Clubs. If there is enough interest, the program will be offered in St. Ignatius as well, as a new Boys and Girls Club will be starting in the school there. The course is also offered online.
Code Girls offers hands-on experience in coding, technology and business start-ups in a fun and confidence-building environment. The after-school program begins this fall and runs into spring. Meeting days and times will be arranged to work with the schedules of the individual students who sign up, so they are not excluded from the program even if they are involved in sports or other activities.
For the first half of the program, kids will spend about an hour and a half each week learning and creating with App Inventor, a free software program from the Massachusetts Institute of Technology. The block coding makes it simple to build their own fully functional applications for Android smartphones and tablets.
"App Inventor is a great program to get kids to learn with," said Marianne Smith, founder and executive director of Code Girls United. "It's easy to learn programming concepts while these girls are making apps with kitty cats, or unicorns, or mermaids."
"The concepts are important, but an app also needs to be pretty or people won't use it," Smith said. "The girls have a chance to play around with the design side of app development, too," adding colors and effects, even while making the screen format work smoothly.
During the second half of the project, girls form teams of three or four and come up with a problem they want to solve.
"Something that matters to them," Smith said, and that might be made better or solved with an app.
Many youth computer opportunities focus on robotics, which are also fun, but not always as interesting to girls as boys. In Code Girls, Smith said, "They are trying to really help people, and that really clicks with them." Then they build a business plan for developing the app.
The business plan, though scaled down from the adult world, is every bit real, including user surveys and analysis of competitive products. They spend time planning out their apps, using yellow sticky notes to work out how each screen will look, and then create and test them. Finally, they create two videos, a "pitch" to interest others in the app and a demonstration of how to use it.
This will be the fifth year Smith has taught girls coding. The very first year, two of her teams from Kalispell made it to the semifinals of the International Technovation Challenge, a competition involving more than 20,000 girls from around the world.
"We had no idea what we were doing, but clearly, we were doing something right."
Subsequently Code Girls United has developed an all-Montana competition that offers the top three teams prizes of $5,000, $2,500 and $1,000 scholarships to split among members. The Montana competition includes a live presentation.
"This is more rewarding than any of the technical stuff, watching the girls make their presentations," Smith said. "This is where you have to stand up and defend your work, saying, 'I worked on this for the last four or five months. This is how I created it, this is why.' Even very shy girls are amazing when they get a chance to show what they have done and say, 'I know my stuff.'"
Smith is a retired engineer who was often the only woman in a workplace early in her career. She said she was in her 30s when she could finally muster the self confidence to speak up in a meeting or stand strongly to present and defend her ideas. She and other board members with similar experience wanted to ensure that the Code Girls course taught more than just computer programming.
"These girls are never going to have a problem standing up and defending their work," she said.
"We asked ourselves, what would have been helpful to know then, and also, if we were a software company, what steps would we take to develop and market an app?" Smith said.
The Code Girls program was developed to teach critical skills such as team building, problem solving, business building, presentations and more.
"Today's generation is so different," Smith said. "Even if you become a hairdresser, or a plumber, you will have computer systems that manage money, intake clients and so on. Even if you don't develop a database, you will be putting data in one."
Smith taught computer science as an adjunct professor at Flathead Valley Community College. Her concern over a lack of girls in her classes influenced her decision to work to interest younger girls. Research shows girls are just as interested in technical things as boys until they reach about age 11. If they don't get the interest stimulated at that point, they never get it back.
"If we wait to teach this until high school, it's too late," she said. "We're going to catch their interest while they are young and show them it's no big deal, they can do it. And they can make an app that solves a real problem, something that is actually important to them."
Careers in the computer field include programming and so much more, Smith said.
"You could be a designer, you could be a project manager if you like organizing things. There are so many things. And you can do it remotely. You can get paid decently and still get to live in Montana. You don't have to leave."
Also, she said, if you are a girl going into computer science in college, you are "pretty much guaranteed" to get a scholarship.
Registration is available online for Code Girls classes at all locations, and for the online sections, at codegirlsunited.org. For assistance or more information, call Nallela Baca at Ronan Boys and Girls Club, 406-676-5437.
Recent Headlines
---