HandMADE Montana owner is state's Retailer of the Year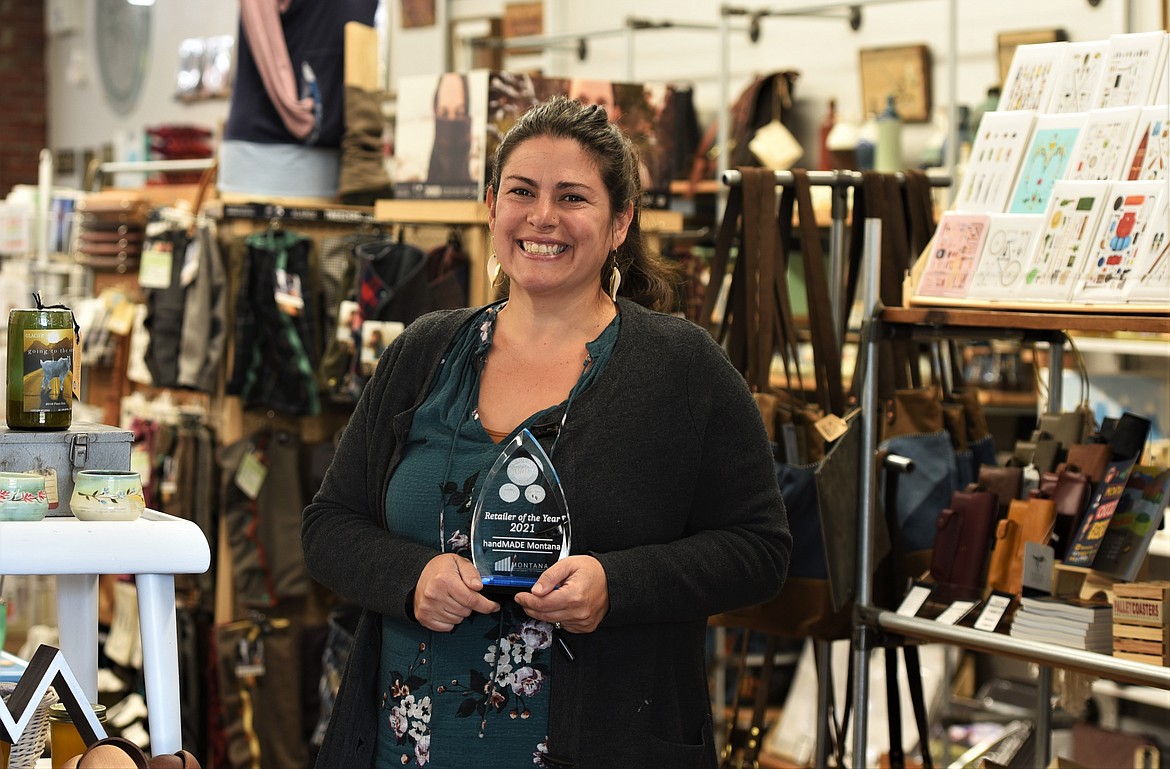 Montana's 2021 Retailer of the Year, Carol Lynn Lapotka of handMADE Montana. (Leader photo)
by
CAROLYN HIDY
Lake County Leader
|
September 16, 2021 12:50 AM
One of downtown Polson's business leaders was honored by her community and business owners across the state last weekend.
Carol Lynn Lapotka, owner of handMADE Montana at 212 Main St., was named Retailer of the Year at the statewide 2021 Made in Montana Tradeshow for Food and Gifts in Helena.
Also from Lake County, children's book author and illustrator Karla Martinson of Ronan received Best in Show Honorable Mention in recognition of her outstanding booth presentation at the show.
Each year, prior to the trade show, Montana retailers are nominated to receive the prestigious Retailer award. This year there was overwhelming support for handMADE Montana, according to Susan Joy, Made in Montana Program Manager with the Department of Commerce.
Lt. Gov. Kristen Juras, Department of Agriculture Director Christy Clark, and Commerce Director Scott Osterman presented the award to Lapotka.
HandMADE Montana provides support and resources for artists and other makers of handcrafted goods in a "sweat-shop free economy," Lapotka said. The organization curates and organizes MadeFairs, some of the largest arts and crafts fairs in the state, featuring more than 200 local and regional artists and crafters at shows in Bozeman, Helena and Missoula.
"We support artisans beyond our storefront," Lapotka said. "We tell their stories of how their products are made and celebrate their creativity. Our retail store connects with the digital world on our website, where customers can search artists that they saw in our store or at one of the shows, or even shop a smaller collection of hand-picked items.
"Having a retail business in Montana is unique. Some months are insane with those wanting to take home a bit of the Treasure State from their recent visit and then slower times when we get to reconnect with our local community. It is all rewarding, and we are so grateful to be able to have our doors open."
HandMADE Montana offers workshops in small business development and features many MadeFair artists' goods at the Polson store. In a bustling production studio in the back half of the building, Lapotka's own artistry is brought to life as ReCreate Designs, a colorful line of clothing, handbags and accessories made from upcycled fabrics.
"... handMADE Montana highlight[s] the very best of Montana-made handcrafted goods while providing a supportive platform for local artisans," Osterman said during the award presentation.
Joy cited several examples of the nominations received by the Dept. of Commerce, such as.
"It's hard to imagine another business or person who has created more opportunities for Montana artists to show and market their work," Joy said. "Carol Lynn is a pillar in the community in Polson, and the handMADE Montana store is important to supporting artists across the state. … She is a true one-of-a-kind and has done a monumental amount of work to raise the level of Made in Montana makers. I've been in the industry for 20 years and have never seen the likes of her. HandMADE Montana is a standout in the business world, and I only hope that there are other 'Carol Lynns' in other states. Montana is lucky to have her, and the artisans of Montana are truly lucky to work with her."
"I like to feature functional art that might start a conversation," Lapotka said. "Rather than just a made-in-China T-shirt with 'Montana' printed on it, I like to think about people being asked about a special piece of jewelry or artwork, or a tool, or handmade clothing, and them telling the story of the Montana artist they met and the experience they had."
Visit the Polson store or handMADEmontana.com to purchase artists' work or for information about upcoming MadeFair events.
---