Time Capsule: Big thanks from a small source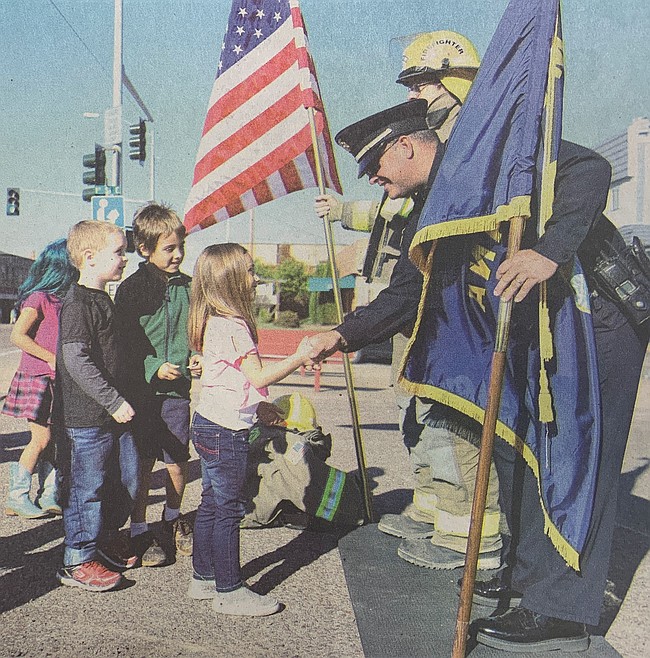 First-graders from Cherry Valley Elementary shake hands with Polson Police Chief Wade Nash and firefighter Scott Kiser to thank them for their service on Friday, Sept. 11. (Kylie Richter/Sept. 17, 2015 Lake County Leader)
by
Lake County Leader
|
September 16, 2021 12:15 AM
This week in Lake County news archives.
Dayton landmark burns
Sept. 13, 1990 Flathead Courier
Fire razed a landmark building in Dayton early Saturday morning. The Buckboard Saloon was one of the last reminders of the days when the small West Shore community was a bustling commercial hub for the Flathead Lake timber industry.
Dayton-area residents estimated the wooden building to be between 70 and 80 years old.
Dayton-Proctor Volunteer Fire Department Chief Steve Adams said the fire apparently started in the kitchen or in the ceiling above it.
Owner Fred Amstoy had just re-opened the establishment about a month before the fire.
Ryan celebrates a No. 1 hit
Sept. 14, 2006 Lake County Leader
Tim Ryan Rouillier, former St. Ignatius resident, is climbing up the ranks as a country music song-writer, and last month he celebrated his first No. 1 song credit with country star Phil Vassar.
"The Last Day of My Life" is the song that is giving Rouillier all the success.
Rouillier is distinctively country, but once his song hit No. 1 it jumped the airwaves to get time on pop stations, too.
"(The song) was released to pop radio stations with all of your light rock," Rouillier said. "They call that crossover. The song is going great and it's still so hot all over. It's running its course, and it keeps the change rolling in."
---