Polson's Xavier Fisher receives leadership award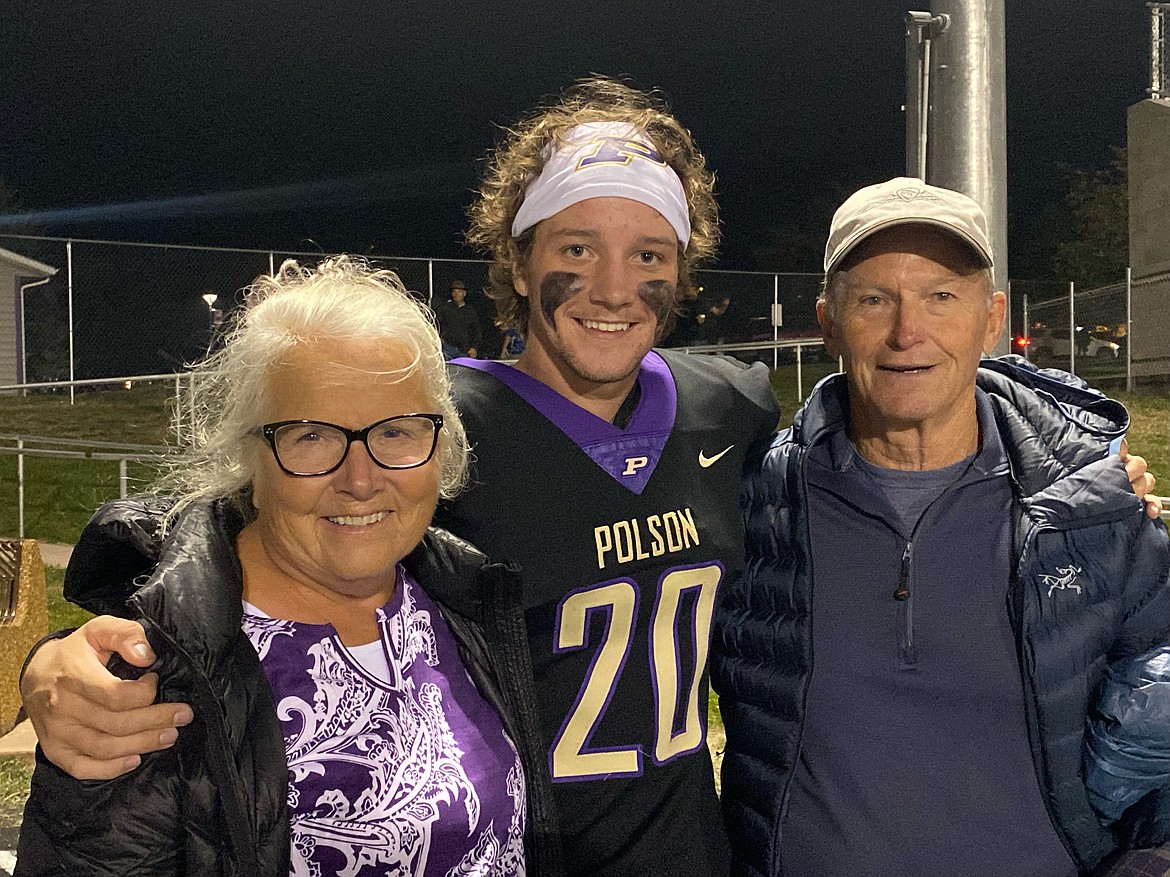 Xavier Fisher cites his grandparents, Lindy and Leroy Hoversland, among his biggest inspirations. (Courtesy photo)
by
CAROLYN HIDY
Lake County Leader
|
April 14, 2022 12:15 AM
Polson High School senior Xavier Fisher recently was awarded the Today's Achievers, Tomorrow's Leaders award sponsored by Logan Health and the Lake County Leader. The accolade is given to Lake County students nominated by their schools or community members, in recognition of leaders who inspire others and make a difference in their communities.
"Xavier is a great student, great athlete, but most importantly a great person," wrote Polson High School assistant principal Ethan Bucarey in nominating Fisher. As both a teacher's aide and an office aide, Bucarey said, "He is always willing to work, to help out anyone who needs it. [He] goes above and beyond to make the work of our administrative assistants, administration and teachers more palatable." Bucarey said Xavier shows a quiet leadership that his fellow athletes notice around him, and his peers in his classes acknowledge.
Fisher is both an honor roll scholar and a highly successful athlete. He plays shortstop and occasionally pitcher for the Mission Valley Mariners. Baseball began for him as a tyke in the T-ball league, and he hopes to continue playing it in college. He was named to second team all-conference as point guard for Pirates basketball and second team all-state twice with Pirates football as one of the state's top wide receivers. He's also coached Little Dribblers basketball. Fisher said he especially enjoys teaching and helping out with younger kids, a skill he credits at least partially to his time hanging out with his younger siblings.
With a penchant for helping others both in school and out, Fisher is looking into a career either in education or a medical field. He found his anatomy and physiology class particularly interesting, and got a lot out of the school's 12-week hospital job shadowing program in which students gain exposure to many different types of medical fields. While there were no jobs he didn't like, he was particularly drawn to fields such as physical therapy.
"With physical therapy, you see patients over a long time," he said. "You really get to know a person, and you get to see them make that progress. I thought it was pretty special."
When asked what he thought might have led him to be chosen for the award, Fisher demurred.
"I'm just a regular kid for around here, I guess. I like to help people. I love listening to music."
He said he has a great support system of family and longtime friends.
"Whatever accomplishments or things I do, it's all a direct result of other people that I am fortunate enough to have around me."
Fisher cited his grandparents Leroy and Lindy Hoversland as especially inspirational influences. Leroy is Dr. Leroy Hoversland, DVM, of Ronan, who started his veterinary practice decades ago.

"He has worked really, really hard to get where he is, and I really admire him," Fisher said.
As for Lindy, he said: "She is definitely the strongest person I have ever met."
Through health difficulties, she works hard in physical therapy and other treatments every day.
"The way she just attacks everything and has such a positive attitude all the time has really been something that I look up to."
His grandma's example showed through when he was asked whether he had any words of advice for others.
"Life is full of ups and downs, but if you just focus on the two things you can control — having a positive outlook and working hard — everything will work itself out. If you're going to invest time or energy into something, you might as well give it everything that you can."
As part of this award, Logan Health will donate $250 to any school club or activity of the winner's choosing. Fisher has chosen to contribute the award to the new Polson High School baseball team, which will begin play next year.
Nominate a student
To learn more about the Today's Achievers, Tomorrow's Leaders Program and how to nominate a Lake County student for the award, visit tinyurl.com/49yhhmz9.
Recent Headlines
---