Corneliusen wins best in show at quilt guild event
by
MARLA HALL For the Leader
|
August 4, 2022 12:00 AM
The annual quilt show put on by the Quilt Guild filled the Ronan Elementary School gymnasium on Friday and Saturday, July 29-30.

130 beautifully crafted entries were judged on Friday with Susy Corneliusen's quilt titled Prismatic Star taking Best in Show honors. Marina Cheff and Linda Goldeski, who each displayed several of their pieces of work, were this year's featured quilters.

A number of the quilts displayed at this year's event were for sale by their creators and smaller additional quilted items were also for sale near the entry and exit point.
The Quilters Guild has approximately 60 members and spans the valley with quilting enthusiasts from Mission to Polson. The guild meets in Ronan once per month throughout the year where they share ideas, help new members, and craft TLC quilts that they give to fire victims. The guild would love to welcome new members and they also provide much coaching and assistance to individuals who have an interest in quilting but have never tried their hands at it.
Proceeds from the show go to fund materials for the TLC quilts mentioned above and also to educational programs for skill development of the members of the guild. If you are interested in joining the guild or simply have questions about it, you may contact Teresa Havers.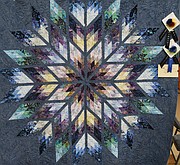 Recent Headlines
---