Elmo Fire reaches Lake Mary Ronan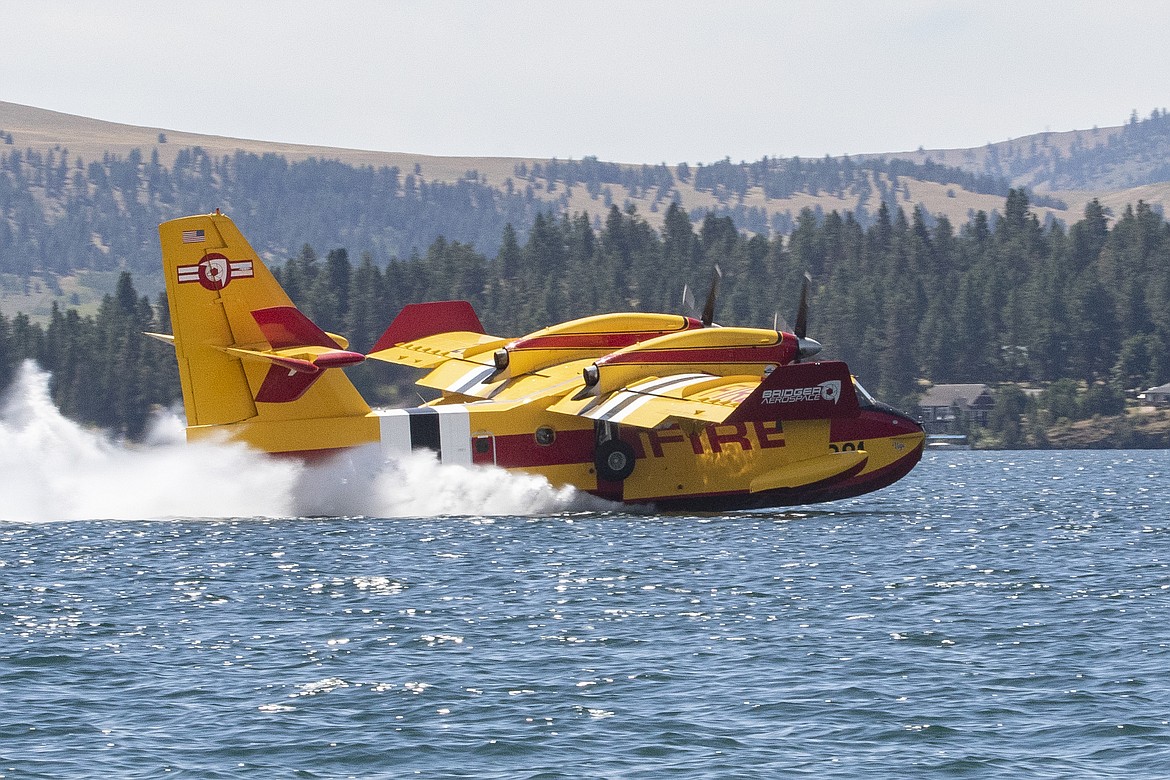 A scooper plane assigned to the Elmo 2 Fire dips into Flathead Lake. (Rob Zolman/Lake County Leader)
by
Lake County Leader
|
August 5, 2022 12:00 AM
Firefighters held the line on the Elmo 2 Fire overnight Thursday, keeping blaze south of Lake Mary Ronan and away from hundreds of structures in the area.
Infrared mapping showed 566 acres of new growth on the fire west of Flathead Lake. Approximately 21,182 acres have burned since the human-caused fire was sparked July 29. It is 15% contained.
The north perimeter of the fire Friday morning was at Camp Tuffit Road and the south shore of Lake Mary Ronan.
Six scooper planes doused the fire repeatedly Thursday, dropping some 600,000 gallons of water to slow the fire as it backed down a ridge toward the lake. The aerial attack allowed ground crews to shore up control lines and protect nearby structures, the CSKT Division of Fire noted in a fire update.
Overnight, a drone was used to locate areas of heat and secured the section of the fire around the meadow to the east, the roadway on the south shore of Lake Mary Ronan, and improved dozer lines and former roadbeds to the west.
The number of personnel on the scene increased to 482 Friday morning, with aerial assistance from six scoopers, two single-engine air tankers and three helicopters.
Gov. Greg Gianforte was expected to hear a briefing on the fire Friday morning. The estimated cost to fight the fire has reached $7 million.
Containment efforts Friday were to focus on keeping the fire south of Lake Mary Ronan, where as many as 250 structures are located.
Eight structures have burned so far, including four homes.
Officials closed Lake Mary Ronan Road to all traffic Thursday to allow fire personnel to safely conduct operations. The solid waste transfer site on the road is also closed.
An evacuation order remains in place for all residents north and south of Lake Mary Ronan Road, and all residents who live along Lake Mary Ronan.
Pre-evacuation warnings are still in effect for residences east and south of U.S. 93 between intersections with Montana 28 and Lake Mary Ronan Road.
A public meeting is scheduled for Friday at 7 p.m. at the Elmo Pow Pow Grounds.
Lake County enacted Stage 1 fire restrictions on Friday, which prohibits campfires unless an exemption is made.
Exceptions to the Lake County restrictions on Montana Fish, Wildlife and Parks properties include established steel fire grates at Finley Point, Yellow Bay, Big Arm and West Shore state parks.
Recent Headlines
---