Ronan Hall of Fame Profile: Crystal Pitts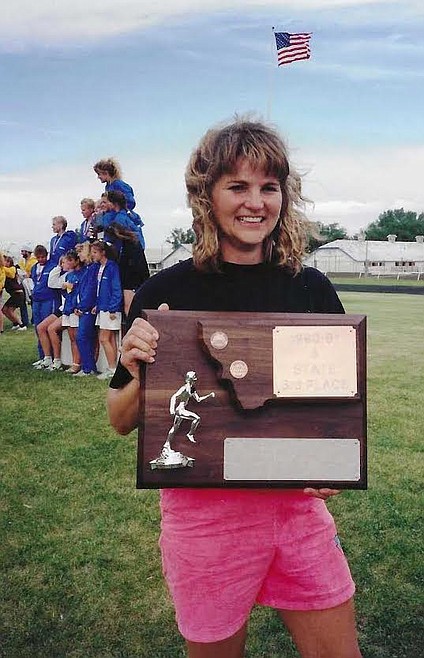 Coach Crystal Pitts celebrates third place track and field win at state tournament in 1991.
by
Gale Decker
|
December 1, 2022 12:00 AM
Crystal Pitts will be inducted into the School District 30/Ronan Hall of Fame in February as a "Distinguished Coach."

Track and Field coaches with a true passion for their sport can be hard to find. When Ronan promoted Crystal Pitts in 1988 to the head boys' and girls' track coach, they found a coach that had that passion. It is exemplified in her own words as she recently reflected on her coaching career, "I was always trying to figure out how to help each of my athletes become the best they could in their event."
In her 24 years of head coaching in Ronan, there is a great deal of evidence supporting her accomplishment of that goal. Fifty-six girls and 33 boys claimed divisional championships under her guidance while 12 girls and nine boys went on to win state championships. Along the way, numerous school, divisional and state records were established.
As most successful coaches do, Pitts established relationships with her athletes that extended beyond the field of competition and into their personal lives. She could treat her athletes with "tough love" while still being someone they could confide in on personal matters knowing that she cared about them.
Pitts was a pioneer in Montana high school track and field as she became the first woman in the state to be hired as a head boys' and girls' track coach. Her hiring in Ronan led to the future hirings of several women around the state as head coach of both boys' and girls' teams. Her knowledge of the sport also led to her service on the Montana High School Association's Track and Field Board for 10 years.
Pitts coached a total of 33 years in the track and field program in Ronan and spent five seasons coaching basketball in the high school and middle school. Pitts was also the favorite teacher of many former students who participated in her middle school physical education classes.
Pitts retired from the Ronan School District in 2013 and lives in Dixon with her husband, Terry.
Recent Headlines
---