Young filmmakers run with the big dogs at FLIC
FLIC producer David King leads some of the creators of the short documentary "Finding Yawu'nik'" in a Q&A session after their film screened at the festival. Filmakers, from left, are Rosie Lies, Kaylee Coles, Jack Huffine and Arlonna Christopher. (Carolyn Hidy/Lake County Leader)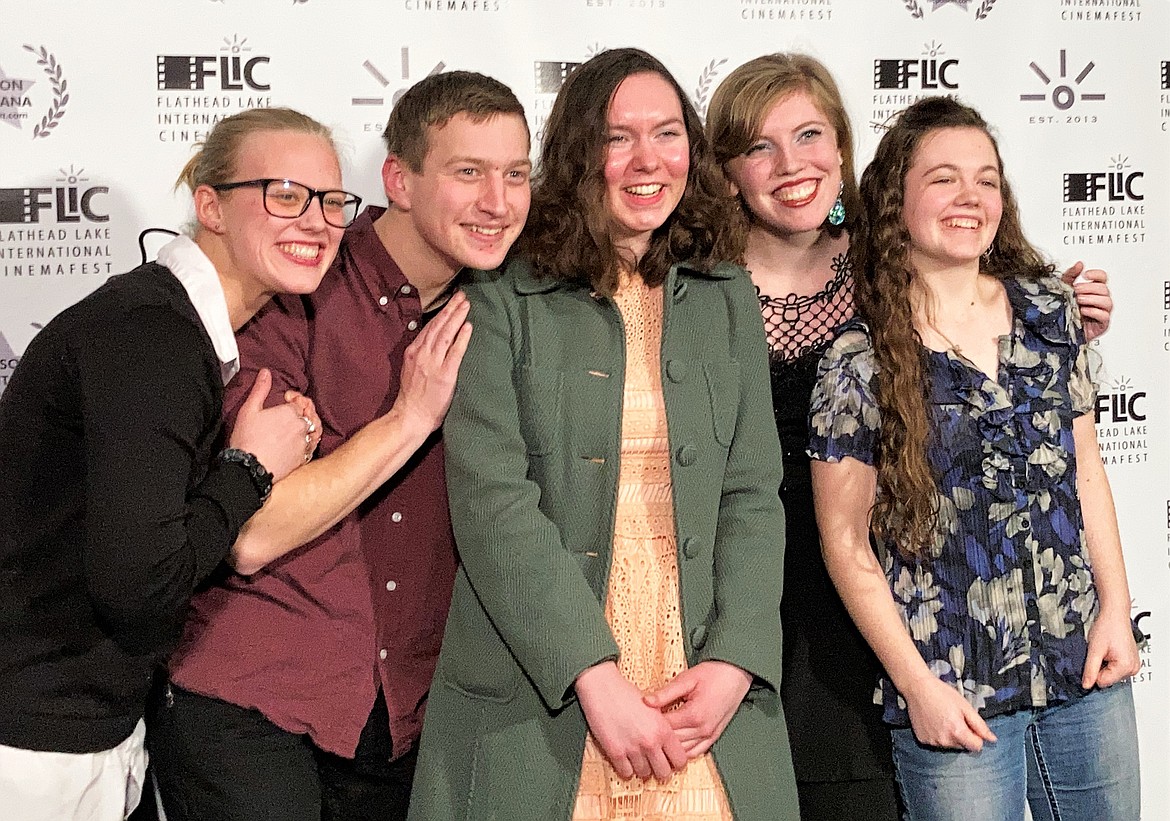 The young cast and crew of "Winter 1941" from Kalispell includes, from left, Kylie Hallmark (musical score, actor), David Royer (actor), Mailli Brown (writer, director, producer), Maria Bay (actor, co-producer) and Melina Baracker (actor, co-producer). (Carolyn Hidy/Lake County Leader)
Previous
Next
by
CAROLYN HIDY
Lake County Leader
|
February 10, 2022 12:35 AM
Kids these days. They can do way more with technology than just help older folks out with their phones and laptops.
With "Finding Yawu'nik'" and "Winter 1941," two local groups of young filmmakers showed the adults at the 2022 Flathead Lake International Cinemafest (FLIC) that good stories can make it to the big screen no matter who you are.
In "Finding Yawu'nik'," Polson Middle School students interviewed several local residents with different interpretations of what the Flathead Lake Monster might be. Nine students — Analeigh Bryant, Jack Huffine, Arlonna Christopher, Kaylee Coles, Rosie Lies, Morgan Delany, Greta Lund, Annalyse Lozar and Zoey Rogers — created the film at a one-week Montana Media Labs "Digital Camp" last summer, just as their fifth- and sixth-grade school years ended.
Media teacher Tami Morrison said the camp focused on digital literacy, including technical skills as well as how to identify reliable news sources. The students learned how to storyboard, contact sources, film, photograph, capture sound and edit footage. Interviewees included District Judge James Manley, Kootenai Culture Committee Director Vernon Finley, CSKT Fisheries Biologist Barry Hansen and Polson Flathead Lake Museum's Karen Dunwell, and another anonymous person who related a personal anecdote.
"We learned how to put it together in a way that made it a story that's intriguing for the viewers," Huffine said.
Every student edited parts of the film even as others were conducting interviews.
All of the students are currently working on projects in Ms. Morrison's media class. They put on a daily newscast, including feature stories called "Special Segment" put out the school yearbook. Coles is working on a 10-minute photo challenge, while Christopher is working on a podcast. Huffine considers himself a cartoonist, but is currently working on a live-action short about a superhero bunny. Bryant and a partner are filming "Makeover Madness," a makeup tutorial with a teacher for a model.
"It's really fun in her class," Coles said. "We get to think of our own ideas and then portray them for everybody to see."
"Finding Yawu'nik'" can be viewed at tinyurl.com/wfztzznn. The school news broadcasts are available at https://sites.google.com/polson.k12.mt.us/pnn/home.
'Winter 1941'
Mailli Brown of Kalispell had a deep interest in World War II history. But it was the story of those left on the home front that the teen related to more than battles and weaponry.
Brown's empathy for the women who stayed home when their loved ones went to war left powerful images in her head that she envisioned from books she had read. She wrote the entire storyline of "Winter 1941" in half an hour, using that imagery with no dialog.
"All my friends were home from college," Brown said at this year's FLIC festival last month in Polson. "I thought, 'We could do this before everyone goes back to school.' The only chance we had would be the next weekend, so I started contacting everyone and they were up for it."
They filmed it in less than three days.
"Everyone" was a tight-knit group of friends, now 17 and 18, some of whom had been making movies together since they were 14, starting with a 47-minute medieval adventure flick. One actor, Maria Bay, has been neighbors and friends with Mailli since they were small.
Brown used a digital Canon camera from her parents, who are professional photographers. She needed no microphone, as there was no dialog, but she also needed no tape or film, as the new technology records on a tiny digital memory card. She used her parents' Adobe programs for editing, and spent much of her last semester of home-schooling senior year color-correcting each frame to match old photographs.
Kylie Hallmark acted in the film and wrote and recorded the soundtrack — in her bathroom, where the acoustics are good. She used a high-end microphone, a thumb piano and a keyboard, with Garage Band on an iPad to combine tracks and edit. They also used stock music and sound effects, and an actual recording of the original radio announcement of the bombing of Pearl Harbor.
For costuming and props, the group gathered many historical items from family and friends and visited a lot of thrift shops. Producer Abbi Fischer's mom brought over a dress suit that her great-grandmother had made from a men's suit in the 1940s. It was very small, but Melina Baracker fit into it.
The crew's research and film work contributed to a deep appreciation for those who experienced World War II and other conflicts.
"Those women who endured such terrible times are true heroes, and I don't think we give them credit for living through those times and still having good lives," Baracker said.
David Royer, who played a young man signing up for the military, was also moved. He related a similar story to that of the film that he had been told by a Marine son of a Normandy veteran. "Always remember the fallen," Royer said. "Remember what they did. Remember what their mission was."
The movie touched the audience as well. During a Q&A session after the FLIC screening, one woman said, "This was very meaningful to me because my mom was in Great Falls when that announcement would have come over the radio. They would have been about the age of the girls in the film. I've always wondered what that would have felt like. Thank you."
The film won Best Student Film at the Bigfork Independent Festival and was nominated for multiple awards at FLIC.
"Winter 1941" is available to view on YouTube.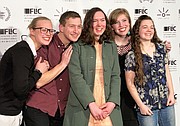 Recent Headlines
---