Polson's Brookelyn Slonaker the latest TATL award recipient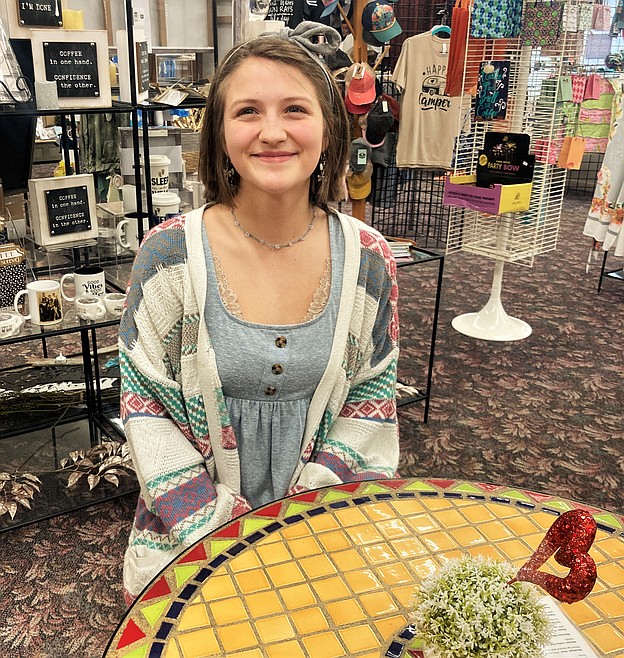 Brookelyn Slonaker said she loves children, science and singing in a choir. She recently accepted a full tuition scholarship to Northwestern University in Chicago, where she plans to study speech pathology. (Carolyn Hidy/Lake County Leader)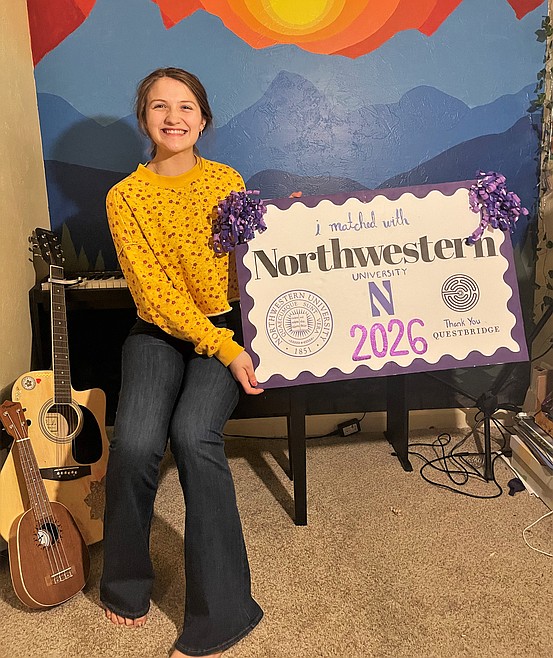 Brookelyn Slonaker recently accepted a full tuition scholarship to Northwestern University in Chicago, where she plans to study speech pathology. (Courtesy photo)
Previous
Next
by
CAROLYN HIDY
Lake County Leader
|
February 17, 2022 12:15 AM
Polson High School senior Brookelyn Slonaker is the latest recipient of the Today's Achievers, Tomorrow's Leaders award for teens who make a difference in their communities. The award is sponsored by Logan Health and the Lake County Leader.
Slonaker's family settled in the area when she was in eighth grade after moving frequently for their business before that. The newfound stability afforded her many opportunities, including a chance to paint a mural on her own bedroom wall, and pursuing community service and connection, a lifelong interest. She set a goal to make that happen in high school, as well as to do well academically. Boy howdy, did she succeed.
Slonaker's skills and contributions cover a wide spectrum of the arts, sciences, humanities and culture. She has carried a 4.0 GPA throughout her high school career, which included almost every AP class available plus college courses through Flathead Valley Community and Helena Colleges. She has found that she can tackle and enlist enthusiastic helpers to bring complex community service projects to fruition. And she has sung in every choir the dynamic PHS choir director Kaylee Schubert can dream up — except the boys' choir of course.
After four years of volunteer work, and now as president of the Key Club, a service group affiliated with Kiwanis, Slonaker bubbles over with ideas and examples of how one can contribute to the community. She organized a food drive through the DECA business club and mentored freshmen students through the LINK program. With the Key Club, she organized fundraising and labor to help purchase and build the Boys and Girls Club playground.
Recently, she and the Key Club raised funds to contribute to Helping Hands' Community Cradle project to purchase supplies for newborn babies born at Providence St. Joseph Medical Center in Polson. She was impressed that the project, which provides bassinets that can help offer a safe place for babies to sleep, may be contributing to a noticeable reduction in SIDS deaths. The club realized they could be more helpful by actually purchasing and assembling the baby boxes, so they jumped at the chance.
"We find a need in the community and we fill it," Slonaker said.
She discovered along the way the ability to jump in and make things happen rather than having to wait for someone else.
"It's a really great feeling because this is something I love to do and now I know I can make it happen."
Slonaker recently received a full-ride scholarship through the Questbridge program to Northwest University in Chicago. She chose that school because it offers degrees in communication sciences and disorders, a preliminary major toward a masters degree in speech and language pathology. She was drawn to the field as she shadowed speech pathologist Julie Burke at Cherry Valley Elementary last semester. She sees this career as a good way to combine her loves of science, kids and service.
"Brookelyn is an exceptionally talented student," wrote PHS counselor Betsy Wade in her nomination of Slonaker for the TATL award, "demonstrating academic excellence and intellectual curiosity. She has a strong work ethic and shows a genuine desire to make a positive difference in the lives of others."
Slonaker's advice for others is to "find what makes you … you."
For example, she was involved in many sports early in high school, and was urged to continue with them but found herself losing interest. Deciding to concentrate on those things that she was more interested in has really helped her succeed.
"Don't do anything for other people's reasons. Find what's 'happy' for you."
As part of receiving the TATL award, Logan Health will donate $250 to the school project or organization of her choice. Slonaker has chosen to donate the award to the Key Club.
Nominate a student
To learn more about the Today's Achievers, Tomorrow's Leaders Program and how to nominate a Lake County student for the award, visit tinyurl.com/49yhhmz9.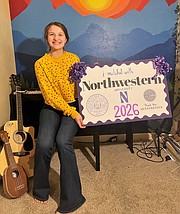 Recent Headlines
---