Basketball Roundup: Rivals split twinbill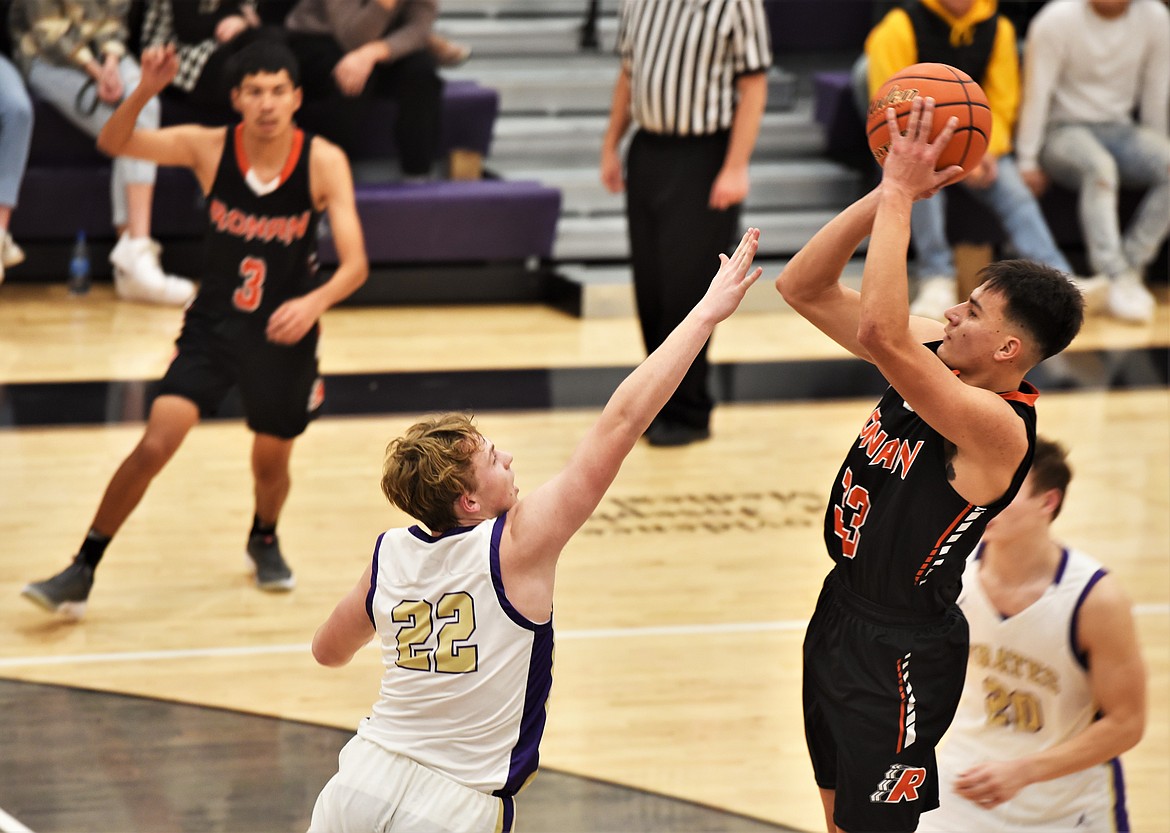 Trent Wilson (22) defends a shot by Ronan's Zarec Couture in front of Polson's Jarrett Wilson (20) and Ronan's Dillon Pretty On Top. (Scot Heisel/Lake County Leader)
by
SCOT HEISEL
Lake County Leader
|
January 11, 2022 5:45 PM
The Polson/Ronan basketball rivalry kicked into high gear Friday night with varsity boys and girls clashes at Polson's Linderman Gym.
The scores from both games were fairly lopsided in the end, with the Maidens winning 65-41 in the opener and the Pirates cruising to a 56-35 victory in the late game.
Senior Colton Graham scored 24 points to lead the Pirates (2-1, 3-4). Graham made 10 of 14 free throws along the way in a game that saw many fouls by both teams.
The loss was the first in conference play for the Chiefs (3-1, 3-4), who got a team-high nine points from Elijah Tonasket.
The Chiefs came out cold and stayed that way through much of the game. They made 11 field goals as a team, and made 10 of 17 free throws.
Ted Coffman scored six points and had five rebounds for the Chiefs.
Polson outrebounded Ronan 46-22, including 15 from Braunson Henriksen and eight from Jarrett Wilson.
Espn Fisher added 10 points for Polson, while Trent Wilson scored eight points and added five rebounds.
In the early game, Olivia Heiner scored 20 points, making three 3-pointers, and LaReina Cordova had 15 points and six rebounds to lead the Maidens (3-1, 4-2) past the Lady Pirates (2-2, 3-5).
Ronan jumped out to a 24-9 lead after the first period, and slowly bolstered their advantage from there.
Leina Ulutoa just missed a double-double in her return from injury for Ronan, posting 13 points and nine rebounds. Likewise, Dani Coffman had 10 rebounds to go with nine points.
Grace Simonich led Polson with nine points and six rebounds, while Ari Burke scored eight points and Jazlyn Dalbey added six.
Ronan outrebounded Polson 49-29.
The two teams will meet again Feb.4 at Ronan, when the Chiefs and Maidens will honor the inaugural class of their new Hall of Fame.
Boys: Polson 56, Ronan 35
Ronan 7 - 7 - 8 - 13 – 35
Polson 10 - 16 - 14 - 14 – 65
RONAN – Elijah Tonasket 3 1-2 9 (2r), Ted Coffman 2 2-2 6 (5r,1a,2s,1b), Dillon PrettyOnTop 2 0-0 5 (1r,1a), Payton Cates 2 1-2 5 (5r), Marlo Tonasket 1 3-4 5 (3r,2a), Ruben Couture 1 3-7 5 (6r,2b), Mason Clairmont (1s). Team: 11 10-17 35 (22r,4a,4s,3b).
POLSON – Colton Graham 7 10-14 24 (5r,1s), Espn Fisher 2 4-4 10 (2r,1s), Trent Wilson 3 1-4 8 (5r,1a,1s), Jarrett Wilson 1 3-4 5 (8r,3a,2s), Braunson Henriksen 2 0-0 4 (15r,2a), Xavier Fisher 2 (4r,1a,1b), Alex Muzquiz 2 (1a,1s,1b), Robert Perez 1 (1r,1a,1s), Dawson DuMont 0 (4r,1a), Nikolai Figaro (1r), Ethan McCauley (1r), Tyler Wenderoth (1s). Team: 17 19-28 65 (46r,10a,8s,2b).
3FGs – Ronan, 3 (E. Tonasket 2, PrettyOnTop), Polson, 3-14 (Fisher 2-5, T.Wilson 1-1).
Girls: Ronan 65, Polson 41
Ronan 24 - 12 - 14 - 15 – 65
Polson 9 - 11 - 12 - 9 – 41
RONAN – Olivia Heiner 6 5-11 20 (2r,1a,3s), LaReina Cordova 4 7-9 15 (6r,1a,1b), Leina Ulutoa 5 3-9 13 (9r,1a,2s), Dani Coffman 4 1-5 9 (10r,1a,1s,1b), Isabella Devereaux-Trahan 2 0-0 4 (4r), Wenona Patton-Tenas 1 1-2 3 (2r), Lauryn Buhr 0 1-4 1 (3r,2a), Haylie Webster 0 (4r,1a,2s), Margaret Cordova 0 (2r,2a), Kylie Fetui 0 (5r,1a,1s), Kylee Kelch (1r), Oceanna Arnoux (1r). Team: 22 18-40 65 (49r,10a,8s,2b).
POLSON – Grace Simonich 3 3-6 9 (6r,1a,1b), Ari Burke 2 2-4 8 (2r,2a,1s), Jazlyn Dalbey 1 3-3 6 (3r,2a,2s), Jaivin BadBear 2 0-0 5 (1s), Julia Barnard 1 2-6 4 (3r,2a,3s), Ilysia Adams 2 0-0 4 (5r,3b), Lexi Wirz 3 (2r,1a,2s), Turquoise Pierre 1 0-2 2 (2r,1a), Nikki Kendall 0 0-2 0 (6r). Team: 13 10-23 41(29r,8a,9s,4b)
3FGs – R3-15 (Heiner 3), P5-22(Burke 2-9, BadBear 1-2, Dalbey 1-4, Wirz 1-6).
Lady Pirates top Whitefish
Jazlyn Dalbey scored 14 points, Julia Barnard added 12 and Jaivin Bad Bear contributed nine as Polson earned its third win of the season at home on Jan. 4.
The Lady Pirates led 26-17 at half, but managed just five points in the third period before rallying for the win.
Dalbey hit a 3-pointer late to help put the game away.
The boys game, scheduled to take place at Whitefish, was postponed due to illness. The game was rescheduled for Tuesday, Jan. 25.
Lady Vikings dominate
The Charlo girls improved to 7-1 on the season with a pair of big wins last weekend.
Hayleigh Smith scored 11 points and Mila Hawk added 10 in a 37-17 win at Plains on Friday.
Saturday at Charlo, Hawk scored a career-high 21 points to go with seven steals, and Kassidi Cox scored 17 to lead the Lady Vikings (3-0, 7-1) to a 49-15 win over Noxon.
Smith added six points and Seeley McDonald pulled down four rebounds.
Charlo hosts Superior on Friday and visits Hot Springs on Saturday.
Bulldogs keep rolling
Zoran LaFrombois made five 3-pointers on his way to 35 points and Kellen McClure scored 20 as the Bulldogs (6-0) jumped out early and coasted to a 73-56 win at Arlee (6-3) on Friday.
The Bulldogs also got 10 points and six rebounds from Cedric McDonald, and Ross McPherson added six points and seven rebounds.
Levi Fullerton led the way for Arlee with 19 points. Ben Harlow scored 13, and Kendall O'Neill scored eight points, including a pair of 3-pointers.
Mission's Jan. 6 game at Thompson Falls was postponed due to poor road conditions.
Arlee was coming off a tough 82-71 loss the previous night at Florence-Carlton. No statistics were provided for that game.
Vikings win a pair
The Charlo boys pushed their season record above the .500 mark with victories at Plains and at home against Noxon.
Keaton Piedalue led the team with 17 points, while Tucker Love added 15 in a 64-28 win at Plains on Friday.
The Vikings (2-1, 5-4) also got 12 points each from Stetson Reum and Wesley Anderson.
Love led the team with a dozen points and pulled down five rebounds in a 52-29 win Saturday against Noxon. Reum finished with 10 points in that game, while Coyle Nagy had 11 rebounds to go with eight points. Anderson also finished with eight points and 11 rebounds.
Lady Bulldogs go 1-1
Kooper Page notched 15 points, eight rebounds and six steals in a 55-43 loss Jan. 4 at undefeated Thompson Falls. Izzy Evans had 11 points and five rebounds, and Madyson Currie finished with seven points, seven rebounds, eight assists, four steals and five blocked shots.
T-Falls outrebounded Mission 58-37.
On Friday the Lady Bulldogs (4-3) visited Arlee and came away with a 63-22 victory.
Kooper Page scored 23 points in the win, while Kason Page added 17 and Olivia Adams scored 12.
The Scarlets (3-6) were led by McKirah Fisher's 10 points, and nine from Raven Parson.
Arlee was coming off a 76-32 loss at Florence-Carlton the previous night. No statistics were provided for that game.
---