Polson Police Department says farewell to Capt. Booth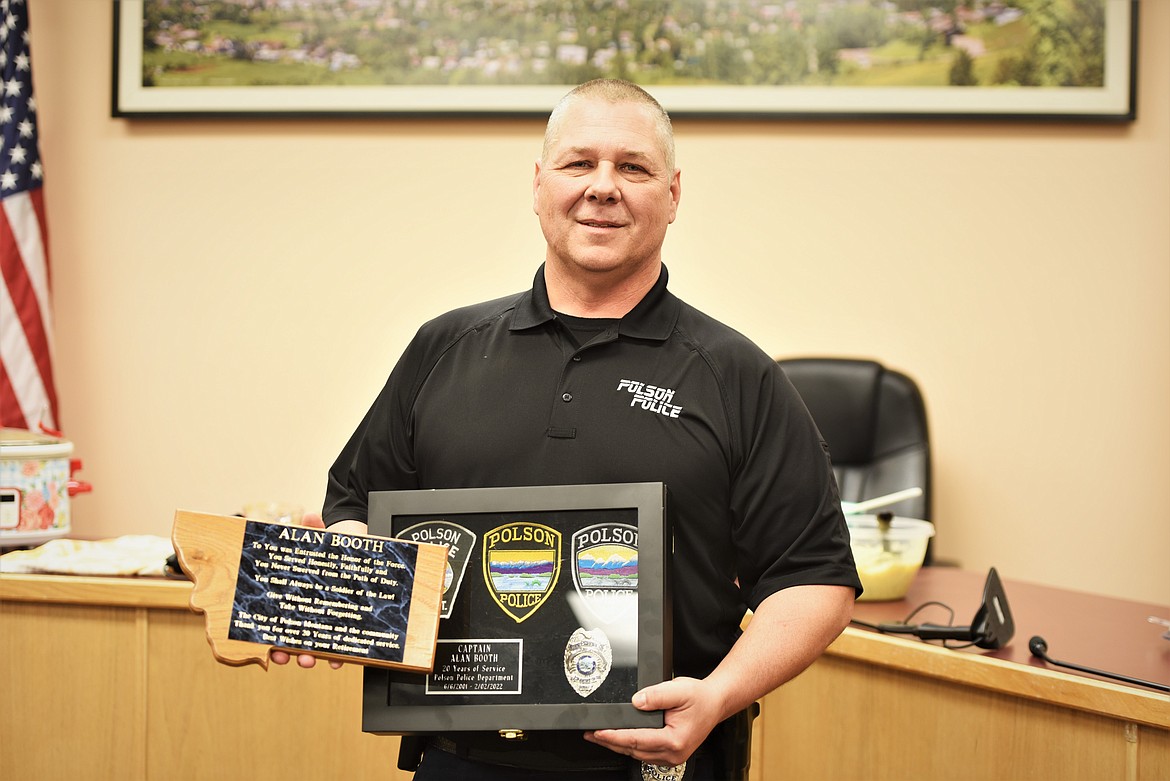 Capt. Alan Booth has worked at the Polson Police Department for more than 20 years and was the most recent assistant police chief. (Scot Heisel/Lake County Leader)
by
SCOT HEISEL
Lake County Leader
|
January 20, 2022 12:15 AM
Members of the Polson Police Department and city staff gathered at City Hall on Friday to say goodbye to Capt. Alan Booth, who is leaving the PPD after 20 years of service.
Friday was the last day of work for Booth, who also has served as assistant chief for nearly five years. He and his wife purchased a home in the Plains area last year, and they will be spending most of their time in Sanders County now.
"I'll still be working. I'm not retiring," Booth said Friday, though he's not sure whether he'll work in law enforcement again.
"I don't know. We don't know what path we're going to get in life, do we?"
Booth moved to Polson in 1999 and began working at the Lake County Jail. He joined the Polson Police Department in 2001, his first full-time job as a law enforcement officer.
Booth has worked under three police chiefs during his 20 years — Ron Buzzard, Doug Chase and current Chief Wade Nash, who was working at the county jail when Booth joined the staff in 1999.
"He worked his way up from the bottom," said Nash, who was named chief in 2011. It was Nash who promoted Booth to captain and assistant police chief.
"He's one of the most unselfish people I've ever met in my life," Nash said. "He always put the team and the community in front of him. … He's also the guy that is going to come out and do whatever it takes and sacrifice himself to get the job done for the community."
The city held a lunch reception for Booth in the City Commission's chambers Friday. He received several PPD patches and a badge framed in glass, and a plaque that reads: "To you was entrusted the honor of the force; you served honestly, faithfully and you never swerved from the path of duty; you shall always be a soldier of the law; give without remembering and take without forgetting; the city of Polson and the community thank you for over 20 years of dedicated service."
Booth, who is known as a man of few words, had a particularly tough time discussing his departure Friday.
He said his greatest memory from his time of service was simply "the camaraderie, having lunch with the guys."
He said he doesn't envy the younger, newer members of the law enforcement community, who must master all of the new technology on top of the normal pressures of the job.
"It's quite different from what I grew up with, but then young guys grow up differently then we grew up, too."
Wade said he's in no rush to name a new assistant chief.
"I've learned that if you rush decisions like that, you can come to regret it."
However, he knows for certain that he will miss his good friend, Capt. Booth.
"You could say, 'Hey, Alan, I need you to go to Plains.' And if he didn't have a car, he'd take off walking. He would be that guy who took off and didn't ask questions but knew it was the right thing to do for a reason. He never questioned authority and always put the community first."
---