Mariners' 2022 season comes to an end
by
ROB ZOLMAN
Sports Reporter
|
July 28, 2022 12:00 AM
KALISPELL – The Mission Valley Mariners' 2022 season officially came to an end last weekend during the West A District Legion tournament hosted at Kalispell's Griffin Field.
The Mariners entered the tourney on Thursday as the No. 2 seed, but came up short against the seventh seeded Libby Loggers, 2-1.
On the hill for the Mariners, Dylan Davis went four and two-thirds innings, allowing two runs on five hits and struck out five.
In loser-out action on Friday morning, the Mariners sent the Missoula Mavericks "A" squad home in a 7-0 shutout victory.
Espn Fisher led the Mariners at the plate with four RBIs followed by Dawson DuMont with a triple and two RBIs.
Going the distance for the Mariners, Cymian Kauley threw a three-hitter, walked five, and struck out two.
Looking to keep their postseason dreams alive, the Mariners jumped out to an early 1-0 first inning lead over the Bitterroot Bucs on Saturday during loser out bracket action.
Unfortunately for the Mariners, a Bucs' three-run second inning erased the Mariners' lead and postseason hopes as the Mariners season came to an end in a 6-2 loss.
Espn Fisher and Davis each booked RBI singles for the Mariners.
In five innings of work on the mound, Alex Muzquiz allowed five runs on seven hits, struck out two and walked two.
The Mariners finished their 2022 American Legion campaign with an overall season record of 45-14 along with five players receiving postseason accolades for their on field performance throughout the year.
Xavier Fisher and Dawson Dumont were awarded both all-state and all-district honors. Joining Fisher and Dumont on the all-district list were Alex Muzquiz and Epsn Fisher.
Also for the Mariners, Dylan Davis earned an all-district honorable mention distinction.
2022 Western A District Tournament
Griffin Field, Kalispell
Thursday-Sunday, July 21-24
Libby Loggers 2, Mission Valley Mariners 1
Loggers 001 100 0 - 2 6 2
Mariners 000 000 1 - 1 7 2
MARINERS — Xavier Fisher 1-4, Alex Muzquiz 3-4, Dawson DuMont 0-4, Epsn Fisher 0-4, Dylan Davis 0-3, Wyatt Wadsworth 1-3, Ethan McCauley 0-1, Brock Henriksen 2-3, Cymian Kauley 0-2, Cole Wadsworth 0-1.
Mission Valley Mariners 7, Missoula Mavericks "A" 0
Mavs 000 000 0 - 0 3 1
Mariners 230 200 x - 7 4 1
MARINERS — Xavier Fisher 1-2, Alex Muzquiz 0-3, Dawson DuMont 1-4, Epsn Fisher 2-2, Dylan Davis 0-3, Wyatt Wadsworth 0-2, Ethan McCauley 0-3, Brock Henriksen 0-2, Cole Wadsworth 0-2.
3B — DuMont. RBIs — Fisher 4, DuMont 2.
Bitterroot Bucs 6, Mission Valley Mariners 2
Bucs 031 010 1 - 6 8 2
Mariners 101 000 0 - 2 8 2
MISSION VALLEY MARINERS — Xavier Fisher 1-3, Muzquiz 2-4, Dawson DuMont 0-2, Epsn Fisher 2-4, Dylan Davis 3-4, Wyatt Wadsworth 0-4, Ethan McCauley 0-2, Brock Henriksen 0-4, Cole Wadsworth 0-3.
RBIs —E. Fisher, Davis.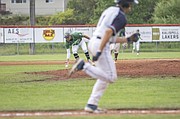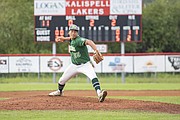 Recent Headlines
---