Elmo Fire consumes 7,000 acres in one day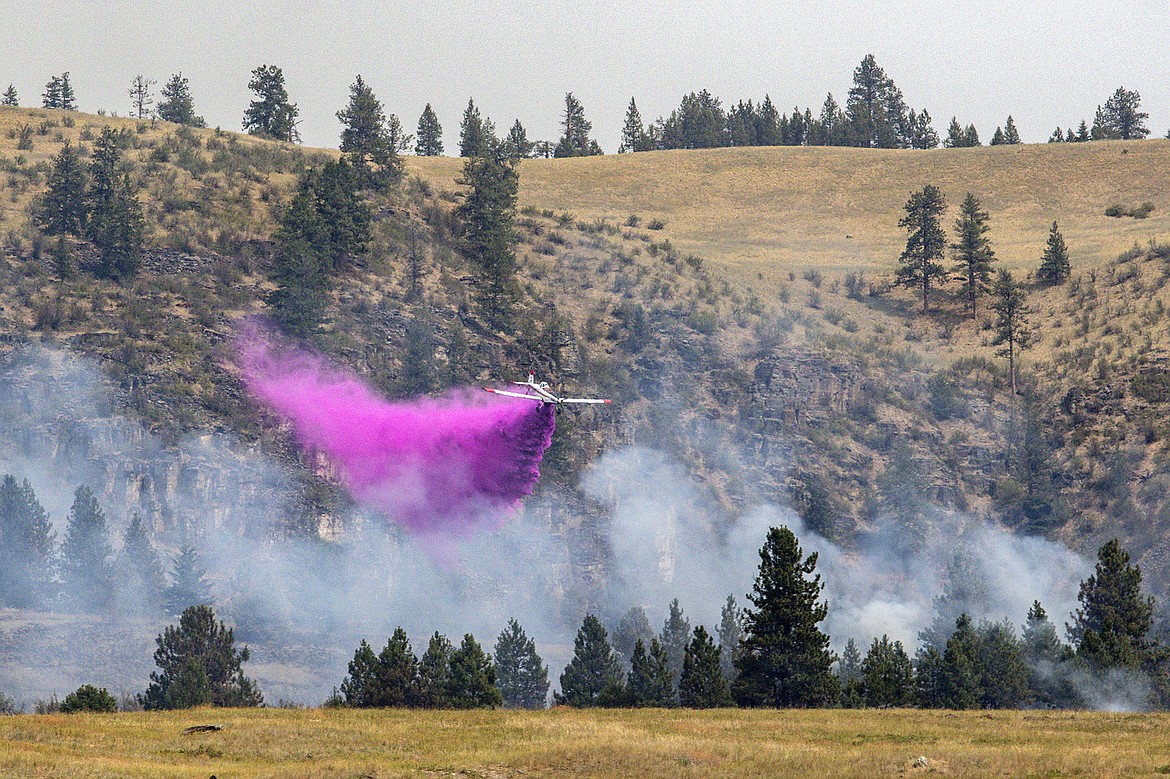 Fire retardant is dropped on the Elmo Fire burning west of Flathead Lake near Elmo on Saturday, July 30, 2022. (Rob Zolman/Lake County Leader)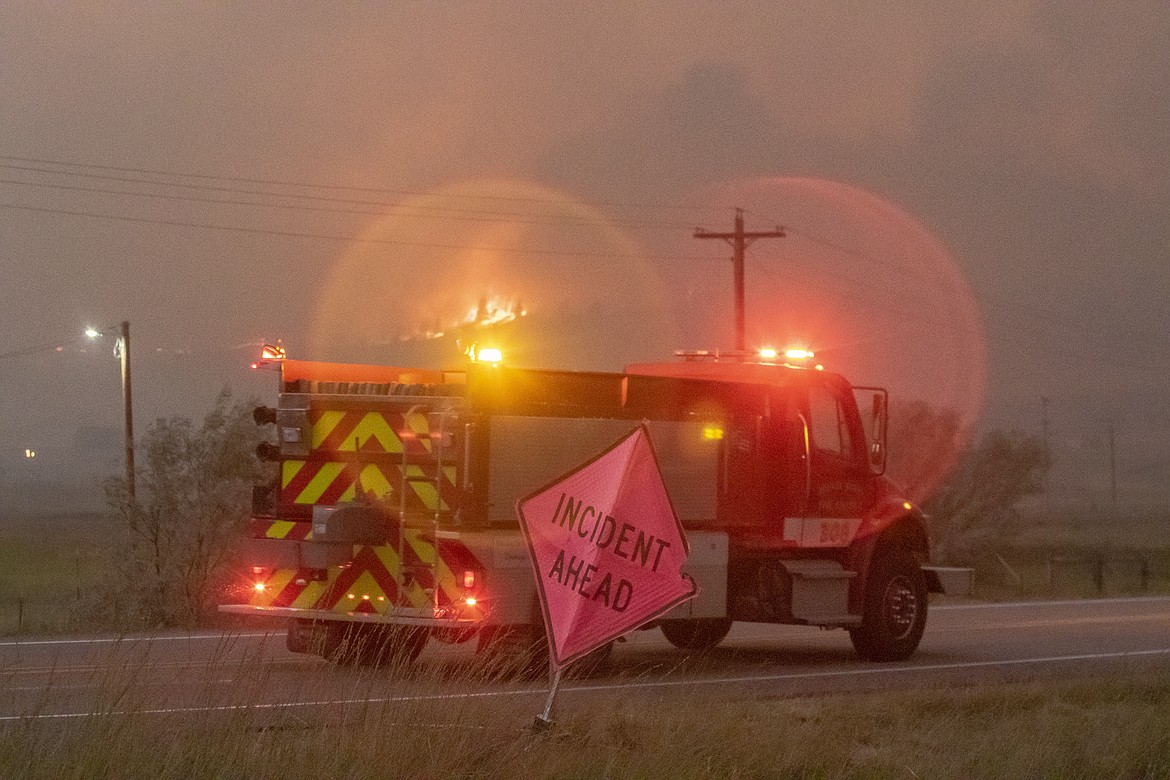 Fire crews respond to the Elmo Fire west of Flathead Lake on Friday night. (Rob Zolman/Lake County Leader)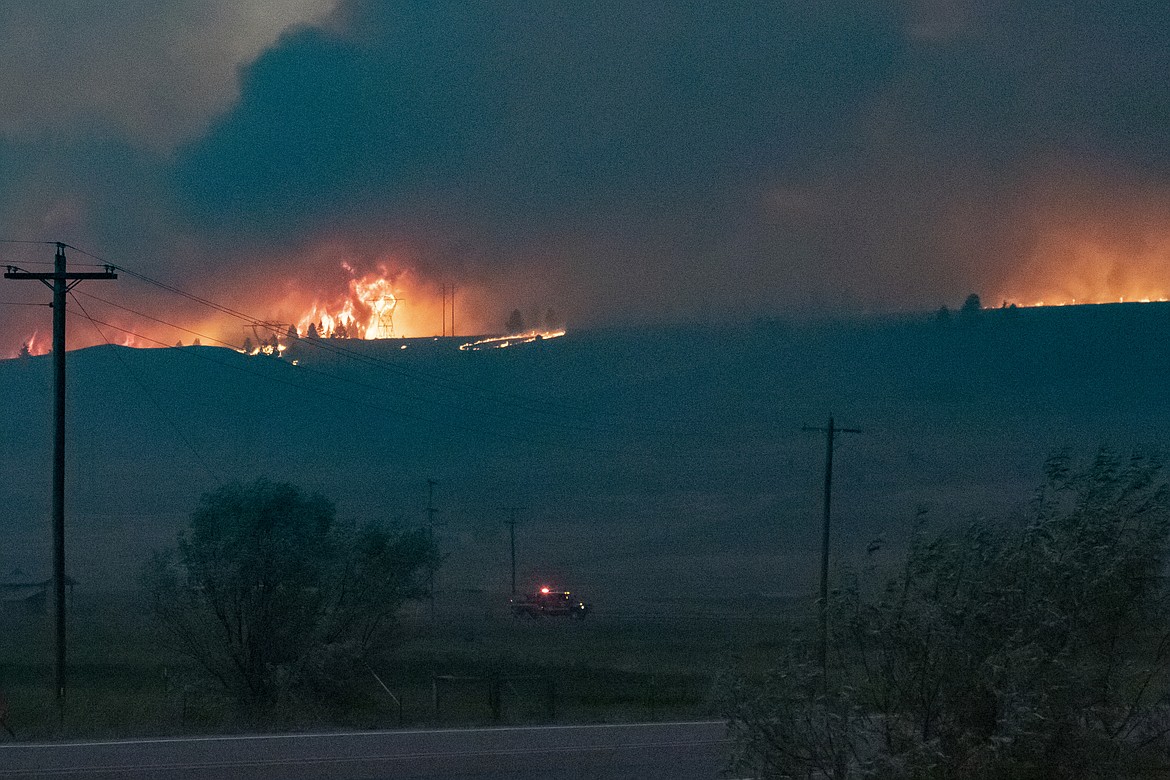 The Elmo Fire burns near high voltage power transmission lines west of Flathead Lake near Elmo on Friday, July 29, 2022. (Rob Zolman/Lake County Leader)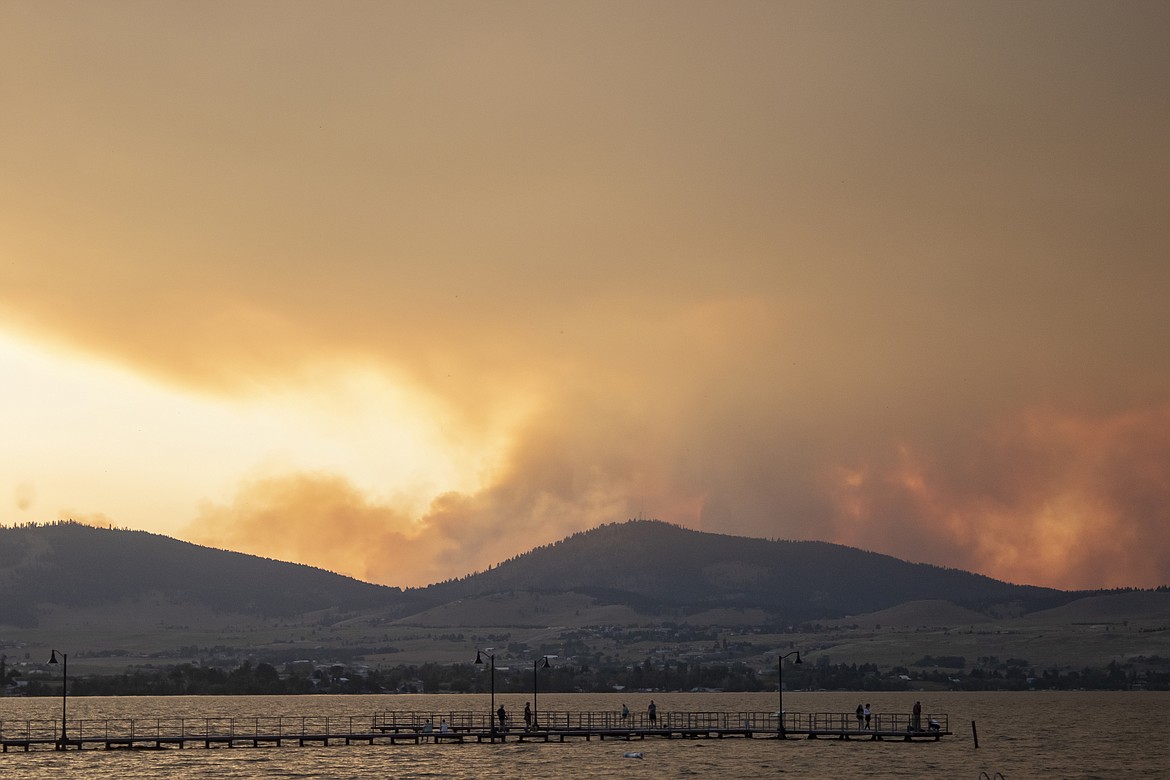 The Elmo Fire burns west of Flathead Lake near Montana 28 on Friday, July 29. (Rob Zolman/Lake County Leader)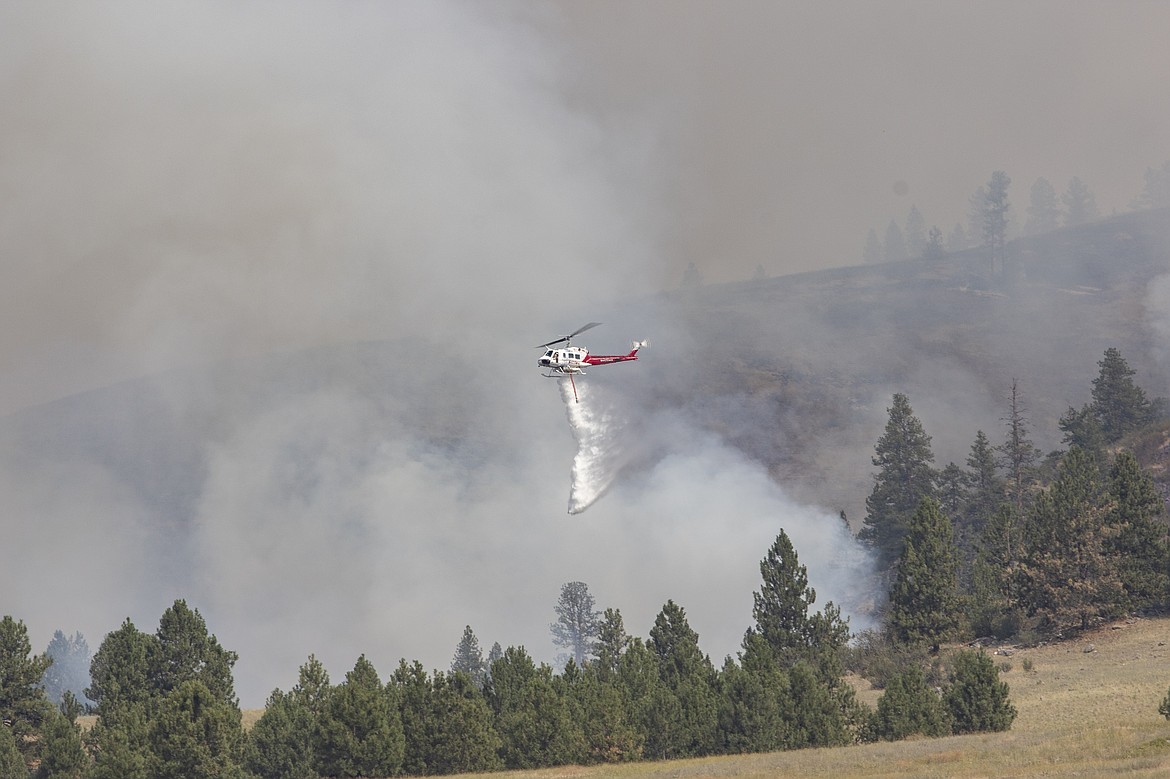 A helicopter drop water on the Elmo Fire burning west of Flathead Lake near Elmo on Saturday, July 30, 2022. (Rob Zolman/Lake County Leader)
Previous
Next
by
Lake County Leader
|
July 30, 2022 5:00 AM
Evacuation orders were issued Friday night after a wildfire quickly ballooned near Elmo on the west side of Flathead Lake.
The human-caused Elmo Fire was estimated at about 7,000 acres in size as of Saturday afternoon, making it the largest fire in the state. Fire behavior was described as extreme with 0% containment.
According to C.T. Camel, the information officer with the CSKT Division of Fire, the blaze is burning 4 miles west of Elmo. It began in grass and made its way into timber north of Montana 28. Crews are investigating what sparked the fire.
"The fire is consuming some thick standing and dead timber that has not seen fire in several decades," Camel noted.
Hot and dry conditions with wind was expected to increase fire activity this weekend. Highs were predicted in the triple digits with winds up to 15 mph. The relative humidity was at 8% to 13% in the valleys.
Homes to the south of Lake Mary Ronan Road remained under an evacuation order Saturday. An evacuation order for Chief Cliff Estates was lifted in the afternoon. Montana 28 was closed to traffic and people were advised to avoid the area due to smoke and firefighting vehicles.
On Friday night, an evacuation zone extended from north of Big Arm to Dayton along U.S. 93, along Montana 28, and along Lake Mary Ronan Road from mile marker 5 to U.S. 93. People in the Elmo area were told to leave immediately as the fire grew from 200 acres to 2,000 acres in a matter of hours.
Campers at both Lake Mary Ronan State Park and Big Arm State Park were evacuated and the sites are closed until further notice, Montana Fish, Wildlife and Parks reported Saturday.
Montana Red Cross opened a shelter at the Linderman School gym at 312 4th Ave. E., in Polson for residents displaced by the evacuation order. Residents can also request services by calling 1-800-272-6668.
Residents from Lakeside to Elmo were without power as of Saturday afternoon.
An estimated 125 firefighters were on the scene. The blaze was being managed as a Type 3 Incident.
Heavy air tankers, single-engine airtankers and helicopters were being used to stop the spread of the fire to the north and west, Camel said. Fire retardant and water bucket drops were being used Saturday, with helicopters refilling at Black Lake.
A Type 2 team was ordered and Camel said they likely would arrive on Sunday or Monday.
Initial responders included emergency personnel from Lake County, CSKT Division of Fire, Chief Cliff, Rollins, Hot Springs, Polson, Ronan, Finley Point and Mission, with air support and smoke jumpers from the Missoula DNRC.
MEANWHILE, A small wildfire was reported Friday evening in a remote area of Glacier National Park on Flattop Mountain, but Glacier spokesperson Gina Kerman said crews were unable to find the fire as of Saturday morning, and it may have been out.
Flattop Mountain has burned in previous fires. It is a remote area several miles to the north of the Going-to-the-Sun Road.
Another 2 acre fire sparked up Friday afternoon in grass and timber on the Flathead Forest west of Lakeside.
According to the Kalispell Interagency Dispatch Center, the Eagle Mountain Fire burned about 2 acres. Firefighting resources had been assigned to the blaze.
Fire danger was rated as high on the Flathead Forest.
According to the DNRC fire information dashboard, five new fires were reported in Montana on Friday. Two others were reported near Miles City, and another near Great Falls. Size estimates were not available.
The National Weather Service in Missoula says a dangerous heat wave will continue to impact all of the Northern Rockies through the weekend.
Heat warnings and advisories were in effect for north central Idaho and western Montana through Sunday. Forecasters said temperatures could top 105 degrees Fahrenheit in some areas.
The lates wildfire information is online at www.mtfireinfo.org.
Recent Headlines
---