Facial spa opens in Polson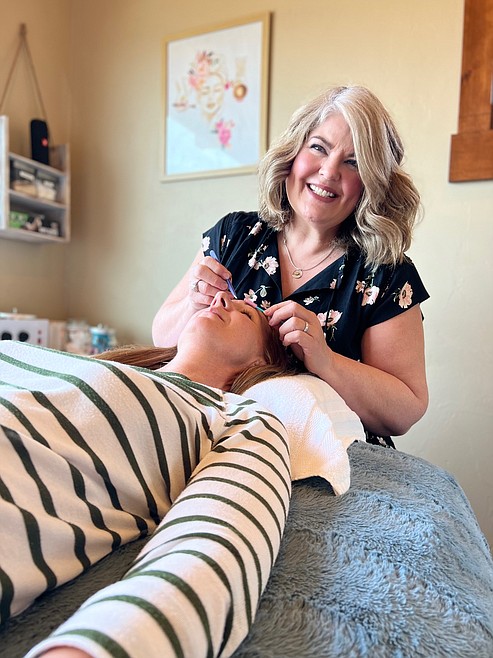 Julie Rush, a licensed esthetician, at the Lakehouse Skin studio. (Charlene Wells/Lake County Leader)
by
CAROLYN HIDY
Lake County Leader
|
June 2, 2022 12:00 AM
A full-service beauty spa has opened in Polson, offering everything from traditional deep cleansing facials to lash extensions and even a bonus face and neck massage. And yes, both women and men are enjoying the luxurious treatments.
Julie Rush, a licensed esthetician who has been in the beauty business all her life, grew up near Shasta Lake, and recently relocated, bringing decades of experience to the Flathead area.
Rush opened her studio, Lakehouse Skin, inside the Mission Valley Physical Therapy office last fall.
"It's such a nice location," she said. "It's quiet, cozy, relaxing, with a beautiful view of the Mission Mountains and the lake."
Rush began working in the beauty field as a teen at a Merle Norman Cosmetics studio owned by her mother, learning to apply and sell makeup and skin care. She went on to become a manager of the cosmetics department at Nordstrom's. In her early thirties, she went to school and became a licensed esthetician. In 2004 she began that practice in a busy salon in Sacramento.
Eventually she struck out on her own. Her loyal clientele followed and stuck with her for 18 years, when she and her husband decided to live the rest of their years in the Flathead Lake area.
"I really like the small community. People are down-to-earth, positive, and have integrity. I'm a social being, and people are warm and welcoming. They smile back."
Rush and her husband are a "young at heart couple," Rush said. "We love to play." She enjoys being on the lake paddling and often joins a hiking group in the Missions.
But her day job as an esthetician is just as rewarding, she said. "The fact that I have been doing it for eighteen-plus years means I bring a lot of experience and knowledge to each treatment."
Facials range from chemical peels that deep-clean, exfoliate, and moisturize to European style that includes more massage to aid in draining fluids from the lymphatic system to reduce puffiness.
Waxing of face and brows and even bikini lines is available. "I love making people's eyebrows 'pop' with shaping and tinting," she said. She offers lash extensions, an intricate process attaching semi-permanent faux lashes individually to your natural lashes to add lash volume.
She trained in "Xtreme" lashes in 2006 before they were as popular as they are now, she said. She likes to do lash tints and lifts, which give them a curl that lasts for about two months.
Rush was also trained as a massage therapist, and though she is retired from that field, she often adds massage in as a special bonus with the facials just to make her clients feel extra relaxed and happy. "Face, neck, declatee - it's a luxurious combo while treating the skin."
"Everyone can benefit from treating themselves kindly," Rush said. "Everybody truly needs time for themselves." She often offers specials to allow people to try out a facial or other treatment.
"People who visit tell me this is their 'happy place,' or that I've got the magic hands" she said. "They can just relax and escape from the world, and they always walk out glowing and with a smile on their face. I am so lucky to be able to do a job I would do even if I didn't need to make a living."
Visit Lakehouse Skin on Facebook, call 406-407-0966, or email Julie Rush at lakehouseskin@gmail.com.
Recent Headlines
---