County, Tribes join new infrastructure agreement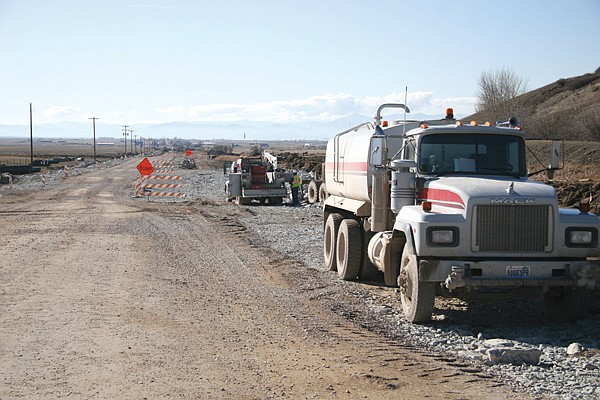 Trucks line Back Road last Friday as construction moves into ful gear this spring. Wet clay has hampered the progress slightly, but the project is expected to be completed by the end of this year.
The Confederated Salish and Kootenai Tribal Council and the Lake County Commission last week announced a new cooperative infrastructure agreement aimed at improving services and reducing costs.
According to a press release from the Tribal Council, under the agreement, approved by resolution of each of the governing bodies, the Tribes and the county will collaborate to "identify solutions to repair, rehabilitate, and maintain roads, bridges and culverts" on the Flathead Reservation and in Lake County.    
"An agreement like this makes sense for all of our citizens. The two governments have the resources between them to replace and repair infrastructure essential to all," said Lake County Commissioner Chairman Gale Decker.
Decker said each government provides services and maintains infrastructure within a common territory where the county and the reservation overlap. 
"We want to identify areas where we can work together to reduce costs, enhance services, improve infrastructure, and identify potential funding," Tribal Chairman Tom McDonald remarked, "and working together to make our roads safer is yet another great opportunity for us and our community." 
The Tribes and the county have been parties to a long-standing transportation agreement that facilitates the use of tribal transportation funding to make improvements to Lake County road infrastructure, the press release states. Under that agreement, the Tribes have made financial contributions to projects on county roads such as the Michel bridge.
Under the new agreement, the parties have broadened their abilities to collaborate by including joint efforts to secure additional sources of funding, contributions of labor and materials, and long-range planning for future transportation infrastructure needs, the release said.
"This agreement builds upon existing agreements that have worked well for many years, which includes the long-standing transportation and law enforcement agreements between the County and the Tribes," said Chairman McDonald. 
Recent Headlines
---