Lady Pirates earns postseason accolades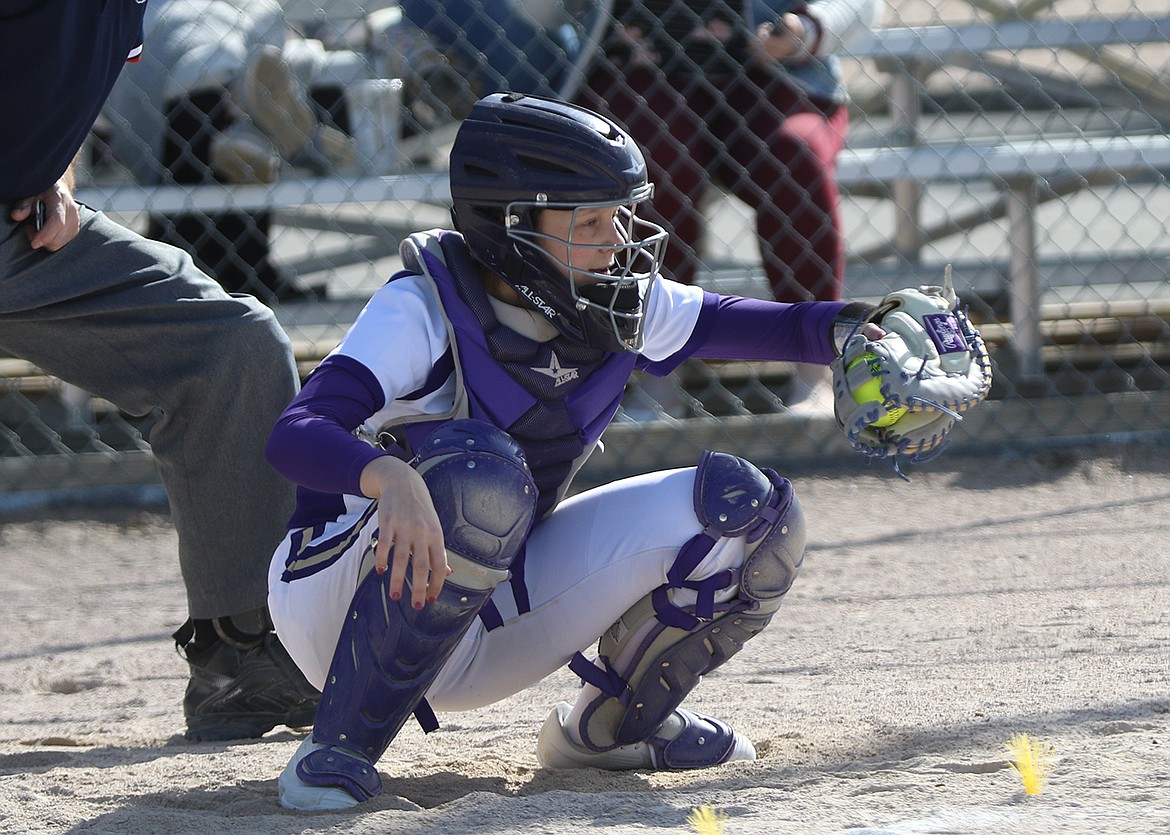 Polson sophomore catcher Mckenna Hanson. (Bob Gunderson photo)
by
John Heglie For the Leader
|
June 9, 2022 12:00 AM
Eight Polson softballers garnered postseason recognition for their plate productivity on offense as well as glovework proficiency defending the field.
Receiving repeat all-state recognition for her mastery from the mound as well as the swing of her bat is senior pitcher Katelyne Druyvestein, who threw over 200 strikeouts her final season while helping out her own cause by clubbing over three dozen hits that included a pair of grand slams. This was the third all-conference nod for Druyvestein, a second-team pick as a freshman to supplement her back-to-back first-team accolades. Druyvestein culminates her prep career averaging around sixteen dozen strikeouts each of the past two seasons and projections would extend her beyond the half millennial mark had SARS-CoViD not cancelled her sophomore season.
Complementing the Polson pitching battery with repeat all-state status is sophomore catcher Mckenna Hanson, second leading hitter among the squad who led the team in extra base hits.
Conferred with all-state acknowledgement is sophomore infielder Carli Maley, who tied for team leading number of hits while generating the most RBIs among the lineup.
Garnering second-team acknowledgement are a trio of Lady Pirates. Anchoring the defense is second-team sophomore shortstop Nikki Kendall, who absorbed numerous balls put into play with high aspirations than they would receive from her glove while generating third leading number of hits for her squad.
On the receiving end of the lions share of putout throws is second-team sophomore first base infielder Avery Starr, whose quick sweep provided an additional means of persuasion as to why trigger happy runners should reconsider advancing on her watch.
Culminating the triad of Pirate second-teamers is collegiate softball-bound senior outfielder Turquoise Pierre, whose arm supplemented the pitching rotation by providing innings in relief while her bat overtook the lead for team home run honors with a half dozen when she unleashed a grand slam during state tournament action. This was the second all-conference nom for Pierre, an honorable mention last season.
Rounding out Lady Pirate recognition include a pair of senior honorable mentions in collegiate softball-bound infielder Jaivin BadBear and centerfielder Anna Vert. The tandem collaborated on just under four dozen hits that included ten for extra bases.
LP batting 2022:
Katelyne Druyvestein 38-81, (6)2B, (3)HR, 31RBI, .469avg, 23R, 2SF,2SH,16BB,1HB, 6SB;
Mckenna Hanson 36-85, (10)2B, (4)3B, (2)HR, 28RBI, .424avg, 20R, 1SF,3SH,10BB,10HB, 7SB;
Carli Maley 38-87, (8)2B, (5)HR, 36RBI, .437avg, 28R, 10BB,3HB;
Nikki Kendall 34-83, (6)2B, (1)3B, (1)HR, 31RBI, .410avg, 34R, 1SF,23BB,1HB, 6SB;
Avery Starr 27-76, (4)2B, (2)HR, 15RBI, .355avg, 19R, 1SF,12BB,1HB, 2SB;
Turquoise Pierre 23-81, (3)2B, (1)3B, (6)HR, 33RBI, .284avg, 25R, 4SF,1SH,12BB,2HB, 5SB;
Jaivin BadBear 23-75, (5)2B, (1)3B, (2)HR, 16RBI, .307avg, 31R, 10BB,2HB, 9SB;
Anna Vert 22-67, (1)2B, (1)HR, 13RBI, .328avg, 30R, 2SH,10BB,3HB, 6SB.
LP pitching 2022
Druyvestein (w-l:19-8)136⅓IP:201K, 6PO,20A;
T.Pierre (w-l:1-0,5sv)22IP:27K;
Kendall (1sv)2IP:4K.
Accrued athletic accolade acknowledgements:
Katelyne Druyvestein (SB 2x a-s, MVP2021, 3x a-c: 1st-tm 2022-21, 2nd-tm 2019), Mckenna Hanson (SB 2x a-s, 2x a-c 1st-tm; VB a-c 2nd-tm 2021), Anna Vert (SB 2x a-c hm), Turquoise Pierre (SB 2x a-c: 2nd-tm 2022, hm 2021), Avery Starr (SB a-c 2nd-tm; VB a-c 1st-tm).
Acronym key: a-s (all-state), a-c (all-conference), tm (team), hm (honorable mention), VB (volleyball), SB (softball)
2022 NWA postseason softball honors
POLSON – (a-s): Katelyne Druyvestein, Mckenna Hanson, Carli Maley; (2nd-tm): Nikki Kendall, Avery Starr, Turquoise Pierre; (hm): Jaivin BadBear, Anna Vert.
COLUMBIA FALLS – (a-s): Maddie Moultray, Aspen Dawson, Syd Mann, Haden Peters; (1st-tm): Haylee Lawrence; (2nd-tm): Demye Rensel; (hm) Aletheia Fisher.
RONAN – (a-s): LouRasia Weatherwax; (2nd-tm): Ashlie Welker, Kiara Sherman, Ally Luedtke.
LIBBY – (a-s) Paislee MacDonald; (2nd-tm): Taylor Munro, Courtney Benson; (hm): Kinzee Boehmler, Sidney Rusdal.
All-staters receive concommitant first-team honors
2022 SWA postseason softball honors
FRENCHTOWN – (a-s): Sadie Smith, Cassidy Bagnell, Abby Faulhaber, Toni Beatty, Juna Ashby; (1st-tm): Alexis Godin; (2nd-tm): Chloe Long; (hm): Olivia Campbell, Carah Evans.
CORVALLIS – (a-s): Macee Greenwood; (1st-tm): Gabby Krueger; (2nd-tm): Kaitlin McCartney, Emma Cashell; (hm): Sydney Wolsky.
BUTTE CENTRAL – (a-s): Brooke Badovinac, Sofee Thatcher; (2nd-tm): Mia Keeley.
STEVENSVILLE – (2nd-tm): Sophie Berning; (hm): Lily Brushia, Claire Schneiter.
DILLON – (2nd-tm): Kinzy Creighton; (hm): Abby Brevig.
HAMILTON – (2nd-tm): Addison Flynn, Brynne Johnson,
Recent Headlines
---