Polson eyed for potential crypto data center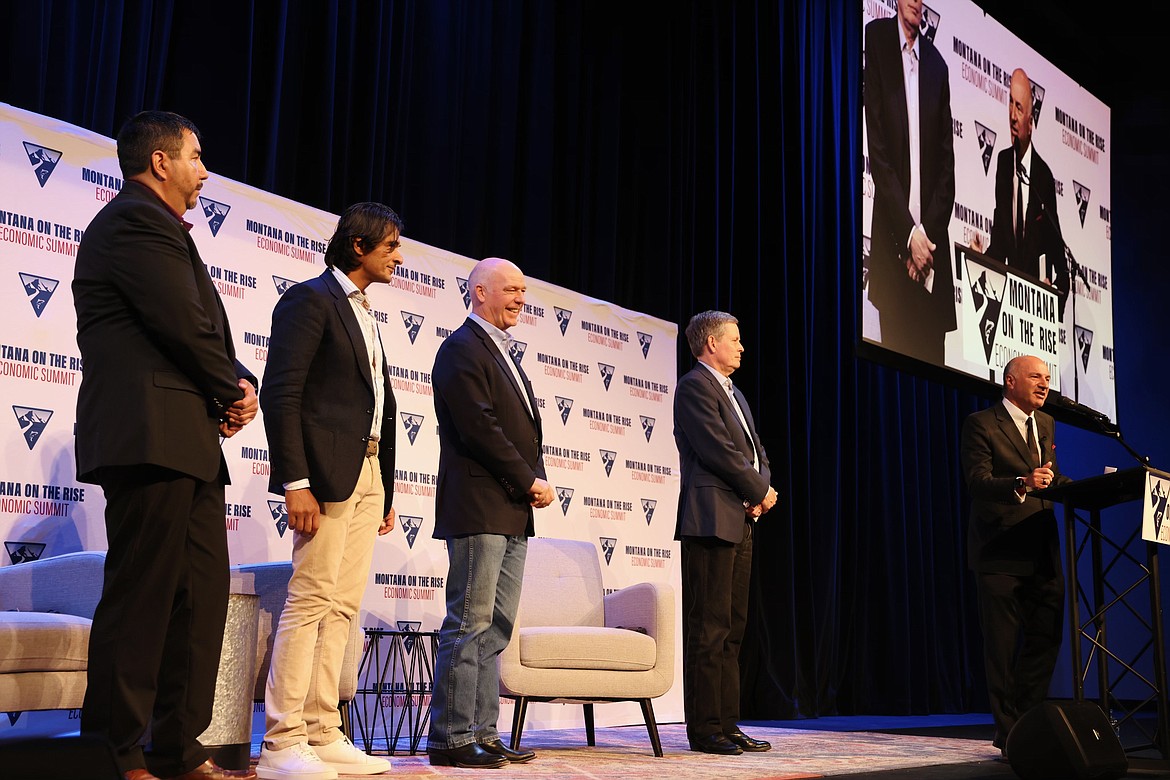 From left, CSKT Secretary Martin Charlo, Bitzero CEO Akbar Shamji, Gov. Gianforte and Sen. Daines join Kevin O'Leary on stage at an economic summit in Bozeman last week. (Photo provided)
by
MATT BALDWIN
Lake County Leader
|
June 9, 2022 12:00 AM
Montana Gov. Greg Gianforte last week announced preliminary plans for a new cryptocurrency data center to be constructed in Polson, potentially in partnership with the Confederated Salish and Kootenai Tribes.
Gianforte revealed the potential project during his "On the Rise" economic summit in Bozeman.
The data center would be spearheaded by Bitzero, a cryptocurrency mining company that recently rolled out plans to build numerous data centers in North Dakota.
Bitzero CEO Akbar Shamji was on stage with Gianforte to make the announcement, along with Bitzero investor Kevin O'Leary of "Shark Tank" fame, and Confederated Salish and Kootenai Tribal Secretary Martin Charlo. U.S. Sen. Steve Daines also was in attendance.
According to the Governor's Office, the company's investment in Polson would include a 50MW data center utilizing hydropower from SKQ Dam at the south end of Flathead Lake. Bitzero has a zero-carbon company mandate.
No other details about the Polson project were made available, such as potential building sites or jobs created.
According to CSKT spokesperson Shane A. Morigeau, discussions with the Tribes are very preliminary at this point. In a statement, he said the Tribes are doing their due diligence and evaluation "to see if this is a viable business opportunity."
"That said, the potential for local data center capacity, and heat recapture that can be used to support greenhouses and help to achieve the Tribes' priority on food sovereignty, could provide immeasurable benefits not only for CSKT, but our community as a whole, including jobs and hi-tech business development opportunities for local folks and local small businesses," Morigeau added.
According to the Bismarck Tribune, Bitzero is currently looking at establishing headquarters in Fargo or Bismarck. They have plans to spend up to $500 million over the few years to build data centers in the state.
In North Dakota, they are planning to partner with the Mandan, Hidatsa and Arikara Nation, with excess heat produced by data centers to be used by a tribal greenhouse.
At Gianforte's economic summit, O'Leary described Montana as a top location for capital investment.
"There is a heathy competition developing amongst states to attract capital," he said. "Some states are excelling at developing pro-business policy, regulations and taxes and have leadership that have actually run businesses in their careers. Montana has all of that and more."
Recent Headlines
---