Elizabeth Tolley brings individuals' strengths together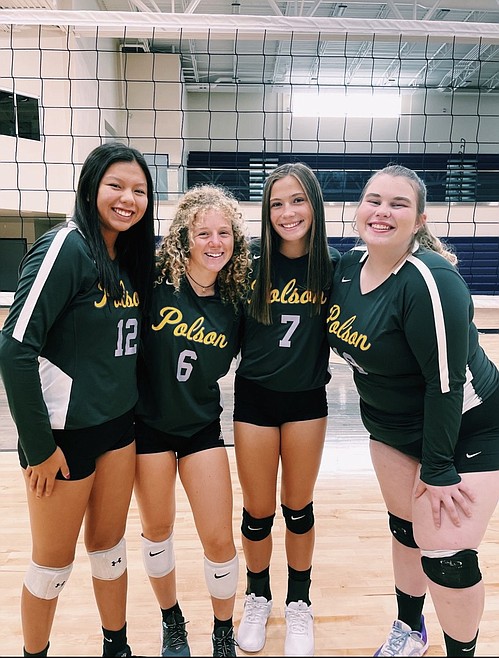 Liz Tolley, second from right, is the latest recipient of the Today's Achievers, Tomorrow's Leaders Award from Logan Health and Lake County Leader. She credits her church and her volleyball team as some of her biggest influences Also pictured, fellow senior Lady Pirate volleyball teammates Turquiose Pierre, Camilla Foresti, and Kamdyn Burrough.(Courtesy photo)
by
CAROLYN HIDY
Lake County Leader
|
June 23, 2022 12:00 AM
Watching her big sister play volleyball inspired and motivated Elizabeth (Liz) Tolley. Being chosen as captain of the Polson Lady Pirates high school volleyball team gave her a chance to pass that inspiration on to her teammates.
Tolley is the latest recipient of the Today's Achievers, Tomorrow's Leaders (TATL) Award from Logan Health and the Lake County Leader. The award recognizes high school students for their achievements and contributions to their community, and includes a $250 donation toward the organization or activity of the honoree's choosing.
Tolley cites volleyball as one of her important influences as she learned to lead others. She was honored to be chosen as captain of both the Lady Pirates team her senior year and the Mission Cutthroat Volleyball club team.
"It is important to know what your team needs, and how to bring them together. It's one thing to just start working on skills right away. But it takes a lot to actually become a team, more like a family. It's important to know how each girl is individually. If you can learn how to work with each one of them, I think it can help create a better chemistry and help you play better together. Not everyone's the same person or learns the same way." It is important to understand every player and help them see how they can help everyone and also themselves, she said.
Tolley was nominated for the TATL award by Andy Fors, Principal of Polson High School, who said she has "volunteered endless hours in our community and has contributed significantly to local programs." Tolley credited her LDS Church as an important influence, where she participated in and helped plan many service projects, including highway cleanups, food drives, and baking food and visiting elderly folks. "It's nice to see how much of a difference it makes to them because a lot of them don't get to get out of the house very often. Just having some company can just make them super happy." She also dove into service projects at school through programs such as National Honor Society and student mentoring.
Tolley is her class valedictorian and was a Montana High School Assoc. Honors academic all-state honoree. She said she has always had an interest in science, and this year's chemistry class cemented for Tolley a fascination with that subject. She plans to attend Brigham Young University and major in biochemistry, hoping to focus on research and development of new medicines.
For fun, Tolley loves to ride jet skis on Flathead Lake in the summer, and has enjoyed playing tennis at school (NW Divisional champs last year) as well as during the summer training program. She has chosen to donate the $250 TATL award to the Polson Tennis Association.
Asked what she has learned that she felt was important to pass for others, Tolley said for high school, "Be involved in anything you can do. Go out there and have fun and make memories. The more you get out there, the more people you'll meet, fun you'll have, connections and opportunities you'll get, and the more fun you'll have."
"Liz is admired by both her peers and her classmates for her pleasant and encouraging attitude," wrote Fors. "Liz is a role model for our youth that we are fortunate to have."
Recent Headlines
---