Lady Pirates hit the ground running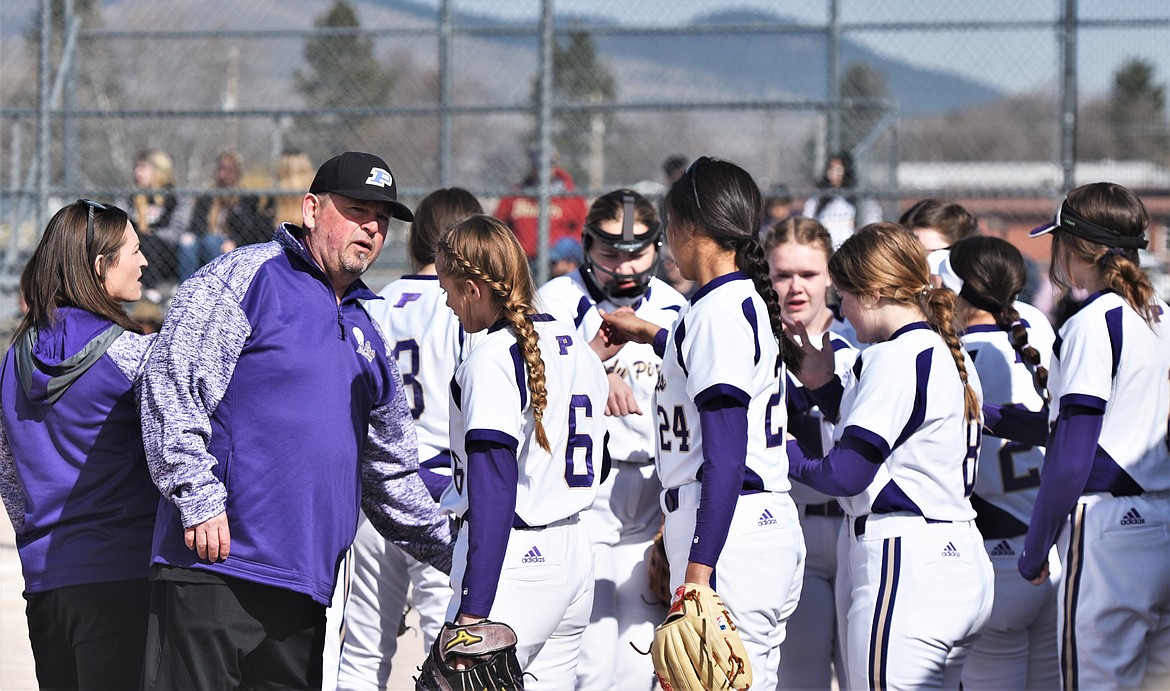 The Lady Pirates huddle before taking the field against Plains-Hot Springs. (Scot Heisel/Lake County Leader)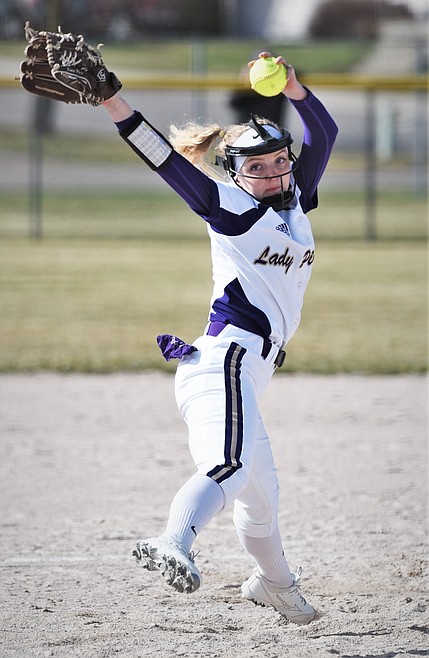 Katelyne Druyvestein pitches against Plains-Hot Springs. (Scot Heisel/Lake County Leader)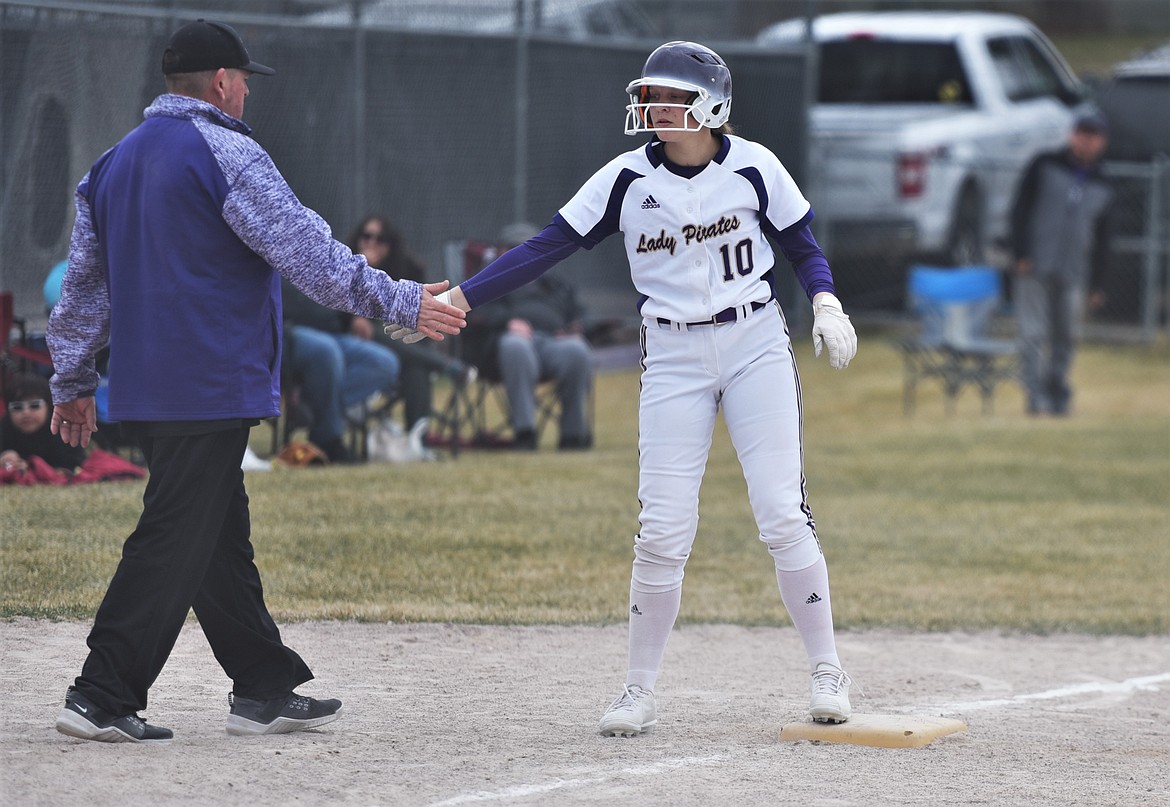 Mckenna Hanson shares a low five with head coach Jami Hanson at third base. (Scot Heisel/Lake County Leader)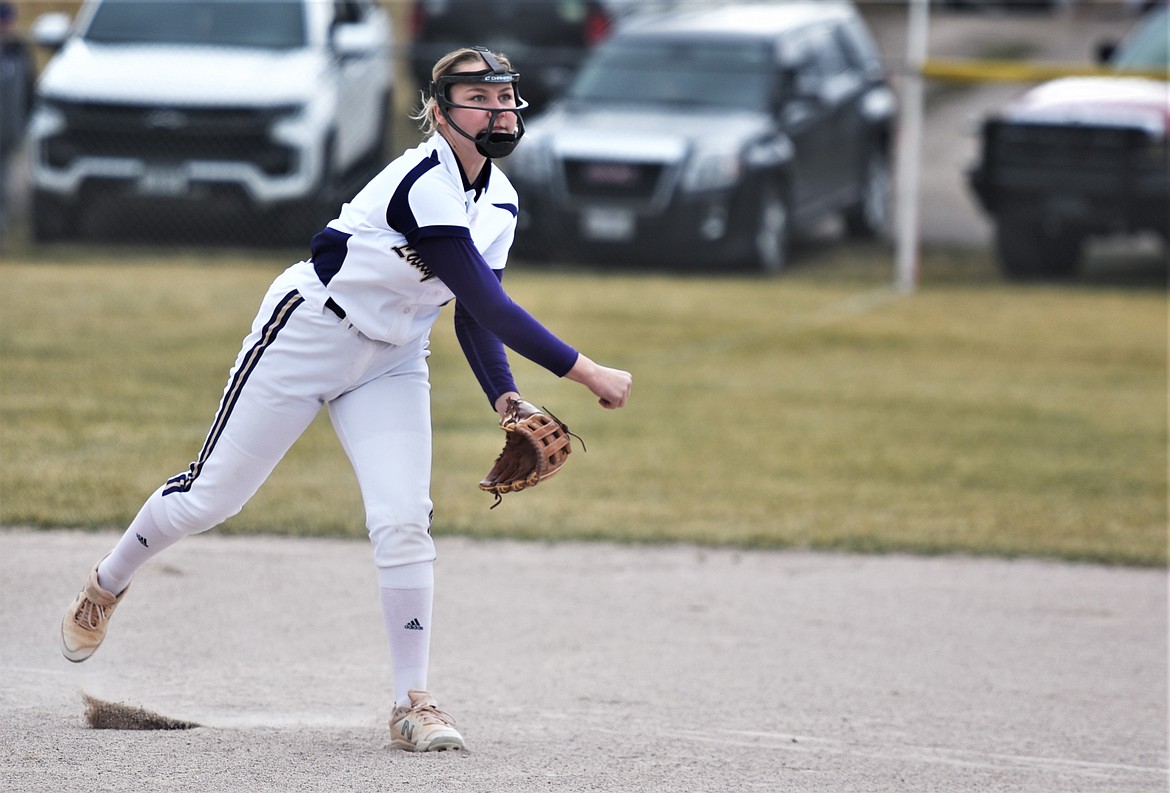 Sophomore third baseman Carli Maley fires a throw to first base. (Scot Heisel/Lake County Leader)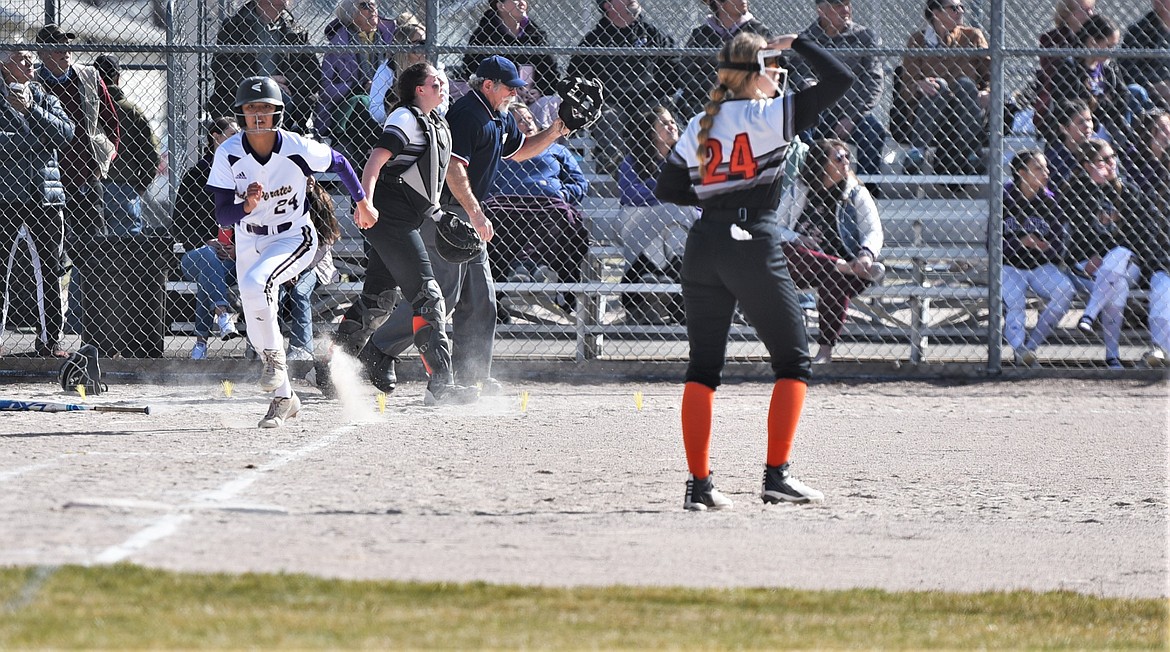 Turquoise Pierre runs toward first base on a triple against Plains-Hot Springs. (Scot Heisel/Lake County Leader)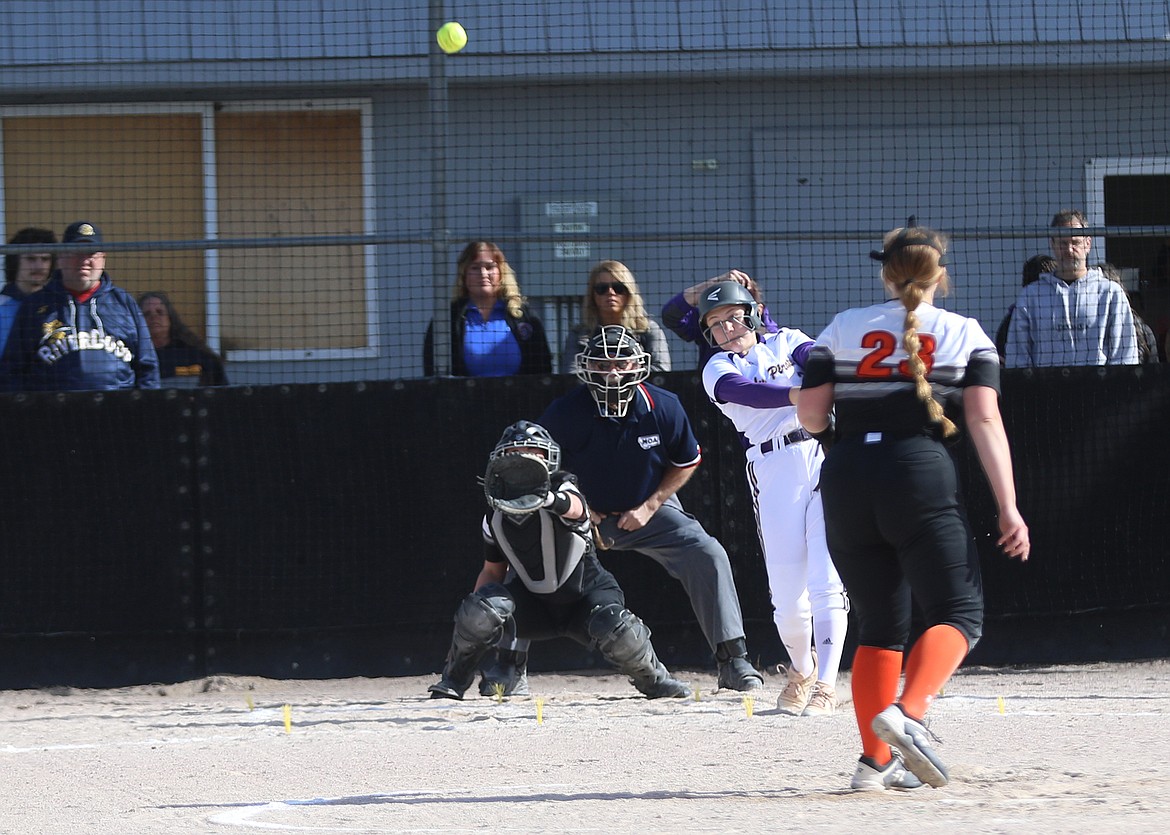 Carli Maley swats a solo home run against Plains-Hot Springs. (Courtesy of Bob Gunderson)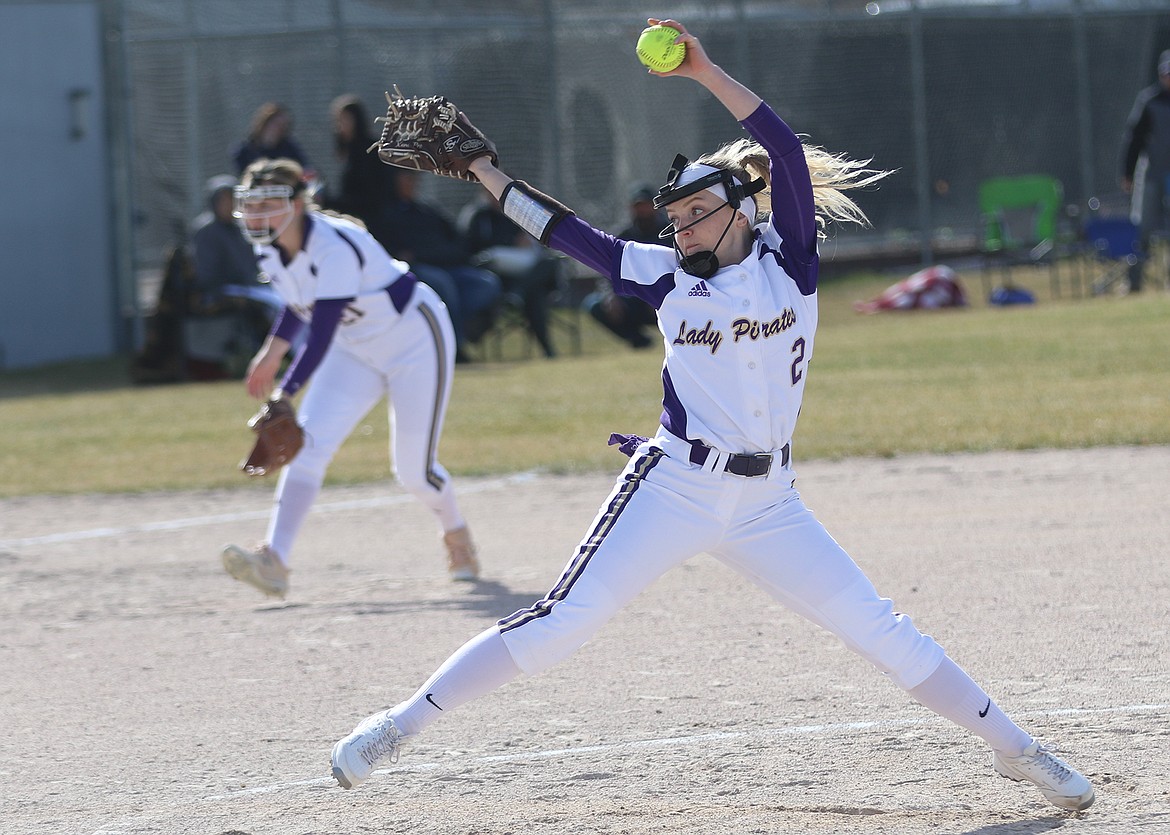 Katelyn Druyvestein struck out 18 batters over eight innings Saturday. (Courtesy of Bob Gunderson)
Previous
Next
by
SCOT HEISEL
Lake County Leader
|
March 29, 2022 9:15 AM
The champs are back, and they mean business.
Senior Katelyne Druyvestein, an all-state selection and league MVP last season, returned to the mound at Larry Smith Field for a doubleheader Saturday and pitched eight innings of no-hit ball to lead the Lady Pirates (2-0) to a 10-0 win over Plains-Hot Springs and an 8-2 victory over Butte Central. She recorded 18 strikeouts.
Polson's entire starting infield graduated after the Lady Pirates secured the program's eighth state title last season, so the coaching staff, led by Jami Hanson, has had a lot of rebuilding to do. This year's team is far from young and inexperienced, however. Polson has six seniors and three juniors on the roster.
Sophomore Carli Maley got the start at third base in both of Saturday's games, and she swatted Polson's first home run of the season, a solo shot to right center against Plains-Hot Springs. Maley went 4 for 5 from the plate with two RBIs and a pair of walks on the day.
Starting shortstop Nikki Kendall, also a sophomore, had five hits, including a double, and drove in three runs over the two games. She also stole a base and scored twice.
The Lady Pirates also got a two-run homer from senior Jaivin BadBear, who got the start at second.
Starting catcher Mckenna Hanson, a sophomore, had a double and a triple and drove in three runs. She also stole a base and scored four times.
Sophomore Avery Starr started at first base. She had three hits and a walk and scored a pair of runs.
Senior Turquoise Pierre relieved Druyvestein for the final four innings in the late game against Butte Central. She struck out four and allowed two runs on two hits and three walks to earn a save. Pierre also hit a triple and drove in a run in the early game.
Polson hosts Hamilton on Tuesday, April 5, then will host Whitefish's JV squad the following Saturday.
Elsewhere in Lake County, Ronan opens its season Saturday at Stevensville, while Mission-Arlee-Charlo was set to begin the season with a road game at Eureka on Tuesday night after the Leader went to press.
Polson 8, Butte Central 2
ButteC 000 - 001 - 1 – 2 2 4
Polson 232 - 001 - x – 8 9 2
Hattie Mehring (2K,5W) and Mia Keeley. Katelyne Druvyestein (3IP:5K,0H), (4) Turquoise Pierre (4IP:4K,2H,3W) and Mckenna Hanson. W – Druyvestein (2-0). L – Mehring (0-1). Sv – T.Pierre.
BUTTE CENTRAL – Sofee Thatcher 1-4, Brenna Foley 0-1, Brooke Badovinac 1-2, Mia Keeley 0-3, Hattie Mehring 0-3, Jaeden Berger 0-2, Maggie Stimatz 0-3, Chloe Stillwagon 0-1, Vanessa West 0-2, Renee Creekmore 0-3.
POLSON –Druyvestein 0-3, Hanson 3-4, Nikki Kendall 3-4, Turquoise Pierre 0-3, Carli Maley 1-2, Avery Starr 1-3, Reegan Stinger 0-2, Ashlynn Depoe 0-2, Jaivin BadBear 0-2, Anna Vert 1-3, (cr) Julia Barnard.
3B – Hanson. 2B – Hanson. RBIs – Badovinac, Creekmore; Hanson 2, Kendall 2, Druyvestein, T.Pierre, Stinger. SF – T.Pierre. SH – Foley. BB – Foley, Berger, Badovinac; BadBear, Starr, Druyvestein, Maley 2. D3K – Berger. ROE – Druyvestein, Maley, Stinger, BadBear. FC – West, Creekmore. SB – Druyvestein, Kendall, Maley, BadBear. Runs – Thatcher, Berger; Druyvestein, Hanson 2, Barnard, Maley, Starr, BadBear, Vert.
Polson 10, Plains 0 (5 innings)
Plains 000 - 00 – 0 0 4
Polson 115 - 21 – 10 10 0
Celsey VonHeeder (4IP:3K,3W), (5) Piper Bergstrom (⅓IP:1H) and Madison Elliott. Katelyne Druyvestein (13K,1W,1HB) and Mckenna Hanson. W – Druyvestein (1-0). L – VonHeeder.
PLAINS – Kaylah Standeford 0-2, Jolena Caldwell 0-2, VonHeeder 0-2, Mady Blood 0-2, Faith McGonagle 0-0, Elliott 0-2, Kassidy O'Keefe 0-2, Izzy Butcher 0-2, Izzy Crabb 0-1, (flex) Teirainy Bellinger.
POLSON –Druyvestein 1-2, Hanson 0-2, Nikki Kendall 2-2, Turquoise Pierre 1-3, Carli Maley 3-3, Avery Starr 2-3, Caitlyn Ward 0-2, Reegan Stinger 0-1, Jaivin BadBear 1-3, Anna Vert 0-2.
HR – Maley, BadBear. 3B – Pierre. 2B – Kendall. RBIs – Maley 2, BadBear 2, Hanson, Kendall, Pierre. BB – McConagle; Hanson, Kendall, Druyvestein. HB – McGonagle. ROE – Hanson, Starr. FC – Ward. SB – Druyvestein 2, Hanson. Runs – Druyvestein 2, Hanson 2, Kendall 2, T.Pierre, Maley, Starr, BadBear.
Recent Headlines
---