Pirates outlast Locomotives in blustery quarterfinals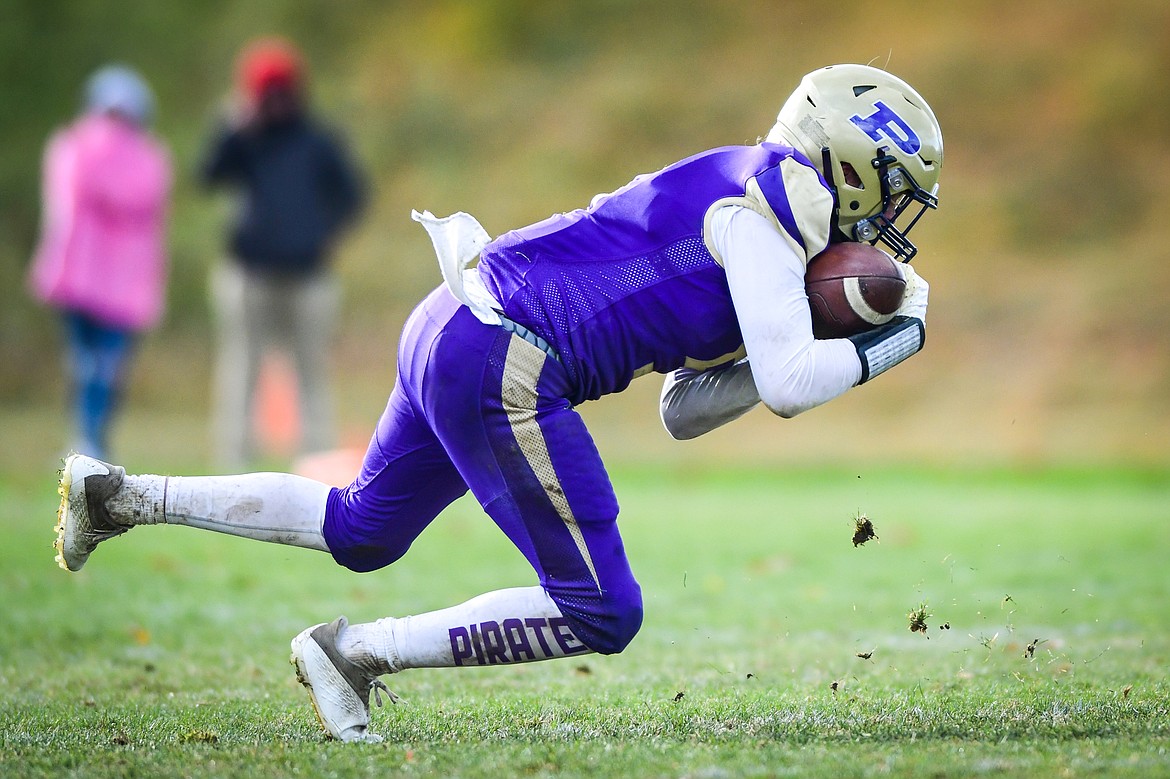 Polson wide receiver Trent Wilson (5) holds on to a reception in the fourth quarter against Laurel at Polson High School on Saturday, Nov. 5. (Casey Kreider/Daily Inter Lake)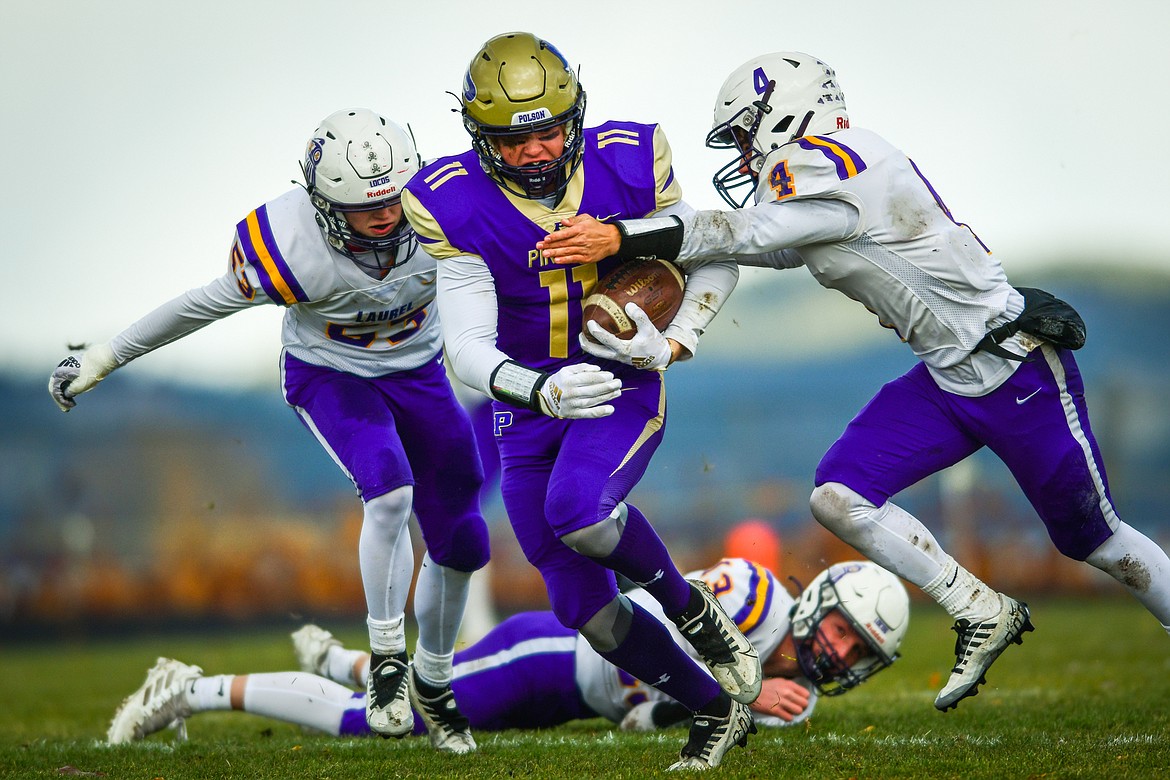 Polson wide receiver Dawson DuMont (11) picks up yardage after a reception in the first quarter against Laurel at Polson High School on Saturday, Nov. 5. (Casey Kreider/Daily Inter Lake)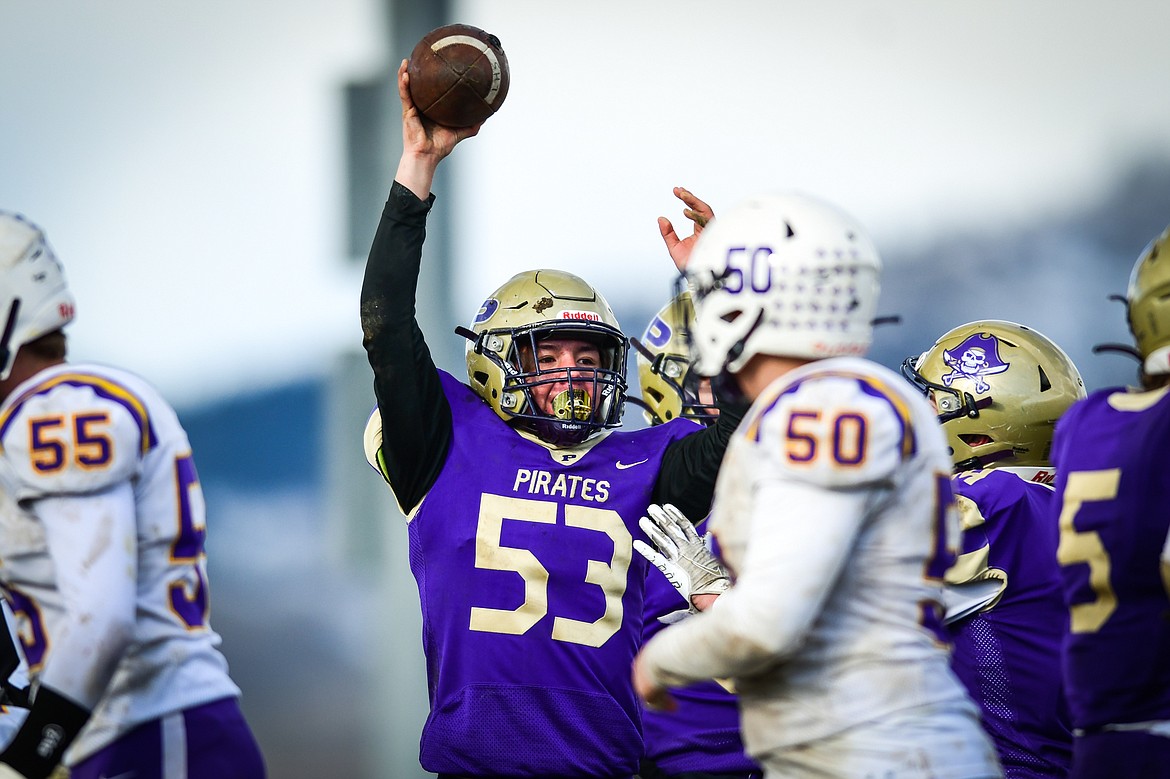 Polson defender Ezra Fasthorse (53) holds up the football after recovering a fumble in the third quarter against Laurel at Polson High School on Saturday, Nov. 5. (Casey Kreider/Daily Inter Lake)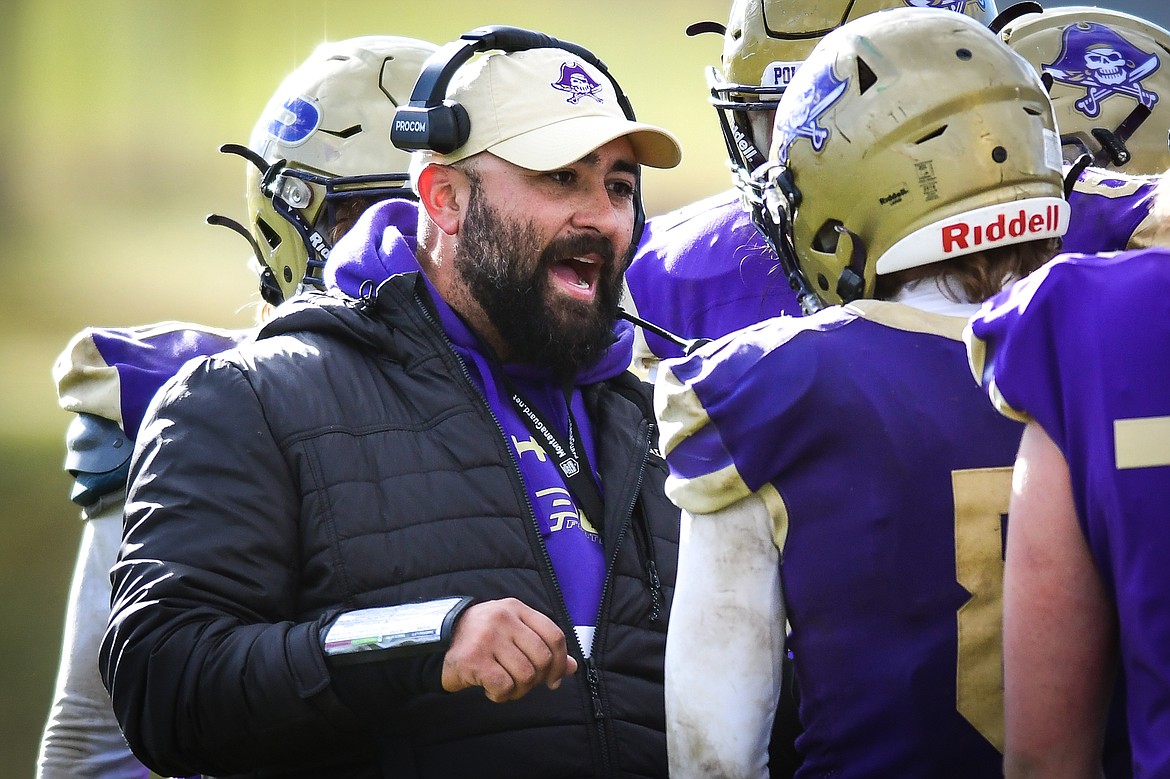 Polson head coach Kaden Glinsmann talks to quarterback Jarrett Wilson (8) and the Pirates offense late in the fourth quarter against Laurel at Polson High School on Saturday, Nov. 5. (Casey Kreider/Daily Inter Lake)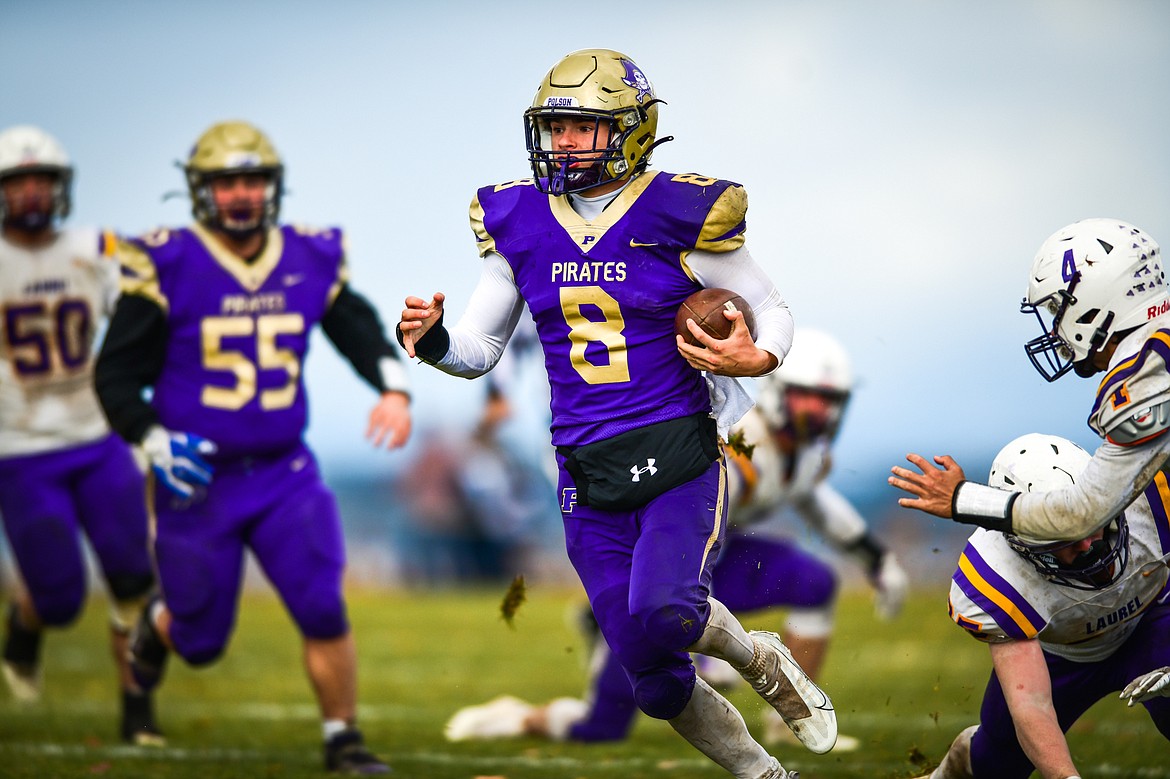 Polson quarterback Jarrett Wilson (8) picks up yardage on a run in the third quarter against Laurel at Polson High School on Saturday, Nov. 5. (Casey Kreider/Daily Inter Lake)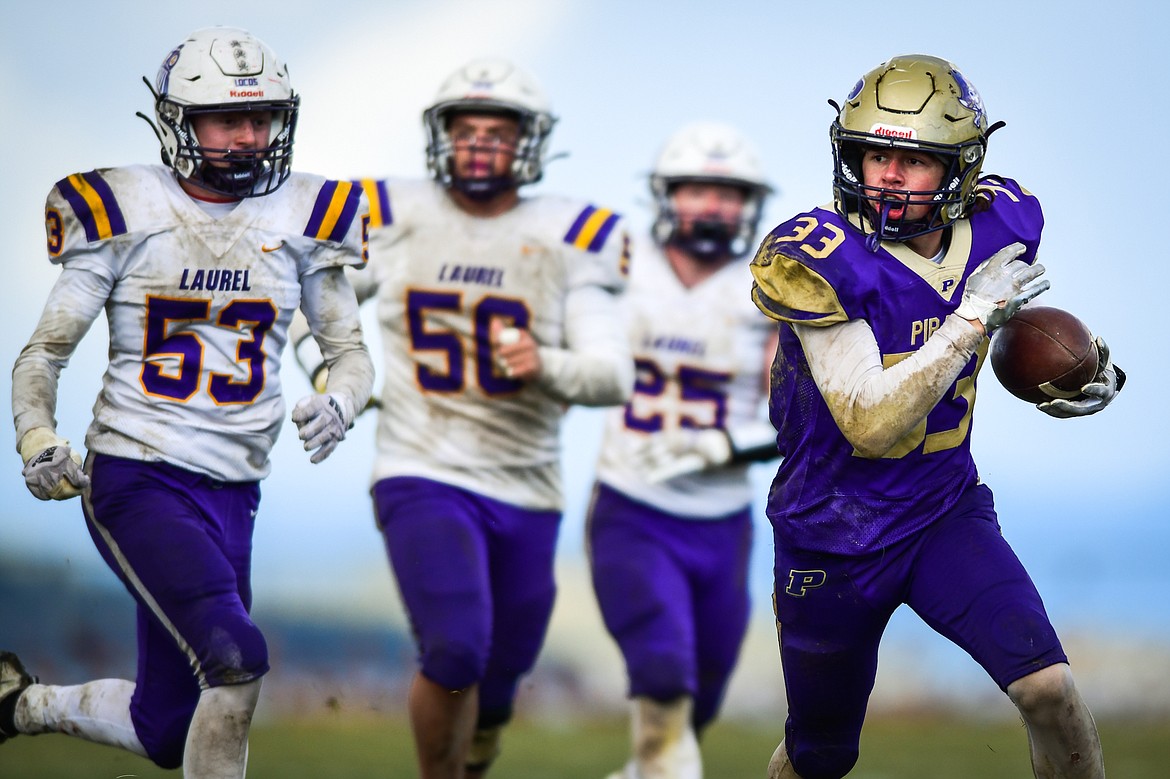 Polson running back Keyen Nash (33) picks up yardage on a run in the third quarter against Laurel at Polson High School on Saturday, Nov. 5. (Casey Kreider/Daily Inter Lake)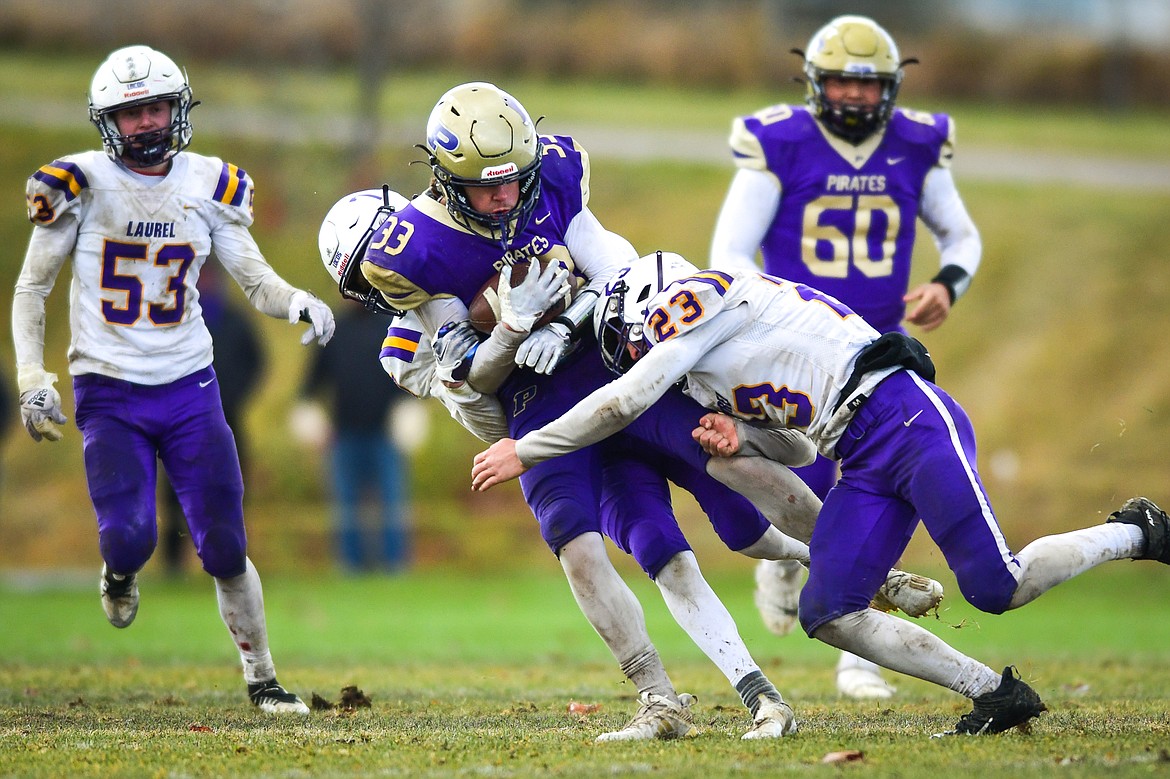 Polson running back Keyen Nash (33) is brought down after a reception in the fourth quarter against Laurel at Polson High School on Saturday, Nov. 5. (Casey Kreider/Daily Inter Lake)
Previous
Next
by
FRITZ NEIGHBOR
Daily Inter Lake
|
November 8, 2022 12:00 AM
POLSON — Tough wind, tough Locomotives, tougher Pirates.
Polson's Jarrett Wilson intercepted a Laurel pass with 1:07 left in regulation, then scored on a 6-yard run with 29 seconds remaining to lift the Pirates to a 14-7 win in a Class A quarterfinal football game Saturday.
Wilson, the Pirates' senior quarterback, threw for 208 yards and a touchdown and ran for 98 yards and another score to guide his team into the semifinals a second straight year.
Polson, 9-0, travels to 10-0 Lewistown next weekend for a shot at the state title. Lewistown edged Columbia Falls 14-6 Saturday.
Hamilton (10-0) will host the other semifinal, after beating Whitefish 34-20 Saturday; the defending champion Broncs, winners of 21 straight, will take on Billings Central.
It was the Pirates' fourth showdown with a playoff team, and third that was a one-score game. A sharp south-to-north wind hampered both teams, and played into Laurel's hands early. The Locomotives (8-3) got a 1-yard touchdown run from Gus Robertus — with the wind — to lead 7-0 in the first quarter. It took most of the day for Polson to get the lead.
"Credit to Laurel, they knew what it took to stop Jarrett Wilson and our offense," Polson coach Kaden Glinsmann said. "I think the wind and the field were the difference."
With the wind at his back in the second quarter, Wilson found Jaren Keene for a 27-yard touchdown, capping a 95-yard drive. Keyen Nash caught two long-gainers to set up the TD.
Polson had the ball back with 3:49 left in the half, but that drive ended with a Wilson fumble at Laurel's 28-yard line.
The second half had plenty of action, if few points. Wilson intercepted Robertus on Laurel's first play of the second half, but Robertus returned the favor at the Laurel 28 on the ensuing drive.
Wilson would throw a second interception in the fourth quarter, and Laurel drove to Polson's 33 before a fourth-down pass was dropped.
Polson's ensuing possession went nowhere, but Wilson got off a 64-yard punt to pin Laurel deep. Then, after Camden Johnson tore off a 20-yard run for the Locomotives, Robertus tried another pass into the wind — and Wilson was there for the pick again.
Set up at Laurel's 28, Wilson found Tyler Wenderoth for a 16-yard gain on third-and-10. Then he called his own number twice, scoring the game-winner.
Tia Mercer tacked on the PAT kick, and Nash made back-to-back sacks of Robertus to seal the outcome.
"We lost to them last year (28-14 in the semifinals), and that was a game we feel like we should have won," Glinsmann said. "We weren't going to let the weather be an excuse for this team, and we were able to grind this win out."
Nash had four catches for 79 yards for Polson.
Laurel 7 0 0 0 - 7
Polson 0 7 0 7 - 14
L — Gus Robertus 1 run (Owen Adams kick), 2:26-1Q
P — Jarrett Wilson 1 run (Tia Mercer kick), 8:50-2Q
P — JWilson 6 run (Mercer kick), L28-4Q
Individual Statistics
RUSHING: Laurel (38-97) — Camden Johnson 11-66, Owen Younger 10-23, Gus Robertus 13-15, Tanner Schwend 2-5, Team 2-minus 20. Polson (34-125) — JWilson 22-98, Keyen Nash 9-20, Trent Wilson 2-6, Team 1-6.
PASSING: Laurel — Robertus 4-10-2 for 41 yards. Polson — JWilson 17-29-2 for 208 yards.
RECEIVING: Laurel — Tanner Knaub 2-26, Younger 1-15, Toran Harper 1-0. Polson — Nash 7-79, TWilson 4-33, Dawson DuMont 1-31, Jaren 1-27, Wenderoth 3-22, Cason Graham 1-16.
Lewistown 14, Columbia Falls 6
LEWISTOWN — In another defensive battle, Lewistown quarterback Gage Norslien ran for one touchdown and threw for another in the second quarter, and it held up.
Cody Schweikert got the Wildcats (7-3) on the board with a 9-yard scoring run in the third quarter, but the offense couldn't get any more footting. The Eagles outgained the Wildcats 190-128.
Schweikert had 18 carries for 34 yards and was 11 for 23 passing for 79 yards with one interception. Justin Windauer caught four passes for 48 yards, and the Wildcats ended up 7-3.
Norslien threw for just 29 yards — he completed 3 of 6 passes — but ran for 86 on 24 carries.
Columbia Falls 0 0 6 0 - 6
Lewistown 0 14 0 0 - 14
L — Gage Norslien 1 run (Kieran Netburn kick), 9:50-2Q
L — Royce Robinson 10 pass from Norslien (Netburn kick), :49-2Q
CF — Cody Schweikert 9 run (kick failed), 7:43-3Q
Individual Statistics
RUSHING: Columbia Falls (29-49) — Schweikert 18-34, Reggie Sapa 6-20, Blaise Wunderlich 2-5, Justin Windauer 1-minus 1, Brandon Role 1-minus 1, Alihn Anderson 1-minus 8. Lewistown (41-161) — Norslien 24-86, Jett Boyce 13-73, Brody Jenness 2-5, Netburn 1-0, Greysen Arndt 1-minus 3.
PASSING: Columbia Falls — Schweikert 11-23-1 for 79 yards. Lewistown — Norslien 3-6-0 for 29 yards, Robinson 0-1-0 for 0 yards.
RECEIVING: Columbia Falls — Justin Windauer 4-49, Mark Robison 2-20, Jace Duval 2-8, Reggie Sapa 2-5, Schweikert 1-minus 3. Lewistown — Robinson 2-29, Boyce 1-0.
Recent Headlines
---