Fall Mack Days: Big whopping winds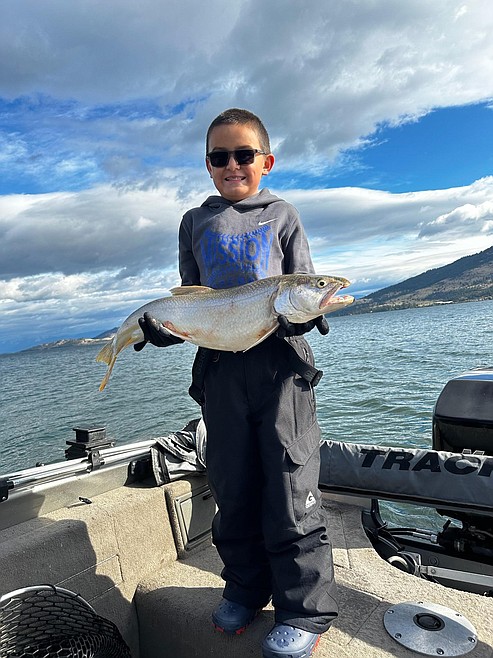 Kysen Incashola from St. Ignatius is currently in second place in the Fall Mack Days 12 & Under Category with seven lake trout entries. (Photo provided)
|
November 10, 2022 12:00 AM
Big, whopping, unrelenting wind hit Flathead Lake over the eighth week of 2022 Fall Mack Days. These seasoned anglers were resilient and knew how to stay out on the water, seeking out bays, coves, or tucking behind an island.
The Confederated Salish and Kootenai Tribes sponsors the Mack Days fishing events as a management tool to reduce the non-native lake trout in Flathead Lake. Up to $200,000 in cash and prizes that will be awarded at the conclusion of the fall event.
A total of 314 lake trout were entered on Friday. Saturday was the worst day for wind and enormous rolling waves, and yielded a total of seven lake trout turned in.
Larry Ashwell drove over to Big Arm, launched from there and caught five, then came back when it turned rough and saw angler Terry Krogstad fishing from the dock at Blue Bay. Terry had caught one so Larry thought he would try and caught one on his first cast. Terry just shook his head – he had been at it for awhile and this newbie came along and landed one on first cast.
Sunday the winds were calmer in the morning, ramping up in the afternoon, and a total of 257 lake trout entries were turned in. The weekend total was at 578 bringing the event total so far, with one weekend left, to 13,381.
Leading at the end of the eighth weekend is Mike Benson of Lonepine with 1,087 entries, an 18-day average of 53.94. In second place is Larry Ashwell of Missoula, with 910 entries and a 44.89 average. Felix Gauci of Stevensville is in third with 767 entries; Jerry Benson of Plains is in fourth with 600; and fifth is Terry Krogstad of Kalispell with 642 entries and 30.89 average.
Benson also is in first in the 70 and Over age group with his 1,087 entries, followed by Ashwell with 910, Gauci at 767, Larry Karper with 510, and Jack Kirkland of Lolo with 355.
Julie Perkins of Kalispell continues her first place lead in the Ladies category with 491 entries; Laurie Kreis of Huson is in second with 322 entries; Kim Mack of Helena is in third with 129; fourth is Janet Myers of Riverton, Wyo., with 93; and Debby Sacchi of Thompson Falls is fifth with 35 entries.
Leaders in the 13-17 age group are Marcus Lucus of Polson and Shelbie Petersen of Columbia Falls, each with three entries. William Grob of Missoula still leads the 12 & Under with 20 entries; Kysen Incashola of St. Ignatius has 7, Baylie Petersen of Columbia Falls has 2, and Terrace Deterich of Kalispell has 1.
Bella, the star $10,000 lake trout, is still swimming the lake. There are also the three $5,000, six $1,000 and over 9,000 $100-$500 tagged lake trout in the lake. Turning in $100 tagged lake trout were Bill Lanch, Mike Benson, Richard Kreis, and Larry Ashwell.
Winning the weekend drawing for $200 was Mike Benson; Felix Gauci, Jens Gran of Polson, Tony Incashola of St. Ignatius, and David McDaniel each claimed $100.
John Malatare of Arlee won top honors during the last day of the Heaviest Bucket contest with a 23.75 pound bucket. Mike Benson came in second with 21.5 pounds, followed by Jens Gran with 20.65 pounds, Richard and Laurie Kreis with 18.55 pounds, and Marty and John Noyd with 16.95 pounds.
Overall winners during the three bucket days are: Jens Gran with 79.6 total pounds and 24 points, Rick Skates of Polson with 76.75 pounds and 18 points, and Richard and Laurie Kreis with 59.5 pounds and 12 points.
There is one weekend left in the fall event. Weather reports predict cooler temperatures but hopefully calmer winds. All it takes is one entry to qualify in the lottery drawing that begins at $100 and goes up to $2,000.
There is no entry fee and entries continue to be taken until the last day of the event. For More information, visit www.mackdays.com or call Cindy Benson at 406-270-3386.
Recent Headlines
---