Polson wins Western A volleyball title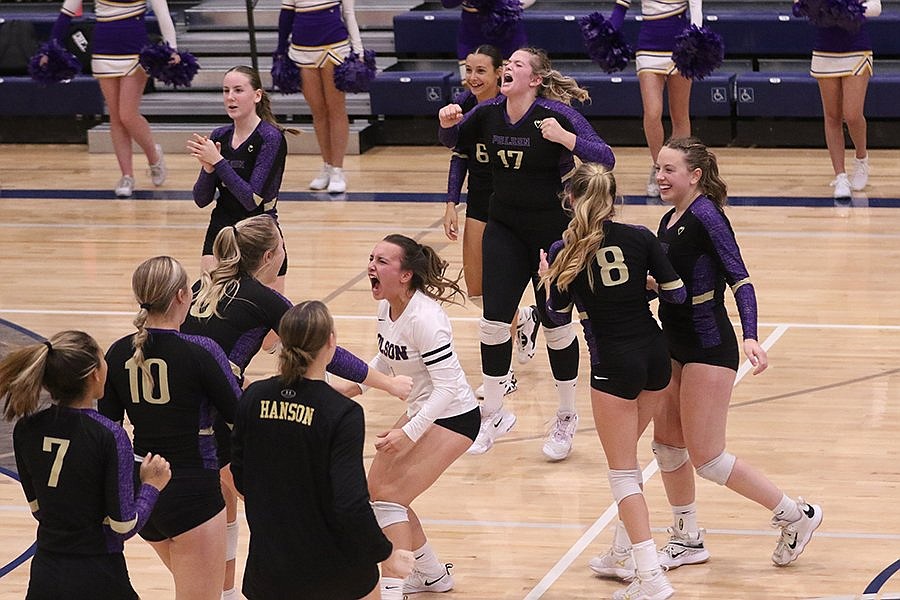 Polson celebrates at the Western A divisional volleyball tournament. (Bob Gunderson photo)
by
Lake County Leader
|
November 10, 2022 12:00 AM
The Polson Lady Pirates are Western A divisional volleyball champs.
Polson punched its ticket to the state tournament as a No. 1 seed with a 3-2 win over Stevensville in the divisional finals in East Helena. Ronan will go to the tourney as the No. 4 seed.
Polson will open the State A volleyball tournament Nov. 10 at 10 a.m., against the winner of the Billings Central and Corvallis play-in matchup. The all-class tournament is held at Brick Breeden Fieldhouse on the Montana State University campus in Bozeman.
In the Western A title match, Polson (17-6 overall) dropped the first and third sets, but was able to take the second and fourth. The final frame went to the Pirates 15-11.
The Pirates topped Hamilon 3-2 to get into the championship match.
Polson beat Corvallis 3-0 to open the tourney and moved on with a 3-1 win over Whitefish.
Ronan lost to Hamilton 3-0 to open the tourney, but rebounded nicely with a loser-out 3-2 win over Columbia Falls. They snagged another victory with a 3-1 romp over Whitefish.
The Maidens fell to Stevensville 3-0 in the loser-out fourth-place match.
Western B and C Divisionals
Arlee and St. Ignatius were nudged out of a run at state during last week's Western B Divisional Volleyball Tournament in Florence.
Anaconda beat St. Ignatius in Thursday's opener (25-9, 25-16, 25-17) and Florence took the lead on Friday (25-14, 25-22, 25-12). Bigfork bested Arlee Thursday (25-14, 25-14, 25-23), and Eureka won Friday's contests (25-22, 25-20, 25-24).
The Charlo Lady Vikings traveled to Churchill for the Western C Divisionals, and fell to Ennis on Thursday (21-25, 25-14, 25-17, 25-23) and Seeley-Swan on Friday (28-26, 26-22, 17-25, 27-25).
Recent Headlines
---