Polson Invitational: A different brand of athleticism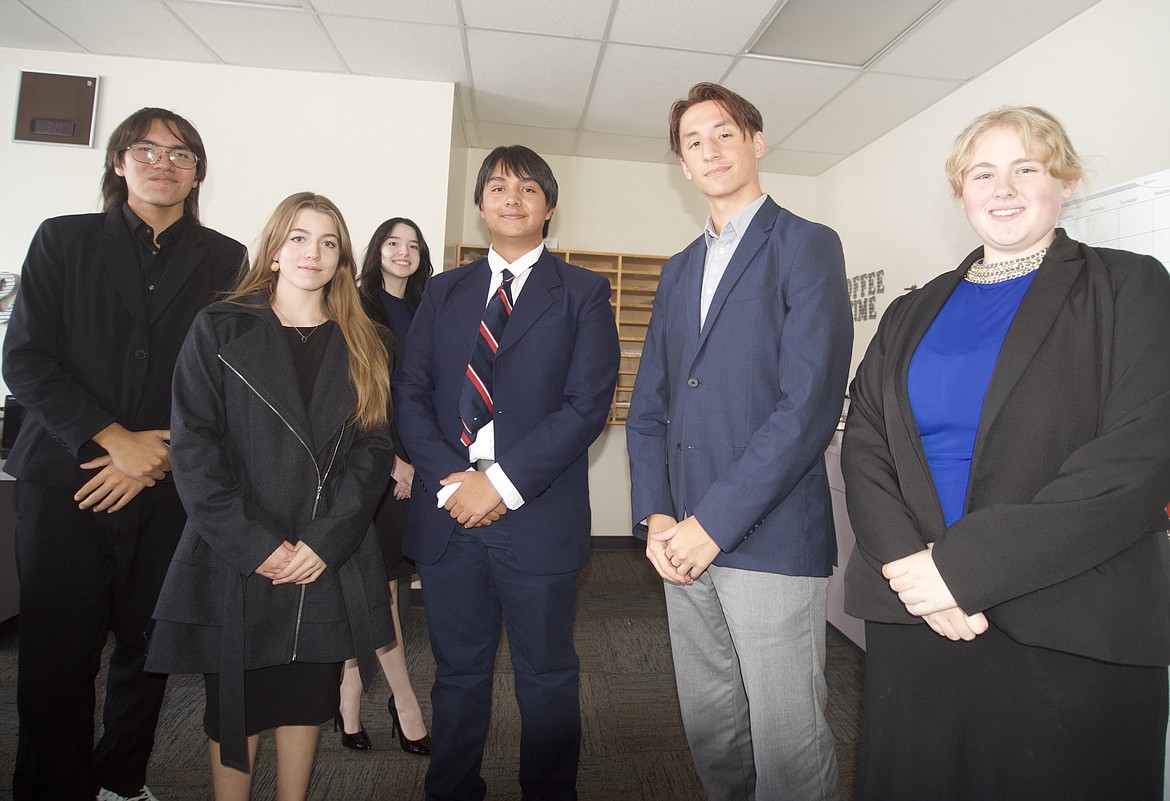 Several students took a break from the Polson Invitational Speech and Debate Tournament to discuss their pursuit. Students (left to right) are Wica-ta-wi Brown, Hope Morrison, Lourdes Wahl, Sebastian Ortega (Ronan), Kai McDonald and Bethany Butler. (Kristi Niemeyer/Lake County Leader)
|
November 17, 2022 12:00 AM
With their season just getting underway, five Polson students and one Ronan student took a brief time out from the Polson Invitational Speech and Debate Tournament, held Saturday, to discuss their unique brand of athleticism.
The tourney drew nearly 140 entries from 13 schools of all sizes, from class AA to C. At the awards ceremony, Polson won second place in Drama Sweeps and third in Speech and Debate Sweeps.
For Lourdes Wahl, a Polson High junior who took third place in Original Oratory, participating in speech and debate has helped her gain confidence in public speaking and hone her writing skills.
Wica-ta-wi Brown, a Polson junior who placed second overall in Dramatic Interpretation, has been a member of the team since his freshman year. He appreciates "how intense it can be whenever you connect with your piece and watch everyone else have that connection too." The trick, he adds, "is performing a piece rather than reciting it."
Ronan student Sebastian Ortega says he began competing as a sophomore. "I didn't think I'd be able to do this and now I hope I can do this all the way up to my senior year," he said.
Although speech and debate aren't as physically demanding as other sports he's competed in, "it's as tough … It's more of a mindset – you have to think about exactly what you're going to do."
Hope Morrison of Polson, who took first place in Extemporaneous Speaking, has been competing for four years and appreciates the skills she's polished in public speaking, giving presentations, meeting people, and asking good questions.
As a senior, she often hears event judges say "they regret not doing it as a kid – or that they're really thankful they did."
Kai McDonald, who took third place in both Impromptu and Humorous Interpretation, has met like-minded students from across the state. His cohorts "are just a great community," he says. "We love to talk about the event – how much we hate it or love it."
Speech and debate are just as challenging as athletics, he says, "because speaking isn't that easy. The first year doing this, I could not talk whatsoever. But now I find it's so much easier." The contests also cultivate empathy. "You see the good in people, whereas in other sports you just see the competition."
Bethany Butler, who claimed seventh place in Humorous Interpretation, also values the friendships she's formed. "You're not so focused on competition and events but more on meeting new people and having fun and cheering them on while also doing your own event."
In the process, she's learned "to come out of my skin and try different things."
According to team coach and Polson Middle School special ed teacher Melesa Butler, the season continues through the state finals in January. The training in writing and public speaking helps prepare students for college or other pursuits while the tournaments connect them with people from other schools with common interests.

"We always tell kids, 'You're not going to remember the awards, you remember the people."
Placing in Saturday's event were:
Ronan:
Gordon Stewart – 8th place in Dramatic Interpretation; and Tristan Buckallew – 8th place in Informative Speaking and 4th place in Extemporaneous Speaking
Polson:
Lily Niblack - 3rd place in Pantomime; Wica Brown - 2nd place in Dramatic Interpretation; Kai McDonald - 3rd place in Impromptu and Humorous Interpretation; Hope Morrison - 1st place in Extemporaneous Speaking and 2nd place in Impromptu; Bethany Butler - 7th place in Humorous Interpretation; Chloe Anderson and AutumnMist Skillicorn - 1st place in Humorous Duo; and Lourdes Wahl - 3rd place in Original Oratory
Recent Headlines
---