Republicans best Dems again in Lake County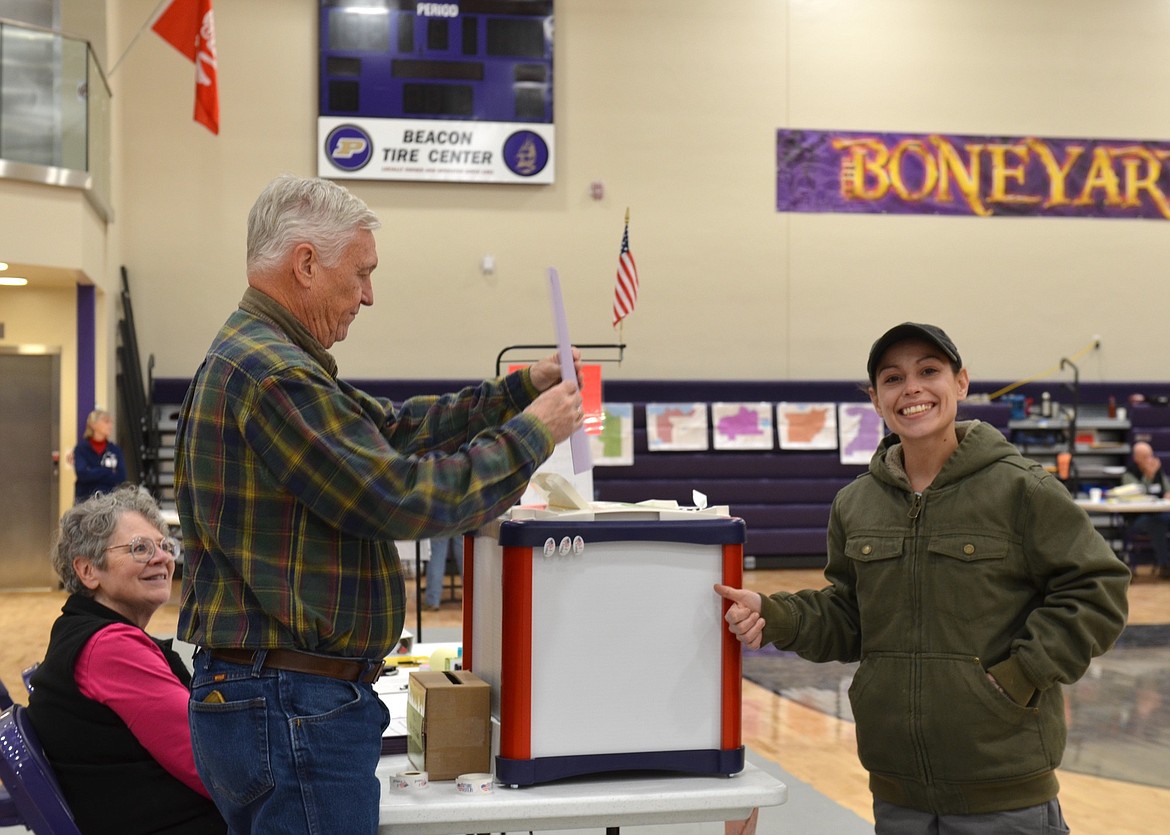 Sasha Stephens gives a thumbs up after handing her ballot to election judge Doug Shively, as judge Arlinda Steffes looks on at the end of a long shift at Linderman School in Polson. (Kristi Niemeyer/Lake County Leader)
by
Kristi Niemeyer
Editor
|
November 17, 2022 12:00 AM
Results from last Tuesday's election in Lake County show another Democratic rout in the few contested races.
After provisional ballots were added to the total on Monday, the Lake County Election Office reports 13,425 votes were cast, a turnout of 62% of registered voters.
Republican Ryan Zinke bested Democrat Monica Tranel, 7,389 to 5,388, and ultimately won the race to represent the newly formed first district for the U.S. House of Representatives with a final tally of 122,569 to 115,132, or 49% of the vote. Libertarian John Lamb trailed with 541 votes in Lake County and 9,553 total or 4%, leaving Tranel with 46% of the total.
In the District 5 race for the Public Service Commission, Republican Ann Bukacek easily outpaced Democrat John Repke, 7,875 to 5,191; she also led district-wide with 56% of the vote.
In the two non-partisan races for Supreme Court, incumbent Jim Rice handily beat Bill D'Alton, 8,428 to 2,797, and took 77% of the vote statewide; incumbent Ingrid Gustafson led James Brown, 6,536 to 6,050 in Lake County, and won with 54% of the vote.
Republican Rick Jennison of Ronan pulled in 1,249 votes to Democrat Susan Webber's 871 votes in State Senate District 8; however, the Browning incumbent held on to her seat, which also includes portions of Glacier and Pondera counties, with 2,675 votes to Jennison's 1,996.
In House District 15, which also includes portions of the Flathead and Blackfeet Reservations, Republican Ralph Foster of St. Ignatius came close to toppling incumbent Marvin Weatherwax Jr. of Browning. Most of Foster's votes came from Lake County, which delivered 1,226 to 881 for Weatherwax, but Monday's final count delivered a narrow win to the incumbent, 1,303 to 1,277.
Republicans triumphed in District 12, covering most of Polson, with incumbent Linda Reksten receiving 3,346 compared to Democrat Sterling Laudon's 2,068; and in District 93, with Joe Read outpacing Democrat Shirley Azzopardi 2,419 to 1,664, and Libertarian Devin Braaten receiving 155 votes.
Voters returned two Bigfork Republicans to office: Mark Noland will represent Senate District. 5 and Bob Keenan moves from the senate to House District 10. Both were unopposed.
In the non-partisan race for Lake County Justice of the Peace, Rick Schoening posted 6,205 votes to Michael Larson's 4,899. Republican Steve Stanley, who was appointed to represent district two on the county commission in 2021, secured a full term with 9,116 votes. The final tally also showed 1,111 votes were cast for Paul Guenzler who filed as a write-in candidate in September.
County Attorney James Lapotka – the only newcomer in the mix – joined the remaining Republican office-holders at the courthouse in handily retaining their uncontested seats.
Legislative Referendum No. 131, which would have mandated that infants born alive at any stage of development are legal persons and require medical care and imposed a $50,000 fine and/or 20 years in prison as the maximum penalty for violating the law, was narrowly approved by Lake County voters, 6,297 in favor to 6,294 against, but lost traction statewide, with 53% voting it down.
Constitutional Amendment No. 48, amending the state constitution to include electronic data or communications in the section that governs search and seizure protections, was popular in Lake County, 10,148 to 2,445, and statewide as well with 82% of the vote.
Finally, voters favored a two-year, three-mill levy to make improvements at cemeteries in St. Ignatius, Ronan and Polson, 6,181 to 5,478.
Recent Headlines
---