Polson QB Wilson headed to Montana Tech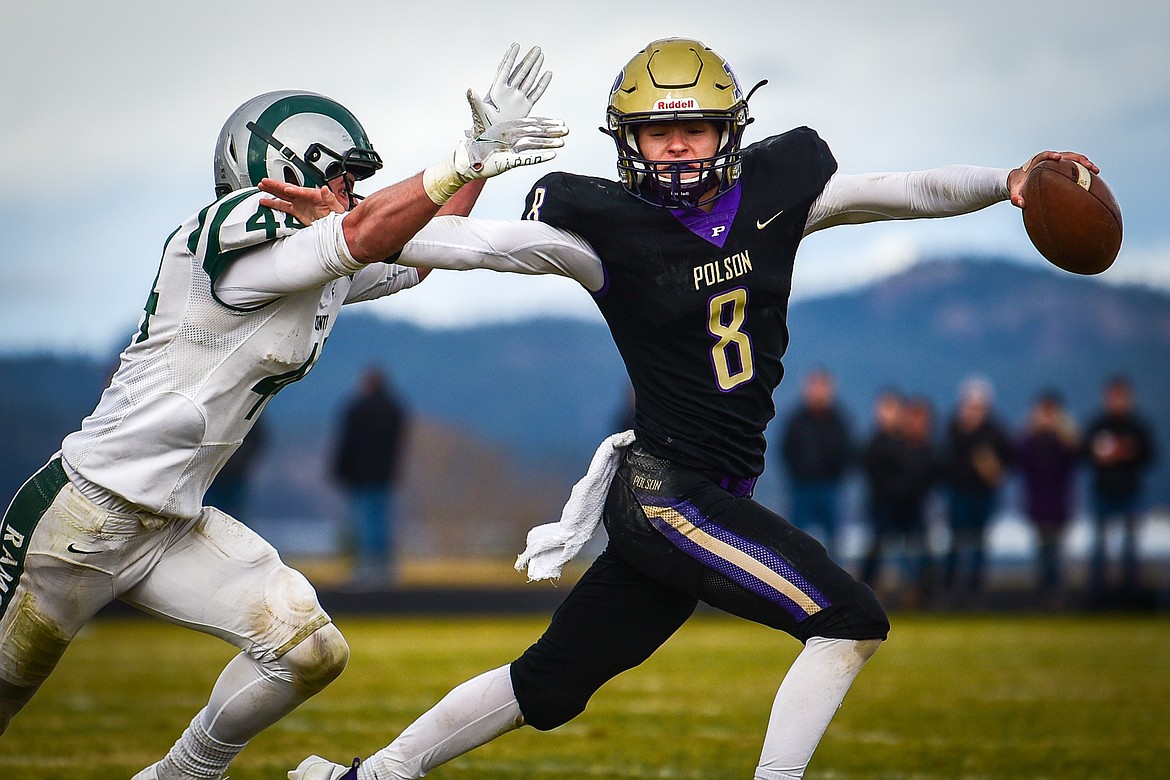 Polson quarterback Jarrett Wilson looks for a play under pressure from a Billings Central defender. (Casey Kreider/Daily Inter Lake)
Polson quarterback Jarrett Wilson is going to be an Oredigger, after announcing Sunday on Twitter that has committed to Montana Tech to play football.
"I am excited to announce my commitment to Montana Tech. Can't wait to get to work! Roll diggs!" tweeted the left-handed senior, who helped the Polson Pirates reach the State A semifinals the last two seasons.
Montana Tech, coached by former Flathead High football coach Kyle Samson, is coming off a 7-3 season in which the Orediggers had 13 first- or second-team all-Frontier Conference picks. Blake Thelen, the Diggers' quarterback, was a second-team selection and will be a junior next fall.
In Wilson, Tech is getting one of the most prolific QBs in Class A history. He's the only Polson Pirate to pass for 500 yards (twice) and, separately, 400 yards in a game, which he did seven times. His 13 career 300-yard passing games are tied for first, according to Class A historian Brian A Reed.
His last game was a 399-yard, four-touchdown effort in a 49-32 loss at eventual State A champion Lewistown. He played most of that game with a hairline fracture of his left (throwing) wrist.
"Somewhere in the middle of the second quarter he either put his hand down wrong, or fell wrong," Polson coach Kaden Glinsmann said last week. "He didn't tell me about it until halftime.
"We tried to protect him a little bit, but at the end, when we just couldn't stop them, I just had him go for it."
Wilson owns every school passing record, and is in the top three in Class A in two dozen categories. This includes passing yards per game (303.9-first), six-touchdown games (eight-first), passing yards (8,812, third), career TD passes (115, second), total offense (11,030 yards, third).
Hamilton quarterback Carson Rostad, now a backup linebacker for the Montana Grizzlies, has more TD passes (141) and Dane Warp of Havre threw for 10,801 yards. Rostad started 41 games at QB and Warp 43; Wilson started 29 games at Polson, with the Pirates going 23-6.
Recent Headlines
---