Arlee business home to all things Bigfoot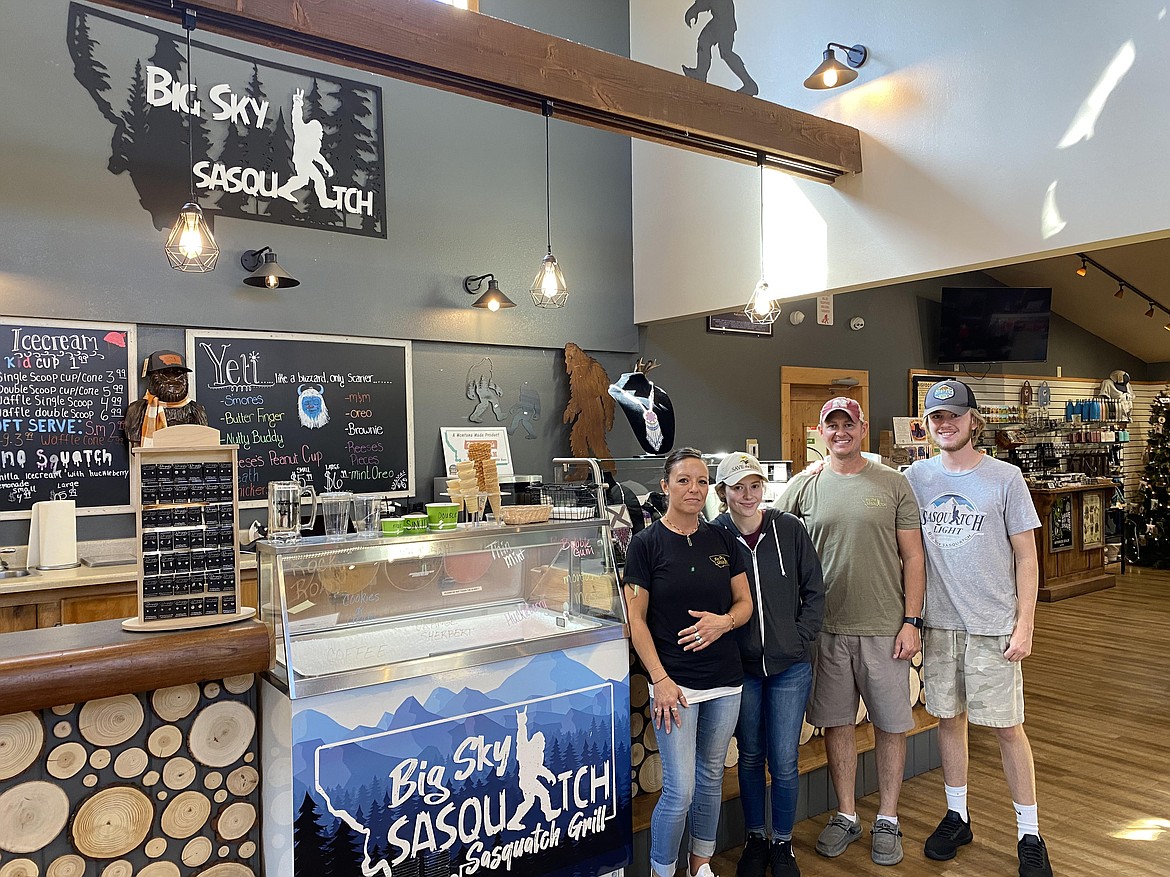 From left to right, Casey Plouffe, Madison Lunsford, Matt Brown and Tyler Brown pose in Big Sky Sasquatch on Wednesday afternoon.
by
HAYDEN BLACKFORD
Daily Inter Lake
|
October 6, 2022 12:00 AM
Matt Brown opened Big Sky Sasquatch in Arlee on April Fool's Day earlier this spring. Since then, the Bigfoot-themed gift shop and restaurant has been a destination for tourists, believers and those looking for a bite to eat.
"Some people like Bigfoot because it's fun, and some like it because they really believe," Brown said of the hairy man-like creature sometimes known as Sasquatch.
Brown was ready to take over the building when it became available after the Huckleberry Patch closed. However, Brown still stocks some products from the original Huckleberry Patch that is located in Hungry Horse.
Having grown up in Arlee, Brown may know more about a local Bigfoot's whereabouts than most. The large building has ample room for the gift shop restaurant combination, and even hosts a Bigfoot museum display.
Brown also knows a thing or two about designing merchandise, as he has recently sold his original Tennessee-based Bigfoot gift shop. Brown had lived in Tennessee for several years before returning home to Arlee.
In the South he was taught how to make T-shirts by a screen printer he worked for. As a result, much of the merchandise in the gift shop has been designed by Brown himself.
"Nearly everything in the store is made in Montana or made by small town artists," Brown said of his gift shop merchandise.
It seems that there are Bigfoot enthusiasts everywhere, as Brown described some vendors being as far away as Texas.
A few Bigfoot magnets were made by a man in Arlee, Bigfoot pillows were handmade and shipped in by Brown, and there's even non-Bigfoot jewelry made in the Flathead Valley.
While a lot of the store is Sasquatch themed, not everything inside relates to Bigfoot. As Brown noted, not everyone is a fan of Bigfoot. So, among candy and jewelry there are a few celebrity mythical creatures that made the cut — such as unicorns.
The restaurant side of big sky Sasquatch even has a special "Squatch sauce" for French fries or Ruebens.
"I asked a local food supplier for the best of everything, and then found some good people to cook it," Brown said.
Among several other employees, Brown's sons help out in the back of the house, and his wife works with him as well.
"We've been very busy," Brown said. "Locals are still supporting us even though tourist season is winding down."
Recent Headlines
---