Marvin Fred Bauer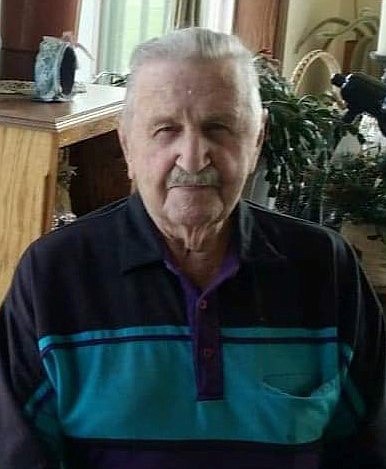 |
October 27, 2022 12:00 AM
Marvin Fred Bauer went home to our Lord and Savior on Oct. 19 at the age of 93. He was born on the family farm in Grant County, ND, to Fred and Sophie Bellon-Bauer on Jan. 22, 1929. Marvin's parents joined two households together, making him the youngest of 11 children. During the Great Depression, Marvin and his parents moved to Montana for better opportunities, leasing a farm just a few miles southwest of Ronan. Only two short years later, Marvin's father passed away and left him to run the farm.
Marvin married the love of his life, Della Gene Brooks, on June 27, 1951, in Hungry Horse. They began their life together on the family farm in the South Crow area. They were blessed with four children, Rick, Don, Kevin and Kim.
Marvin was a faithful servant to our Lord his whole life. He served as a board member of the Assembly Church in Ronan for many years and helped with many improvements to it. He was known in the Ronan area for his beautiful accordion playing. Marvin was a self-taught accordion player and played music by memory or just following along. When he and his siblings would get together through the years, he would play the accordion and they would all sing gospels and old German songs. What great memories were left to his kids and grandkids.
Marvin was a farmer throughout this lifetime. Over the years he went from a leased farm to purchasing and owning his very own farm. In 1980, he moved from the creek in the South Crow area to the hilltop which is still known as Bauer Hill. He just loved farming the soil and growing his crops, which he did until a couple of years ago when his health forced him out of the tractor seat.
He was preceded in death by his parents, Fred and Sophie, his 10 siblings, and his wife of 56 years, Della, who died in 2007.
Survivors include his sons Rick (Faye), Don (Janie) and Kevin (Robbin) Bauer, and his daughter Kim (Roger) Smart, all of Ronan. He is also survived by 16 grandchildren, 32 great- grandchildren, with two on the way, and five great-great grandchildren.
Marvin's celebration of life will be held at the Terrace Lake Community Church, 35663 Terrace Lake Rd., Ronan, at 11 a.m. Oct. 27. There will be a viewing from 5-7 p.m. Oct. 26 at the Shrider-Thompson Funeral Home, 419 Round Butte Rd., Ronan. Following the ceremony we will head to the Ronan cemetery for brief graveside service. Please join the family back at the church for dinner and fellowship.
Messages of condolences may be shared online at www.shriderthompson.com. Arrangements are under the care of Shrider-Thompson Funeral Home.
Recent Headlines
---