Lady Pirates take round one against Maidens
by
ROB ZOLMAN
Sports Reporter
|
September 19, 2022 12:00 AM
RONAN – The Polson Lady Pirates took round one of their cross-county conference volleyball rivalry against the hosting Ronan Maidens in five sets 25-14, 24-26, 25-17, 19-25, 15-13 on Thursday evening.
Posting game high totals for the Lady Pirates, Lucy Violett led with 13 kills and Avery Starr had 36 assists.
Also for Polson, Samantha Rensvold had a team high 12 digs followed by Grace Simonich with 11 digs.
Earlier in the week, the Lady Pirates secured a three-set 27-25, 25-20, 25-20 win over the visiting Whitefish Lady Bulldogs on Tuesday, Sept. 13.
Starr accounted for 32 of the Lady Pirates' 37 total team assist. Julia Barnard booked a team high 13 digs, while Hannah Simpson posted 11 kills and Violett chipped in with 10 kills.
The Lady Pirates finished the week on Saturday with a 3-1 home win over the Dillon Lady Beavers. Polson dropped the first set 13-25 to Dillon then finished the match in three straight sets 25-22, 25-20, 25-22.
Simpson and Violett led Polson with nine kills each followed by Rensvold with eight kills. Starr had 25 assist and 11 digs on the night.
CHARLO 3, ST. REGIS 1
CHARLO 3, NOXON 0
The Charlo Lady Vikings put two more wins in the "W" column last week with a 25-23,22-25,25-17 victory over the visiting St. Regis Lady Tigers on Thursday evening and a 25-22, 25-15, 25-17 road win over the Noxon Lady Red Devils.
Against St. Regis, Leah Cahoon floored a game high seven aces, had five digs, two blocks, and four kills. Hayleigh Smith had an ace, nine kills, nine digs and two blocks.
In Saturday's game in Noxon, Seeley McDonald had four of the seven Lady Viking aces, while Payton Smith had a team high 17 assists and Sidney Bauer chipped in with 11 digs.
BIGFORK 3, MISSION 0
RONAN 3, MISSION 0
The visiting Bigfork Valkyries swept the Mission Lady Bulldogs in three straight sets 25-15, 25-17, 25-18 on Tuesday, Sept. 13.
Izzy Evans had a great effort in the loss, logging nine total digs, four kills, and two aces.
Gabby Smith had seven kills and five assists followed by Emily Morigeau with three aces and a block.
In Ronan on Saturday, the Lady Bulldogs fell in three sets 25-23, 25-18, 25-8 to the hosting Maidens.
Smith led the Lady Bulldogs with three aces, 11 assists, and 16 digs, while Evans booked 15 digs and five kills. Also for Mission, Rowan McElderry booked six kills and a block.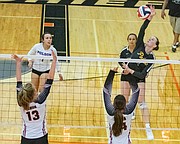 Recent Headlines
---