Food and community: one organization's mission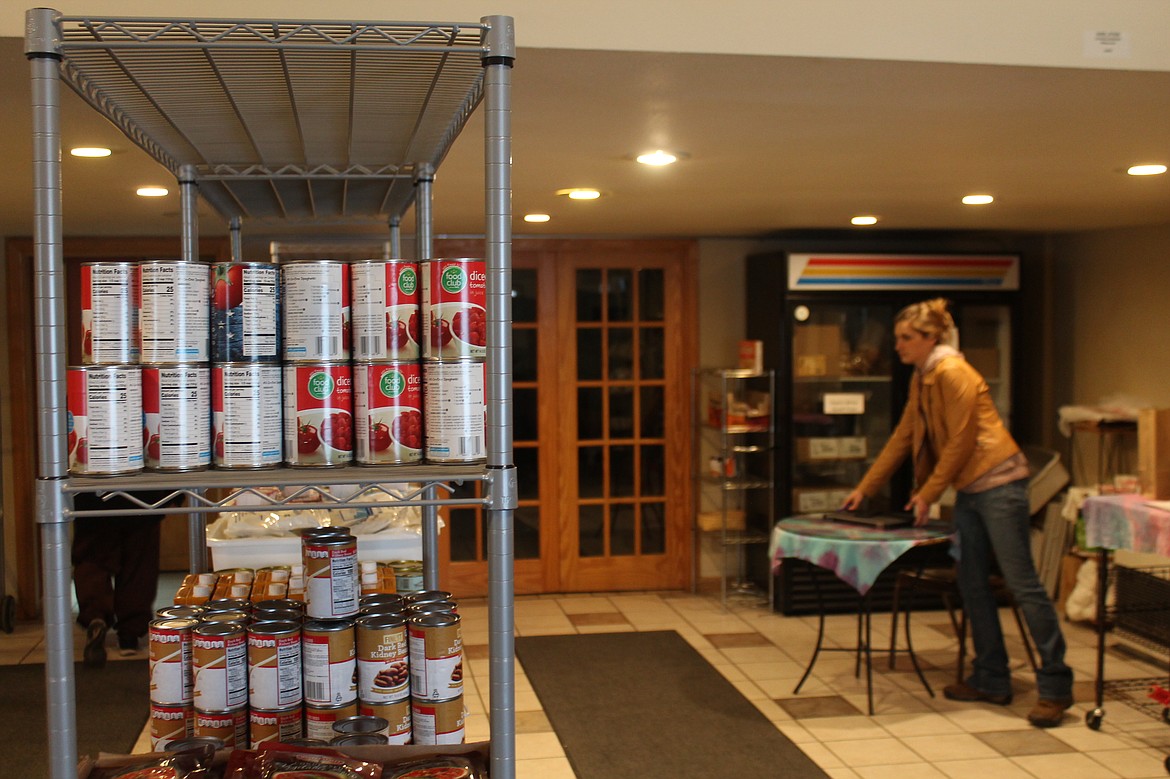 Marie Corcorran-Kloberdanz organizes inside of the Arlee Community Development Corporation in February, 2023.
by
HAYDEN BLACKFORD
Daily Inter Lake
|
February 23, 2023 12:00 AM
The Arlee Community Development Corporation (CDC), formed in 2002, moved into a new building in Arlee, along U.S Highway 93, during the COVID-19 pandemic. Since then the organization has emphasized food sovereignty as part their mission to plan and develop projects beneficial to the Arlee and Jocko Valley community.
Executive Director Marie Hirsch said throughout 2021, during the pandemic, the organization distributed food boxes up and down the valley that became famous. In addition, the group, which depends on volunteers, continues to operate a food bank, teach classes about many topics related to sustainable and healthy eating patterns, and run youth programs that focus on art, theater, and even basket making.
The CDC's current location had previously served as the Hangin' Art Gallery and Coffeehouse, which closed in 2019, and had served as a community gathering place for 16 years.
Danny Knult, an artist who shared his work at Hangin Art, brought some of his art back to the building in honor of its history. Now that the CDC has moved in, Hirsch said the organization hopes to bring back a sense of community to the building.
"While Arlee is not incorporated, the area sees some of the challenges of an incorporated area," she said.
Arlee has a water and sewer district and a K-12 school system, but the town, named after a Salish chief, has only about 600 residents.
The CDC was formed by a group that worked toward goals of economic development, Hirsch said. Being this close to Missoula, even 20 years ago, the founders hoped to push back against urban sprawl, she added.
The CDC's focus still extends beyond food and youth programs by offering assistance to local businesses and community development when possible. The organization makes referrals for businesses, working with the Confederated Salish and Kootenai Tribes economic development group as well as Mission West Community Development Partners in Ronan to aid the community.
Food Sovereignty
The CDC's food classes focus on food sovereignty programs including producing, gathering and preserving foods using both traditional and new methods. The CDC's programs keep people coming back for years until eventually they begin to feel like family, Hirsch said.
Marie Corcorran-Kloberdanz, is one of the people who became like family. She was once involved in the CDC's youth programs and is now working as the food resource center coordinator.
The self-selecting food pantry at the CDC started in July 2022, Corcorran-Kloberdanz said.
"It's wonderful, everyone's always excited to select what they want," she said.
Among its innovative approaches, the CDC gives people food kits with ingredients for making new meals, Corcorran-Kloberdanz said. They host cooking classes to teach people how to cook new foods such as bison and wild rice soup. The CDC has many generous donors like Harlequin Farms, which donates produce for classes and the food pantry, she said.
"We work with grants to fund special access to local foods," Corcorran-Kloberdanz added.
Many of the tools and resources the CDC is offering the community are meant to cultivate food sovereignty, Hirsch said, defined on the website as "the ability of a community to provide nutritious food for all its members throughout all seasons."
At most food banks, people go in and are given supplies, Hirsch said.
"Here the selection process is supported by fundraisers and the community and it really makes a difference," she said.
In addition to teaching cooking skills and promoting healthy and culturally appropriate foods, the CDC works with local food producers such as farmers, producers of beef and bison, or even tribal fisheries.
A recent workshop tied to building knowledge and skills drew elderly to middle-aged attendees, said Corcorran-Kloberdanz.
Workshops have included meat-canning classes, and building meat-drying racks. Berry picking classes, such as one last year at Thunder Road Farm in Arlee, helped people participate in a you-pick berry program and attracted a younger audience, Hirsch said. Participants then made homemade jams.
Arlee's only grocery store carries a limited selection of food and fresh produce. The closest large grocery stores for Arlee residents are at least 15 miles away.
"With fuel prices going up the ability to make that trip is diminished," Hirsch said.
Hirsch said the CDC noticed an uptick in how many people they helped as economic conditions changed last year, growing from 389 in March to 599 in December.
"People's ability to make their fixed incomes last to the end of the month was challenged," She said.
The CDC has worked with the Confederated Salish and Kootenai Tribes (CSKT) and other organizations to help people cultivate food sovereignty and teach them about nutrition. The MSU Extension of the CSKT has contributed to the effort and helped the CDC bring garden boxes to the community.
"Food sovereignty is really the key to what we're doing," Hirsch said.
Recent Headlines
---