Hoop Stories: Maidens, Bulldogs, Warriors advance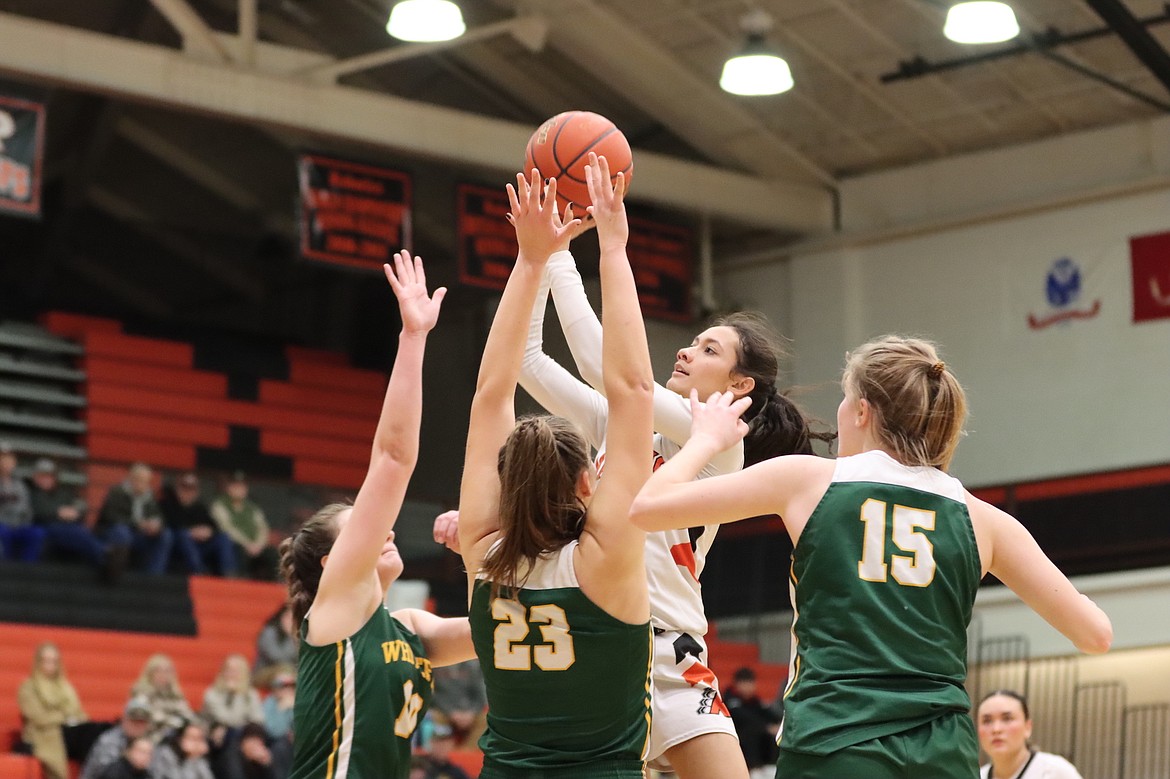 Maiden Leina Ulutoa, who notched 19 of last week's game against Whitefish, goes up for another basket. (Niki Graham photo)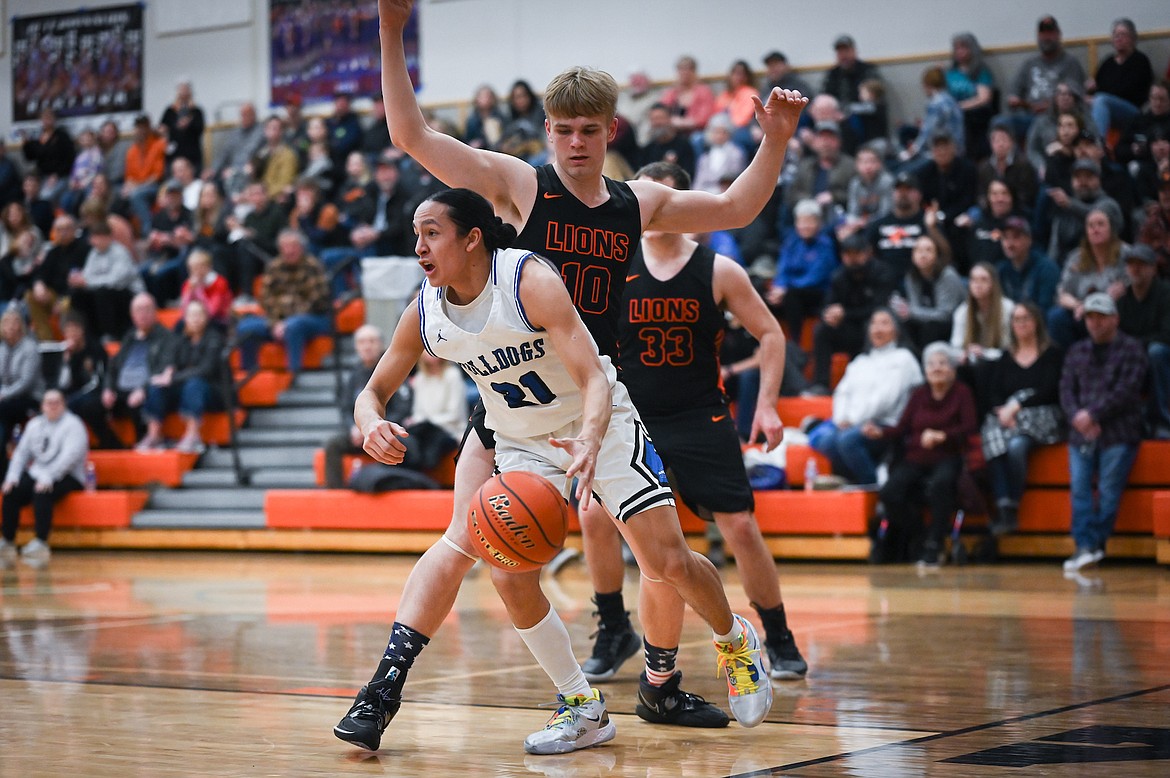 The Mission Bulldogs lost to Eureka by just two points during last week's Western 7B District Tournament, but still emerged in third place. (Christ Umphrey photo)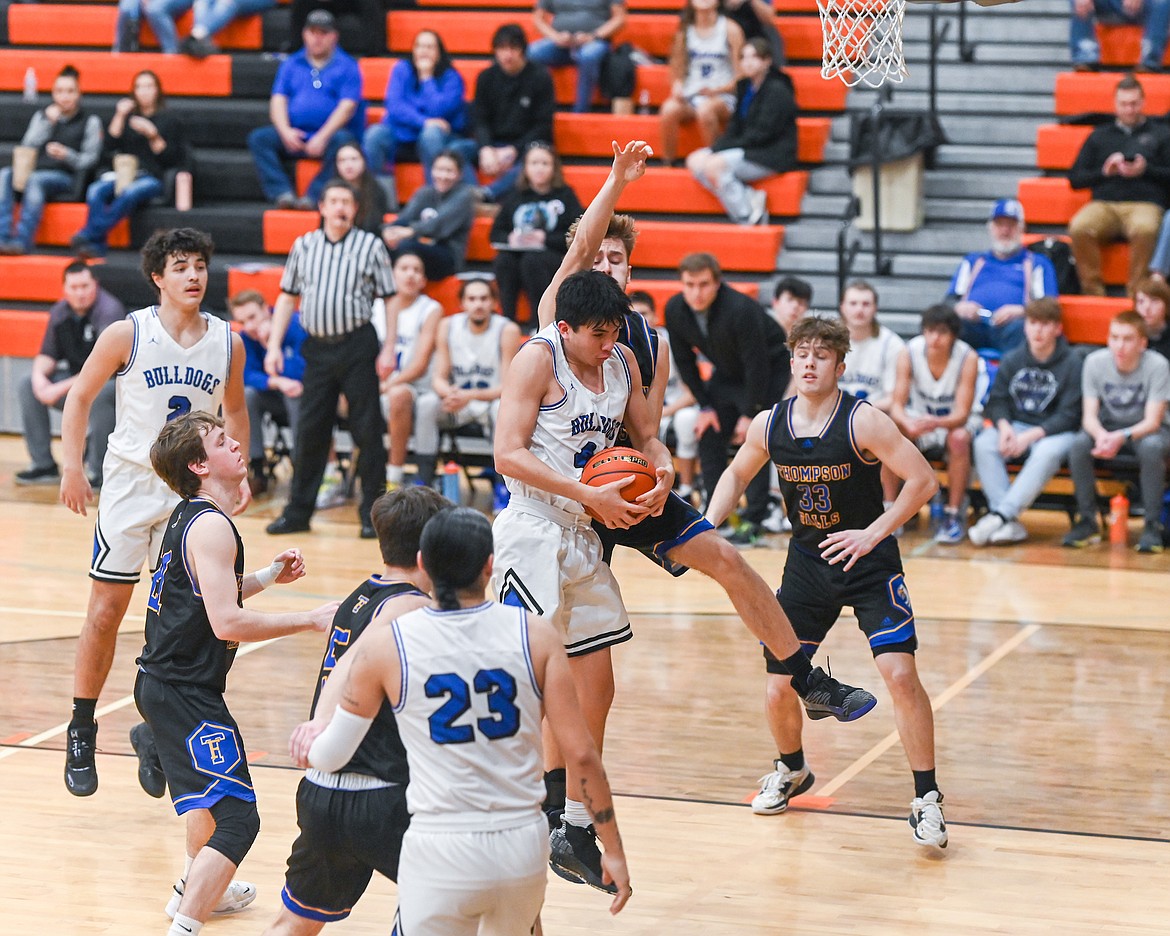 Mission downed Thompson Falls 56-48 in the Western 7B District Tournament Third-Place Game last Saturday in Eureka. (Christa Umphrey photo)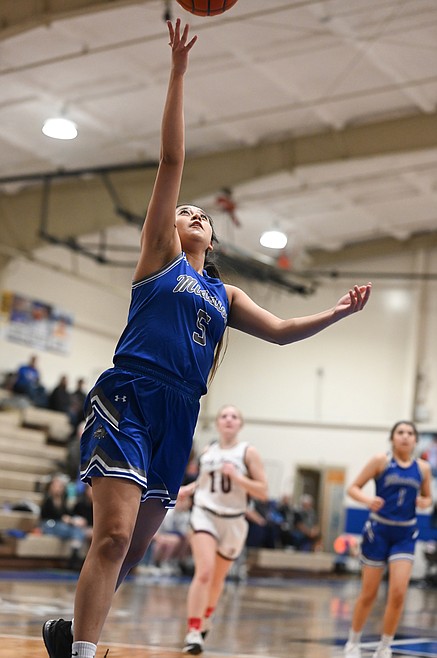 The Lady Bulldogs trounced Troy in last Tuesday's play-in game 91-21. (Christa Umphrey photo)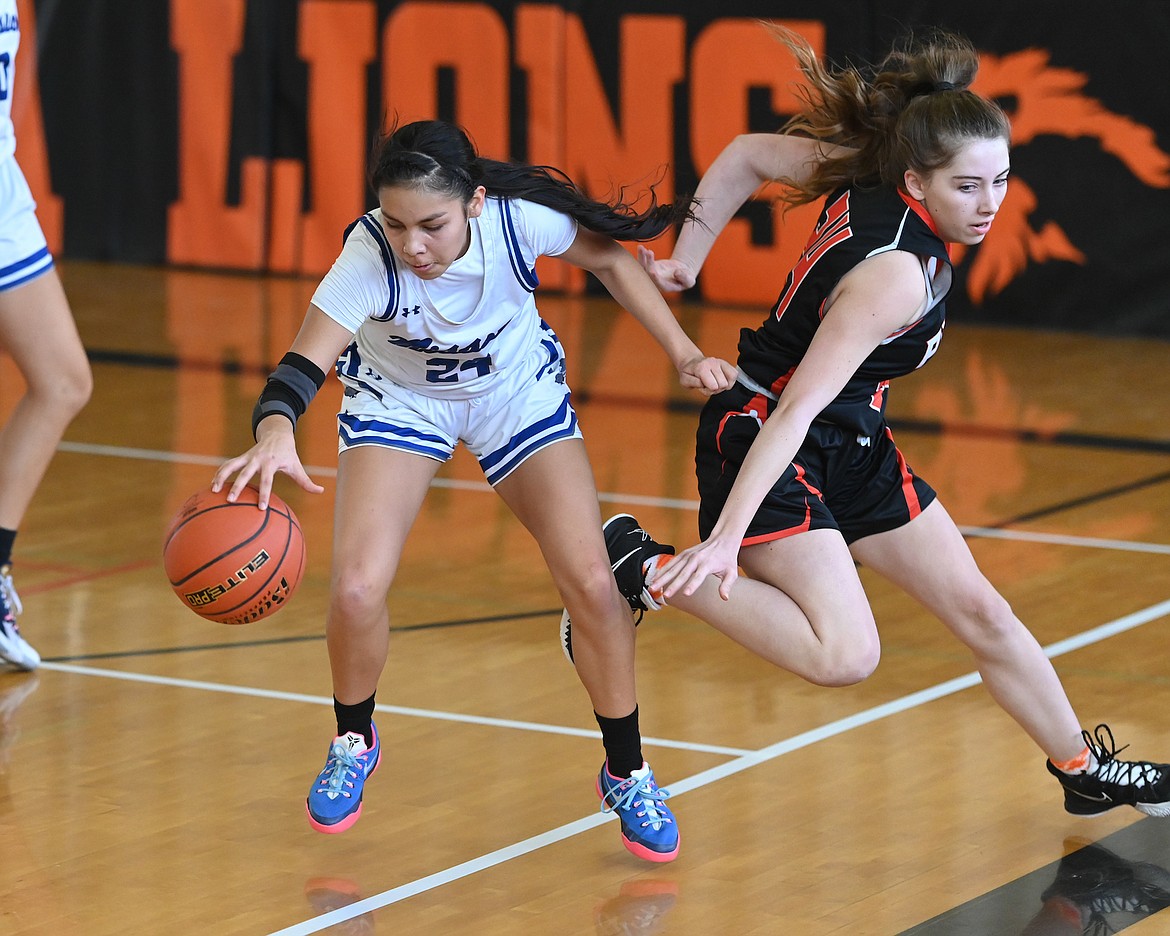 The Lady Bulldog's win over Plains in Saturday's consolation semifinals clinched a regional spot for Mission's team. (Christa Umphrey photo)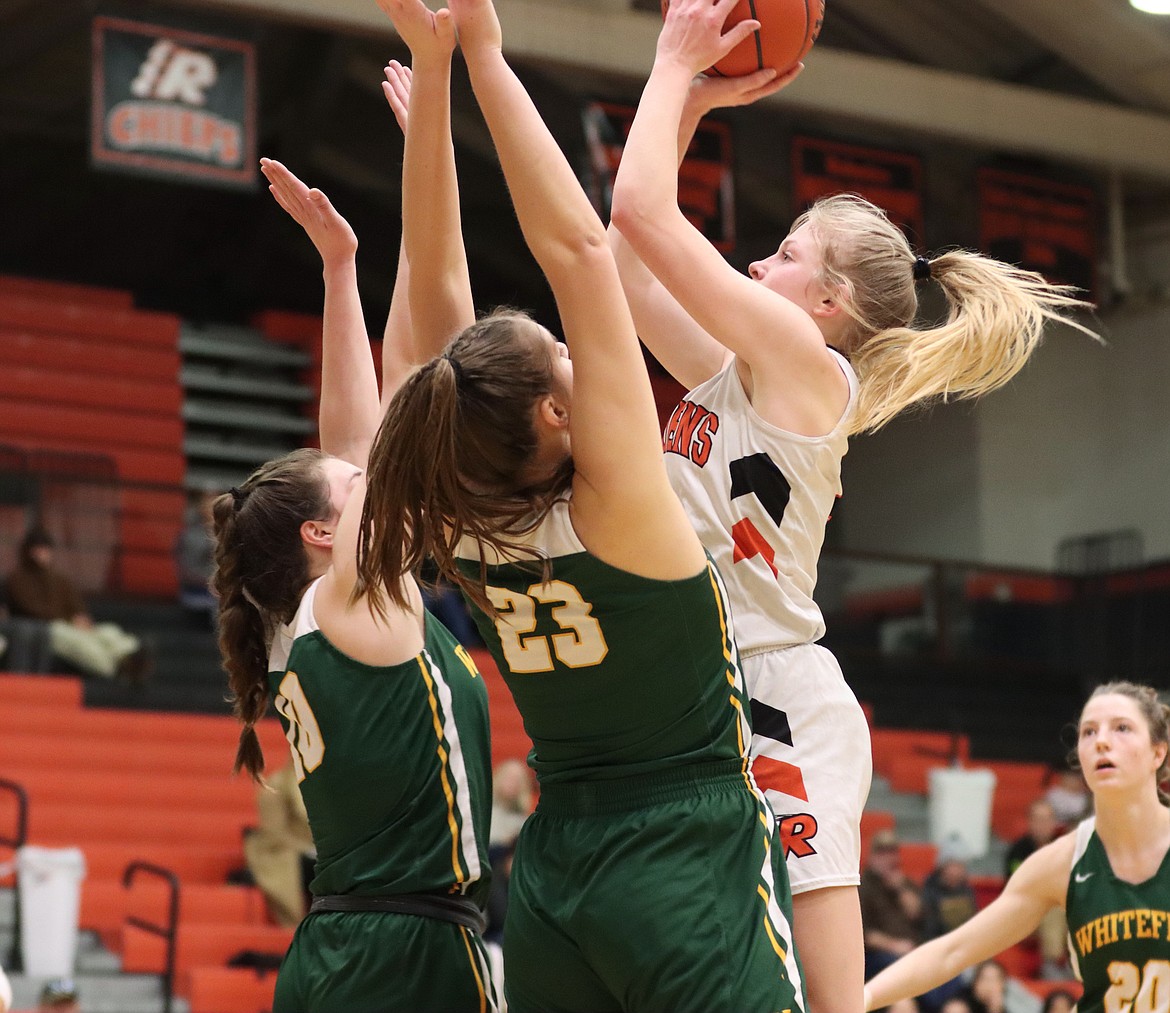 Maiden Lauren Buhr added seven to Ronan's post-season victory over Whitefish. (Niki Graham photo)
Previous
Next
|
February 23, 2023 12:00 AM
CLASS A GIRLS
Ronan ends Whitefish's season
The Maidens have traveled a lot this season, playing up in Alaska midway through as part of the Alaska Airlines Classic. For the postseason, they were able to enjoy home-cooking in the divisional play-in game, ousting Whitefish 47-38 at home on Saturday, Feb. 18.
"It was great for the girls, they have kept pushing forward all year," Ronan Head Coach Steve Woll said. "We wanted to represent our school and community. We knew it would be a battle."
By virtue of their No. 4 seed, Ronan played host to the winner of the Whitefish-Libby matchup on Tuesday and didn't exactly roll out the welcome mat.
After a close first quarter with the Maidens leading 17-15, Ronan went on a 19-7 run in the second quarter to take command. Leina Ulutoa notched 19 of her game-leading 23 points in the first half for Ronan and 13 in the second quarter.
"We didn't panic and we came from behind and kind of settled in and fed Leina the ball and we went inside out," Woll said.
Lauryn Buhr added seven, and Isabella Devereaux-Trahan notched six in Ronan's efforts.
While Whitefish tried to cut into the lead in a low-scoring second half, the Maidens were able to punch their ticket to this week's Western A Regional, which they will be hosting.
"At this stage of the season and game, everyone is good and ready," Woll said. "It is who will handle distractions the best and who is at the top of their game, gets some breaks, plays good D and makes free throws without turning the ball over."

The Maidens improved to 7-12 on the year, knocked Whitefish out of the postseason, and completed a three-game season sweep of the Lady Bulldogs. They'll face Southwest A Champion Dillion (17-1) on Thursday, Feb. 23 at 5 p.m.
"I feel we are still improving weekly, and the kids are playing together and believing that they can compete nightly," Woll said. "Thanks for the crowd support this season and hope to see you Thursday. Hail Maidens."
At Ronan
RONAN 47, WHITEFISH 38
Whitefish - 15 - 7 - 9 - 7 - 38
Ronan - 17 - 19 - 5 - 6 - 47
RONAN: Leina Ulutoa 23; Lauryn Buhr 7; Isabella Devereaux-Trahan 6; Olivia Heiner 5; Arianna Zepeda 5; Margaret Cordova 1
CLASS A BOYS BASKETBALL
Chiefs' season comes to an end
Libby started the game with an 8-0 run and finished it with an 18-5 run on their way to a 59-49 victory over Ronan in the Western A District opener on Tuesday, Feb. 14.
Ronan tied the game up 22-22 on a Ted Coffman three in the second quarter, and lead changes abounded until the fourth quarter when Libby's Tyler Anderson scored 13 of his 31 points.
Laurance Lozeau's 15 points led Ronan while Marlo Tonasket had 11 points.
Ronan finished the season 7-11 on the year.
At Ronan
LIBBY 59, RONAN 48
Libby - 17 - 13 - 11 - 18 - 59
Ronan - 12 - 14 - 17 - 5 - 48
Ronan: Laurance Lozeau 15, Marlo Tonasket 11, Ted Coffman 7, Kolby Finley 6, Jordan Gatch 6, Josiah Misa 3
CLASS B BOYS BASKETBALL
Bulldogs place third at District
Mission's aim didn't fail them in the fourth quarter as they downed Thompson Falls 56-48 in the Western 7B District Tournament Third-Place Game on Saturday, Feb. 18 in Eureka. The Bulldogs hit 10 of 13 free throws in the final stanza of the victory to garner a No. 3 seed in next week's Western regional.
Zoran LaFrombois notched 19 points, including four three-pointers for Mission, which trailed 28-27 at the half but outscored the Bluehawks 17-8 in the third quarter for the 44-38 advantage.
Mission improved their record to 12-9 on the year, while Thompson Falls fell to 10-10 on the year but will advance to regionals with Bulldogs, Bigfork and Eureka. The win was Mission's third of the year over the Bluehawks.
Kenny Ness added 11 points, while Landon Walks Over Ice had eight points in the Bulldogs' effort.
Mission started the tournament with a loss to Eureka on Friday, Feb. 17. With the home crowd behind them, Eureka notched a 58-56 victory, despite the Bulldogs lead of 28-24 at halftime. Zoran LaFrombois led the Bulldogs with 22 points, while Kenny Ness and Kellen McClure each scored seven points for Mission.
The loss moved Mission into the Consolation Semifinals on Saturday, when the Bulldogs punched their ticket to Regionals.
LaFrombois, who has been a force for Mission basketball this year, came up big to help extend the Bulldog's season dropping 44 points as Mission defeated Troy 74-35.
Coming off their loss to Eureka, the Bulldogs' offense came out strong, outscoring Troy 23-7 in the first quarter. At halftime, Mission led 42-12 and flew the rest of the game.
Kellen McClure added eight points, and Cedric McDonald had seven points. The win moved the Bulldogs to the District 7B Third Place Game and secured their slot at the Western B Regional Tournament.
At Eureka
District 7B 3rd Place Game, Feb. 18
MISSION 56, THOMPSON FALLS 48
T-Falls - 11 - 17 - 8 - 10 - 48
Mission - 12 - 15 - 17 - 12 - 56
MISSION: Zoran LaFrombois 19; Kenny Ness 11; Landon Walks Over Ice 8; Kellen McClure 6; Carmine Adams 6; Cedric McDonald 5; Erich Morigeau 1
District 7B Consolation Semifinals, Feb. 18
MISSION 74, TROY 35
Mission - 23 - 19 - 20 - 12 - 74
Troy - 7 - 5 - 12 - 11 - 35
MISSION: Zoran LaFrombois 44; Kellen McClure 8; Cedric McDonald 7; Thomas Addison 4; Carmine Adams 4; Lex LaFrombois 3; Kenny Ness 2
District 7B Semifinals, Feb. 17
EUREKA 58, MISSION 56
Mission - 20 - 8 - 13 - 15 - 56
Eureka - 15 - 9 - 19 15 - 58
MISSION: Zoran LaFrombois 22; Kenny Ness 7; Kellen McClure 7; Carmine Adams 5; Landon Walks Over Ice 3; Lex LaFrombois 3; Erich Morigeau 2
Arlee finishes fourth in District Tournament
Florence-Carlton defeated Arlee 66-59 in the Western District 6B Third-Place Game on Saturday, Feb. 18, in Anaconda. Ben Old Person-Harlow led the Warriors and all scorers with 23 points in the matchup.
Florence Carlton led 34-32 at halftime and extended their lead by five points in the third quarter.
Jake Knoll added 12 points to Arlee's efforts, while Jace Arca notched another 11.
The Warrior's path to District was secured last Tuesday when Arlee defeated Deer Lodge 58-51 in overtime, knocking Deer Lodge out of the competition.
Missoula Loyola used big runs in the second and third quarters to notch a 74-41 victory on Friday, Feb. 17. Loyola led 36-25 at halftime and then went on a 21-9 run in the third.
Overall, the Warriors improved to 11-8 on the year and will face No. 1 Western seed Bigfork (17-3) at the Western B Regionals on Thursday, Feb. 23, in Anaconda.
At Anaconda
District 6B Third Place Game, Feb. 18
FLORENCE-CARLTON 66, ARLEE 59
Flor-Car - 18 - 16 - 15 - 17 - 66
Arlee - 13 - 19 - 10 - 17 - 59
ARLEE: Ben Old Person-Harlow 23, Jake Knoll 12, Jace Arca 11, Dallas Swab 6, Kendall O'Neill 4, Kaiden Big Sam Osby 1
Western 6B District Tournament, Feb. 17
MISSOULA LOYOLA 74, ARLEE 41
Miss-Loy - 16 - 20 - 21 - 17 - 74
Arlee - 15 - 6 - 9 - 11 - 41
CLASS B GIRLS BASKETBALL
Mission trounces Eureka for third place
Playing against the host team in the district tournament isn't easy, but Mission got off to a quick start and handed Eureka a 68-39 loss in the District 7B Third-Place Game last Saturday. Cora Matt notched 20 points in the win for the Lady Bulldogs.
Mission wasted little time, jumping out a 20-8 lead over Eureka in the first quarter and extending the lead to 37-21 at halftime.
Kason Page added 12 points, while Elannah Flat Lip had 10, and Kooper Page had nine.
The Lady Bulldogs beat Eureka for the third time by a large margin and advanced to regionals, where they'll face (16-5) Western 6B Champion Anaconda (13-4) at Anaconda on Thursday, Feb. 23 at 4:45 p.m.
Their path toward third place began with a loss to Thompson Falls on Friday, Feb. 18. A slow third quarter hampered Mission in a 53-34 defeat.
The Lady Bulldogs trailed 15-11 after one stanza, and then the Lady Bluehawks went on a 12-3 run before halftime.
Cora Matt led Mission with eight points, while Kason Page had 7. Mission had previously defeated T-Falls 54-53 on Feb. 10.
Their fortunes changed dramatically in Saturday's consolation semifinals with a 55-16 victory over Western 7B foe Plains. The win clinched a regional spot for the Lady Bulldogs.
The offense powered out to a 25-6 lead in the first half, and the defense held Plains to three points in the second quarter for a 41-9 halftime lead. In the third quarter, Mission held Plains to just two points.
Kooper Page led the Lady Bulldogs with 17, while Izzy Evans added 11. Plains finished the season 2-17. Mission had flattened Plains in two previous matchups.

There was no drama in Mission's District 7B Tournament play-in against Troy on Feb. 14. The Lady Bulldogs snagged a 22-2 lead in the first quarter and led 52-13 at halftime en route to a 91-21 victory.
Five Lady Bulldogs scored in double digits, led by Kooper Page with 27. Izzy Evans and Kason Page each had 15 points, while Kieran Incoashola scored 12, and Cora Matt had 10.
Troy finished the season winless.
At Eureka
District 7B Third-Place Game, Feb. 18
MISSION 68, EUREKA 39
Eureka - 8 - 13 - 10 - 8 - 39
Mission - 20 - 17 - 13 - 18 - 68
MISSION: Cora Matt 20; Kason Page 12; Elannah Flat Lip 10; Kooper Page 9; Kieran Incashola 7; Izzy Evans 6; Brooklyn McClure 4
District 7B Consolation Semifinals, Feb. 18
MISSION 55, PLAINS 16
Mission - 25 - 16 - 12 - 2 - 55
Plains - 6 - 3 - 2 - 5 - 16
MISSION: Kooper Page 17; Izzy Evans 11; Kason Page 7; Brooklyn McClure 5; Kieran Incashola 4; Cora Matt 4; Leslia Stops 3; Madison Incashola 2; Elannah Flat Lip 2
District 7B Semifinals, Feb. 17
THOMPSON FALLS 53, MISSION 34
T-Falls - 15 - 12 - 13 - 13 - 53
Mission - 11 - 3 - 8 - 8 - 12 - 34
MISSION: Cora Matt 8; Kason Page 7; Leslia Stops 6; Madison Incashola 4; Kooper Page 2; Elannah Flat Lip 2; Brooklyn McClure 2; Kieran Incashola 2; Izzy Evans 1
At Mission
District 7B Play-In Game, Feb. 14
MISSION 91, TROY 21
Troy - 2 - 11 - 7 - 1 - 21
Mission - 22 - 30 - 22 - 17 - 91
MISSION: Kooper Page 27; Izzy Evans 15; Kason Page 15; Kieran Incashola 12; Cora Matt 10; Elannah Flat Lip 6; Madison Incashola 3; Leslia Stops 3
Recent Headlines
---