Time Capsule: Milk prices double; Namen case expands; Wal-Mart vote on hold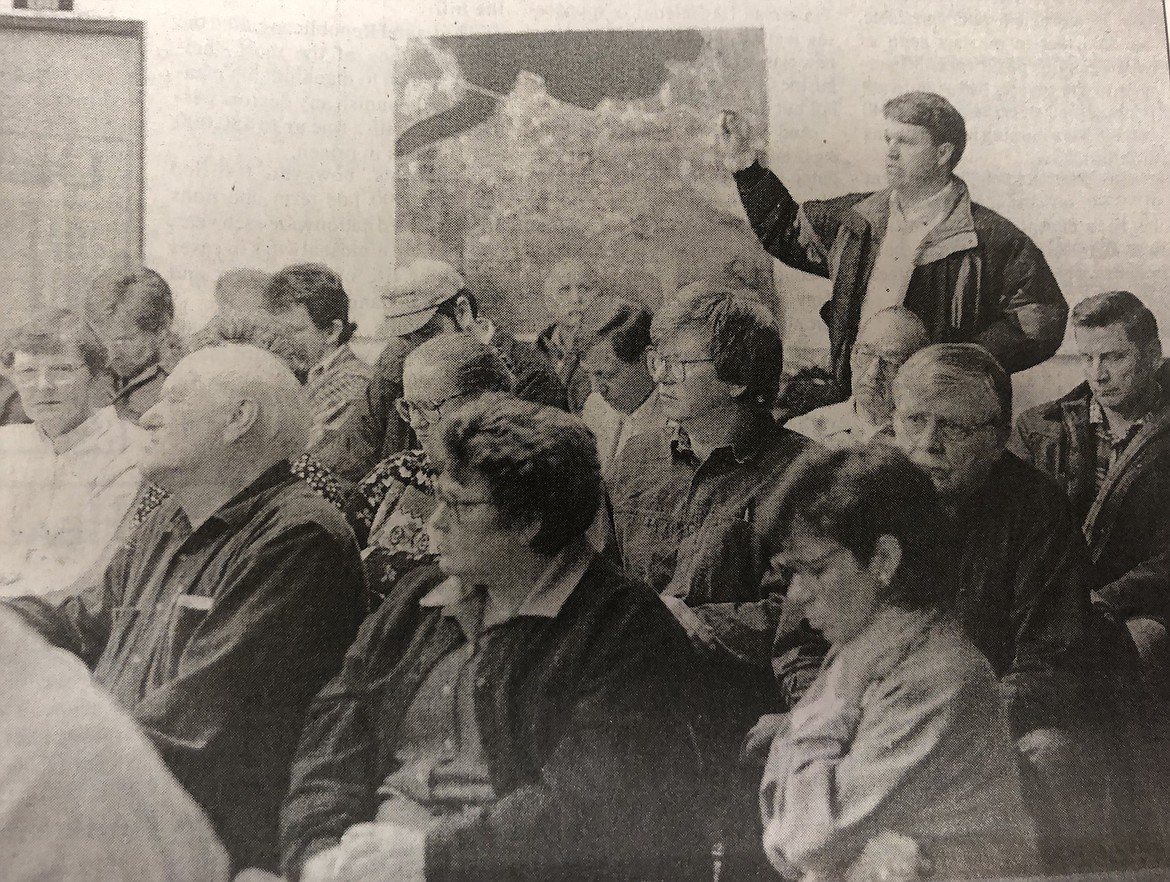 Citizens attend a meeting at Polson City Hall on Feb. 17, 1997, over a proposed amendment to zoning regulations that would allow Wal-Mart to expand to its current location. (Lake County Leader, Feb. 20, 1997)
|
February 23, 2023 12:00 AM
From Flathead Courier, Feb. 21, 1957:
Ewe feeding insures fat lamb crops
Farm flock owners will find that feeding ewes extra well after lambing will pay dividends in better lambs since it is the mother's milk that really makes the lambs fat, according to Ed Bratton, County Agent.
He points out that the feed requirements of a ewe giving milk are nearly 50 percent higher than they are up until lambing time. For this reason the main job after lambing is to feed the ewes so that they will give as much milk as possible.
One suggested ration is to feed the ewes good, bright alfalfa hay and one-half to one pound of oats per ewe per day.
Milk price is felt in schools
According to the figures at the Polson schools on the milk program for children during the week, the price to each child who buys extra milk under the special program will go from 1¢ per day to 2¢ per day.
Under the original program children who obtained extra milk paid 5¢ per week or 1¢ per day for a half pint. Since the milk price increase, the pupils must pay 10¢ per week of 2¢ per day.
Based on the figures of January's consumptions, a total of 13,050 bottles are served with hot lunches.
Polson ski tow is in operation
The Polson ski tow on the East Shore will be operating on Saturday and Sunday of this week for anyone interested in skiing. Last week, the tow operated on Tuesday, Thursday, Saturday and Sunday with good crowds from Polson and Ronan.
Last week in the high school ski meet at Whitefish, David Askevold entered unattached, and took two fourths and one fifth place. Polson Ski Club does not have a team, so could not enter the team event.
From Flathead Courier, Feb. 24, 1977:
Namen Case expanded by Tribes
It appears that another chapter in the Tribes vs. Namen case has been initiated by tribal attorneys. Riparian rights along the shores of the south half of Flathead Lake are involved.
Basically, the first case went through federal district and appellate courts and was decided in favor of the defendant – that the Namens and the City of Polson, which had intervened as a defendant, did have riparian rights on former allotment lands.
The United States Supreme Court denied a tribal request to review the lower courts' findings.
Recently the Confederated Tribes took a step which has the effect of expanding the original suit in the federal district court in Missoula.
The Indians are asking the court for ten provisions including that … it be found that the defendants are in trespass upon plaintiffs' land to the extent that they have erected and maintained buildings and structures beyond the high water mark of 2893.2 feet of Flathead Lake … and that all buildings, structures and landfills be removed beyond that elevation.

Canadian trout caught in Flathead
There is definitely a flow from northern streams into Flathead Lake, and Polson fisherman Elliot Johnson has the proof.
Last week he caught a 9-lb. Dolly Varden trout in Yellow Bay. When cleaning it, he found a yellow metal tag inscribed "Canadian Fish and Wildlife, Nelson, B.C."
"If fish can come this far, so can pollution. It is time for us all to be concerned," he commented.
From Lake County Leader, Feb. 20, 1997:
Reservation Preservation
The Flathead Tribal Council has passed a resolution to place the reservation on the National Trust for Historical Preservation list of America's 11 most endangered historical places.
Council members made the nomination jointly with the Flathead Resource Organization.
The January resolution cites "uncontrolled and excessive growth" within "patterns of sprawl and subdivision," plus the Montana Department of Transportation's proposed U.S. 93 four-lane project from Evaro to Polson as adversely impacting the Confederated Salish and Kootenai Tribes' cultural survival and well-being.
Wal-Mart vote on hold
Urged to do something about Wal-Mart "just because it's right," the Polson City Council voted Monday night to defer approval of a zoning change for the project until March 3.
The change from low-density residential to highway-commercial was recommended by the city-county planning board in January. But many people in the audience for a public hearing said that the move violates the spirit of the city's 1993 master plan, which favors central business district development over highway sprawl.
Alderman Clint White said he'd been asked to stall the vote for 30 days. He opted for 15 days and was joined in the "aye" column by Dan Morrison, Mike Lies and Mark McDonald. Forrest Sanderson and Tom Vergeront were opposed.
Recent Headlines
---