Two Eagle River teams both end season at District
by
CHUCK BANDEL
Valley Press
|
February 23, 2023 12:00 AM
Both the boys and girls Two Eagle River basketball teams made it through the second day of the recent Western 14C District tournament in Polson.
Unfortunately, that amounted to a total of two victories and four losses and an unexpectedly quick exit from the tournament for the third-seeded boys. The girls' results were much the same.
Two Eagle's boys won their opening game Thursday afternoon against the Hot Springs Savage Heat, beating the Heat 61-36 to advance to a Friday meeting with second seed and eventual tournament champion St. Regis.
The Tigers ruined the Eagles hopes of a championship game appearance with a 54-38 win, sending the Pablo team to the consolation round.
It was there that they faced a Superior team they had beaten in overtime just a few weeks earlier but found the improved Bobcats up to the task as they handed the Eagles a tourney-ending 51-35 loss.
The Two Eagle River boys fell behind Superior by 10 in their Saturday morning matchup at Linderman Gym in Polson, then found themselves trailing 28-13 at the half. They staged a minor rally in the third quarter where they shaved three points off the Superior lead, but could not overcome the early Bobcats' lead and were eliminated from the tourney.
Thomas Spotted Eagle led the Eagles with 11 points, while Orion Plakke and Tucker Donaldson tied for game-high scoring honors with 15 points apiece for Superior.
Superior went on to win the consolation championship game against Hot Springs and earned the right to challenge number-one seed Charlo this Monday night in Thompson Falls for the District's number-two seed. Charlo was upended by the St. Regis boys in the title game.
The Lady Eagles, meanwhile, were beaten in their Thursday opener by Noxon, 54-30, then came back in the consolation and defeated winless Alberton 26-11. That moved the Lady Eagles into a consolation semi-final with St. Regis' girls, who defeated TER 50-34 and eliminated them from the field.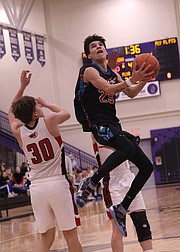 Recent Headlines
---