Family farm conserved south of Pablo Reservoir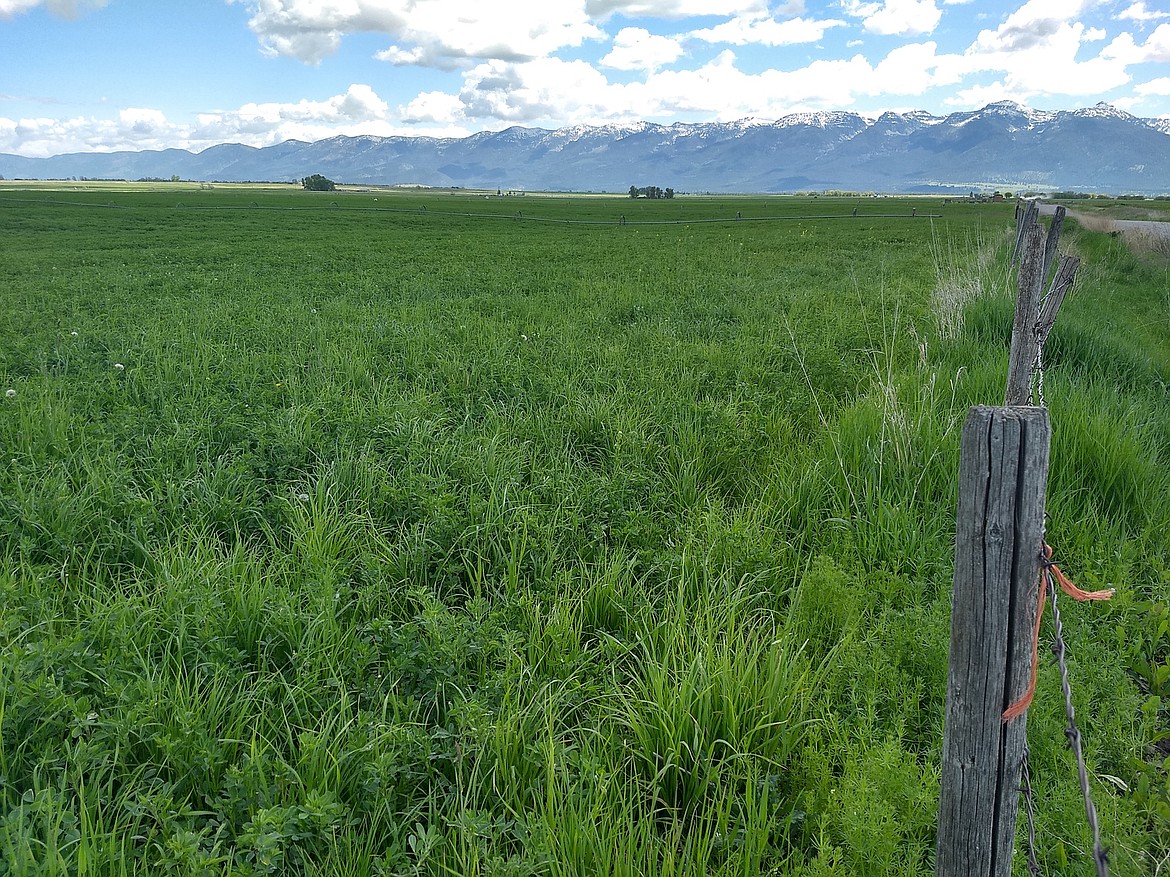 The rich agricultural land on this 315-acre farm south of Pablo Reservoir was preserved with a purchased conservation easement. (Photo courtesy of Flathead Land Trust)
by
Lake County Leader
|
January 12, 2023 12:00 AM
The Flathead Land Trust recently announced that an agricultural gem in the Mission Valley was permanently protected with a purchased conservation easement, which paid the family cash for keeping their productive farmland in agriculture.
Rich soils on the 315-acre property south of Pablo Reservoir have been farmed by a local family for two generations. Even though the third generation has decided not to take over the family farm, the owners – who have opted to remain anonymous – wanted to see their ground stay in agriculture.
"The Mission Valley family that conserved their land still owns their land and continues to farm it," explains Laura Katzman of the Flathead Land Trust. "The next generation is not interested in taking over the farming operation though."
Under a conservation easement, the owners will continue to own and manage their land with the assurance that the conservation values of their property, such as rich farmland and bird habitat, will be maintained in perpetuity.
A conservation easement typically limits the future development of the land; for example, a property under a conservation easement will not have a residential subdivision, gas station, box store, dump, or mine on it in the future. And when the land is sold, the easement follows the title and the property's new owner must abide by it.
According to Katzman, conservation easements can also offer financial benefits. By giving up development options – such as the right to create a residential subdivision or commercially develop the land – property owners can receive cash for a purchased conservation easement.
The Pablo-area family, for example, received cash for their easement because of the land's rich agricultural soils and can use that money for retirement or their farming operation. The funding came from a grant from the Natural Resource Conservation Service (NRCS) Agricultural Land Easement (ALE) program, which provides federal funding through the Farm Bill to help keep productive farmland in agriculture across the United States.
The conservation easement also benefits the birds and wildlife that thrive in the cultivated fields and wet areas on the property. In fact, over 100 bird species have been observed in the vicinity.
The family regularly sees trumpeter swans, Canada geese, great blue herons and a variety of ducks, as well as birds of prey, including bald eagles, prairie falcons, hawks, barred owls, and short-eared owls. A group of 50 to 75 sandhill cranes often visit, as well as rarer species such as bobolink and long-billed curlew.
The land is also adjacent to a 1,849-acre ranch protected with a conservation easement held by Montana Land Reliance.
"There is going to be development and growth in the Mission Valley but keeping some rich farmland in agriculture to grow food for people is critical for the future," said Katzman.
She noted that the land trust is also working on another purchased conservation easement for 122 acres along Mission Creek. "We hope to complete that project later in 2023," she said.
While such farmland conservation easements are not new, "I don't think a lot of farmers know about the option or that they can receive cash for conserving their farmland," she added.
For more information visit www.flatheadlandtrust.org or e-mail Laura at lkatzman@flatheadlandtrust.org.
Recent Headlines
---