Growth dominates Polson Commission discussion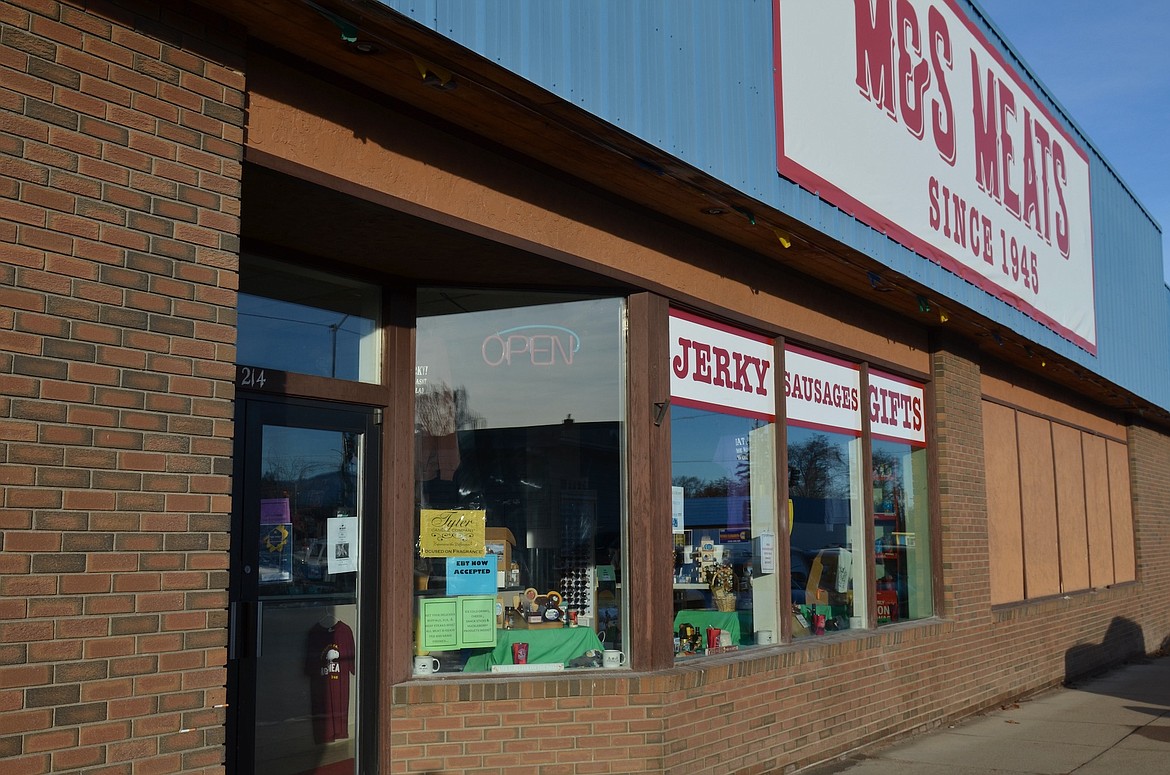 The Polson City Commission approved a TIF grant for more than $100,000 to help fund a remodeling project that will add a nail salon to the building that houses M&S Meats. (Kristi Niemeyer/Lake County Leader)
by
KRISTI NIEMEYER
Editor
|
January 12, 2023 12:00 AM
To grow or not to grow: that was the larger question on the table at the Polson City Commission's first meeting of the New Year, held last Wednesday.
"We need to make a decision as a city, with our people, whether we want to grow or stay at 4,000 permanent residents," said commissioner Jen Ruggless at the end of a lengthy discussion over whether to allow more multi-family housing in low-density residential areas.
If the choice is to grow, "we have to be able to provide for people to grow and obviously the main thing we need to be able to provide for them is someplace to live," she added.
The last agenda item of the evening was the most controversial: a resolution initiated by commissioner Tony Isbell to consider drafting zoning text amendments that would allow multi-family housing units in low-density residential zoning districts (LDZD).
At the onset of the discussion city manager Ed Meece explained that the resolution "is just there to start the conversation" about how to address the lack of multi-family housing within the city limits. The approach of easing zoning restrictions in low-density areas was among the recommendations released in October by the governor's housing task force.
Meece noted that allowing duplexes was probably the most practical change. "If you want to go farther, it will be a much more substantial effort," he said, adding that any actual changes to the zoning regulations would entail a lengthy process of public notice and submission to the City-County Planning Board.
Isbell clarified that duplexes "are where I want that limit" in low-density zoning areas. "But I'll be clear, I think there are other changes that need to happen with zoning," and mentioned the findings of a committee that's reviewing the city's impact fees.
"I can't wait to see what their findings are," he said, adding that he believes "our fees are higher and we offer less" than neighboring communities.
Several residents from between 11th and 13th Streets E. – an area that's zoned low density residential – were on hand to protest any zoning changes that would impact their neighborhood. Scott Harmon noted that the area had been through a zoning process six years ago, and "the notion of multi-family use in the LRZD really sticks in our throats."
He added, however, that "my heartburn went down considerably" upon learning that adding duplexes was the extent of the change apt to be recommended by the planning department.
Tami Sanderson, a local real estate agent, told commissioners "location matters when people are choosing where they want to live. I wouldn't have picked the home I live in if I knew duplexes could be built across the street."
Others expressed concerns about whether streets and infrastructure in the area could handle higher-density dwellings, and how much expansion Polson can accommodate.
"My kids are grown up, but we want our children to come back and I want them in their own home," said Donna Houle. "But I don't want Polson to be like Missoula or Whitefish, and just build, build, build."
Ultimately, the commission unanimously approved the resolution of intent, with the expectation that the planning staff will return with a recommendation in early February.
"Rabbit hole" of short-term rentals
During the discussion, commissioner Caroline Pardini also brought up the issue of regulating short-term rentals and how their proliferation has limited access to workforce housing.
"That's a deeper rabbit hole, but it's one we're going to have to go down into eventually," replied Meece. "It does have an impact on the city."
Noting that municipalities across the state have taken different approaches on regulating these rentals, Meece said he favors a system that would allow such rentals in specified districts but require owners to have a business license and meet certain criteria.
He also noted that a draft bill has cropped up in the Montana Legislature that would require cities to permit short-term rentals in all districts, which provoked this comment: "What I keep hearing from the Legislature this year is 'cities, we're advising you to do something but if you don't we're going to come right behand you and make you do it."
Commissioner Brodie Moll chimed in with his concerns about "some apparent overreach in state government."
"A lot of stakeholders have been working on these plans for years, based on what they want in their neighborhoods, not what somebody from somewhere else thinks we should have," he said. "The more we control our own destiny and include people in our own communities in this whole process, the better off we are."
Meece promised to bring the commission some legislative priorities set by the Montana League of Cities and Towns to review at the next meeting.
Penalties for abusing 911
The commission unanimously approved an ordinance aimed at reducing misuses and abuses of the 911 emergency system by establishing fines for repeated offenses, beginning at $75 for a third false alarm to $200 for a sixth false alarm. After six false alarms the perpetrator "may be prosecuted by the city attorney."
According to the ordinance language, approximately 99% of the emergency calls generated by automated alarm systems in the city from 2019-2021 were false alarms or alarms that were cancelled in route, which "take officers and firefighters away from actual emergencies and proactive crime prevention efforts."
Police Chief Wade Nash, who is currently president of the Montana Police Chiefs of Montana, told the commission that Polson's ordinance is similar to those that other municipalities in Montana have enacted. "I've gotten positive feedback from every jurisdiction saying it minimized those calls," he said.
Meece added that the ordinance is not designed to penalize those who make an honest mistake; rather, it gives the city a tool. "If we've responded to your house 13 times in the last two months because you're not being responsible to maintain your system or you're intoxicated and keep calling 911, this is to address those issues."
TIF funding approved for Nailtopeia
The commission, by a vote of 6-1, approved a grant of $105,600 to Tristelle Vu to improve the structure that will house her business, Nailtopeia. The funding comes from Tax Increment District financing and requires a match of 90% ($95,040) from the property owner.
Vu owns the 5,000-square-foot building on 1st St. E. that houses M&S Meats. The remodeling project (which is currently underway) will divide the interior space to accommodate both businesses. The TIF grant will be used to fund facade improvements, roof repair and foundation work. The owner, who was not present at the meeting, estimated the total cost of the project at over $800,000 and said in her application that if would create eight jobs.
Commissioner Pardini cast the sole vote against the grant, saying she wants TIF funding to go towards neighborhood infrastructure improvements. "That's a lot of money going into one building for eight jobs," she said.
While several commissioners agreed that infrastructure should be a priority, they also noted that this project was fully supported by the Polson Redevelopment Agency (PRA) and meets the current grant criteria.
Commissioner Laura Dever, while saying she wanted to revisit how TIF district money is allocated, added, "I don't think it's fair to applicants to switch horses midstream as far as how we award these PRA grants and all the work the PRA voluntarily does."
In other business:
• Meece told the commission that a memorial bench for former mayor and commissioner Lou Marchello, who died last April, was ready for installation and dedication, pending coordination with Lou's wife, Irene.
• Mayor Eric Huffine gave the oath of office to new Polson police officer Matthew Gomez. The Navy veteran served as a hospital corpsman during two tours of Iraq and one of the Middle East. His wife is also a veteran, and the couple has three daughters. Gomez begins his tenure with a 14-week training at the Montana Law Enforcement Academy in Helena.
• Heads of three advisory boards were on hand to give reports to the commission.
Karen Dunwell of the PRA reported that the board submitted nine TIF grants for commission approval in the past year, with $55,387 awarded and another $99,676 pending for a total of $155,063.
Pete Ridgeway, head of the Parks and Tree Board, said creating a list of trees suited to Polson's environment and removing unhealthy trees and planting new ones were among the board's priorities in the coming year. Also on the agenda: making Polson's dog park friendlier to small canines.
Dave Cottington of the Golf Board said golfers are advocating improvements to the clubhouse, including deck repair, sprucing up the exterior and basement area, and improving the landscaping.
Recent Headlines
---