Lady Bulldogs give scoreboard a workout
by
Brandon Hansen
|
January 12, 2023 12:00 AM
After their 53-50 victory over Ronan on Saturday, Jan. 7, it's time to really take notice of what the Mission girls' basketball team. Playing a level up against a Class A foe, the Lady Bulldogs used a 14-4 run in the third quarter to take control.
The victory improved Mission's record to 5-1.
"Our offense looks good this year," Mission Head Coach Dalton Delaney said. "We rely on scoring by committee instead of relying on one person to score most of our points. We play a fast-paced offense looking to score each time we get down the floor."
Mission was led by Kason Page's 14 points, while Izzy Evans put up another 13 for the Lady Bulldogs. Elannah Flat Lip and Cora Matt each added seven.
"The win against Ronan was big for our team moving forward," Delaney said. "It gave us great experience in a close game situation, and even though they are a different class than us, they are still a big rivalry since they are so close to us in the valley."
Mission has scored 180 points in their three-game winning streak.
"We are hoping to use our momentum from our three wins last week to boost us into conference games against Thompson Falls and Eureka this week," Delaney said.
Leina Ulutoa led Ronan (2-4) with 14 points and seven rebounds, while Olivia Heiner, Ally Luedtke, and Arianna Zepeda each had eight points. Ulutoa had six steals in the game, while Heiner had five. Ronan scored 29 points off turnovers.
At Mission
MISSION 53, RONAN 50
Ronan - 8 - 19 - 4 - 19 - 50
Mission - 9 - 17 - 14 - 13 - 53
MISSION: Kason Page 14, Izzy Evans 13, Elnnah Flat Lip 7, Cora Matt 7, Gabby Smith 6, Kooper Page 3, Brooklyn McClure 3
RONAN: Leina Ulutoa 14, Olivia Heiner 8, Arianna Zepeda 8, Ally Luedtke 8, Lauryn Buhr 5, Margaret Cordova 3, Kylee Keltch 2, IsaBella Devereaux-Trahan 2
High-powered Mission defeats Arlee and Plains
The offense for Mission continues to power through the schedule. The Lady Bulldogs had 10 players score in a Class B 65-30 victory over Lake County rival Arlee on Jan. 5, and limited Plains in a 62-15 Western 7B victory on Jan. 3.
At Mission
MISSION 65, PLAINS 30
Arlee - 5 - 10 - 9 - 6 - 30
Mission - 15 - 19 - 18 - 13 - 65
Mission: Cora Matt 16; Kooper Page 15; Izzy Evans 9; Kason Page 9; Kieran Incashola 5; Elannah Flat Lip 3; Amelia Cronk 3; Brooklyn McClure 2; Leslia Stops 2; Gabby Smith 1
At Plains
MISSION 62, PLAINS 15
Mission - 19 - 26 - 12 - 5 - 62
Plains - 7 - 4 - 3 - 1 - 15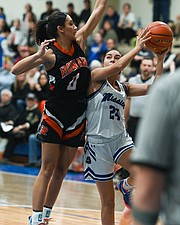 Recent Headlines
---