Bison Range ups entrance fees; says roaming bison aren't theirs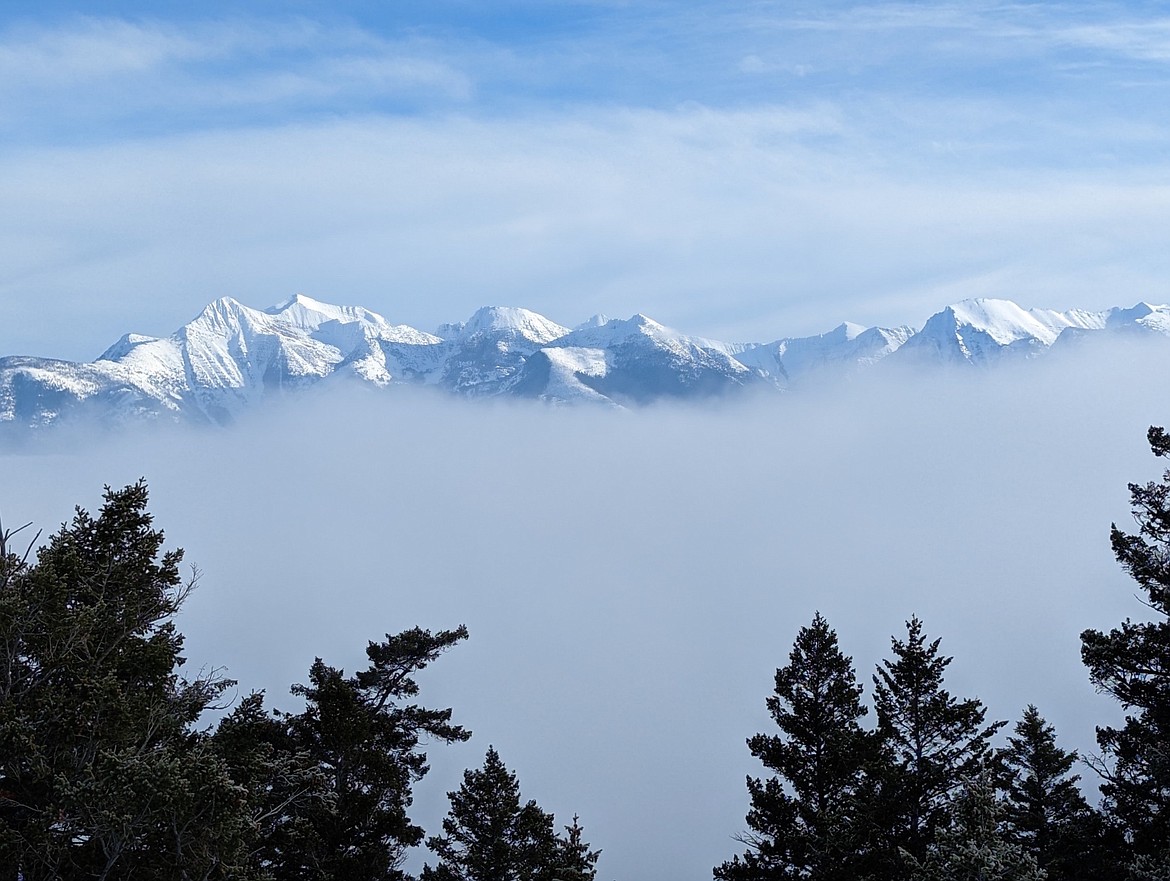 The peaks of the Mission Mountain perched above the fog at the CSKT Bison Range recently. (Dave Fitzpatrick/CSKT Bison Range)
by
Kristi Niemeyer
Editor
|
January 19, 2023 12:00 AM
The CSKT Bison Range was in the local news last week when people spotted three bison roaming near Hwy. 93 on Ravalli Hill and were concerned that the animals were escapees from the tribally-owned refuge.
A press release last Friday from the Confederated and Salish and Kootenai Tribes noted that the animals were part of a private herd southeast of St. Ignatius and two had been dispatched by the owner.
According to the release, "There are no holes in the Bison Range fence – the exterior boundary fence has been checked multiple times this week and is checked often."
The 18,766-acre refuge was officially returned to tribal trust status last year – meaning it's still owned by the federal government but held in trust for the Confederated Salish and Kootenai Tribes.
Entrance fees double for 2023
The refuge, formerly part of the National Wildlife Refuge System, is now under tribal management and fully funded by the Tribes, with entrance fees providing a major source of income for management and upkeep.
The Tribes recently announced that rates have doubled from $10 per vehicle to $20 for 2023, and the annual pass has gone from $20 a year to $60. Daily entrance fees for vans are now $35, and $45 for buses. Admission for tribal members is free.
Since the Bison Range is no longer part of the NWR system, the federal American the Beautiful pass is not valid at the refuge. CSKT conservation permits aren't required on the Range.
According to Stephanie Gillin, information and education program manager for the Natural Resource Department, the rate hike was largely propelled by the need to address deferred maintenance and make improvements to the Visitors Center.
The center, which houses an office, small gift shop and museum, was built in 1981 and is not compliant with the Americans with Disabilities Act. The Tribes aim to make the restrooms and walkway to the building more accessible this year. Improvements to signage and points of interest are also in the works, as is a new website.
"People who have been visiting year after year or people who come multiple times and have seen the changes we've done have been very supportive and are willing pay extra money to help us make it better, to help us sustain it," says Gillin.
"Our loudest voice when we increase any fees is from the locals," she adds. "Anyone else traveling through expects, or is used to, paying a park fee."
With a year of management behind them, Gillin says the staff at the Range, including the maintenance crew, biologists and Visitors Center employees, are stepping into 2023 with a sense of optimism.
"We know what to expect and we're better prepared," she said. "The overall feeling is we're excited for the New Year and we're going to continue to get better."
New entrance under consideration
The Tribal Council is exploring plans to build a new visitors' center and museum at the top of Ravalli Hill, which would add a second entrance/exit to the Bison Range. The existing center would still be used, says Gillin, but might become more of an educational resource.
She notes that area schools make good use of the Range's educational opportunities. School groups were still showing up in November and Gillin is already booking classes for this spring,
The visits allow youngsters "to hear our story told by us," enjoy hands-on experiences in tribal games such as shinny and double ball, and learn more about other aspects of tribal culture, as well as plants, pollinators, birds and wildlife.
The Bison Range is open year around, although Red Sleep Mountain Drive is closed until Mother's Day, and then remains open as long as weather permits. Still, visitors this time of year can take the 45-minute Buffalo Prairie Drive that travels along the base of the mountain and check out the museum and gift shop.
In the future, Gillin hopes to enhance winter offerings with cross-country skiing, tracking and snow-shoeing.
Despite more limited access, visitors still show up during the winter months. "We had people from Chicago in this week, and Australia," she said. "It's kind of crazy how many people we have during winter."
Gates are open from 8 a.m.-6 p.m. daily, November through April, and 7 a.m.-8 p.m. from May through October. For more information, visit bisonrange.org.
Recent Headlines
---