Community organizations help heat Ronan library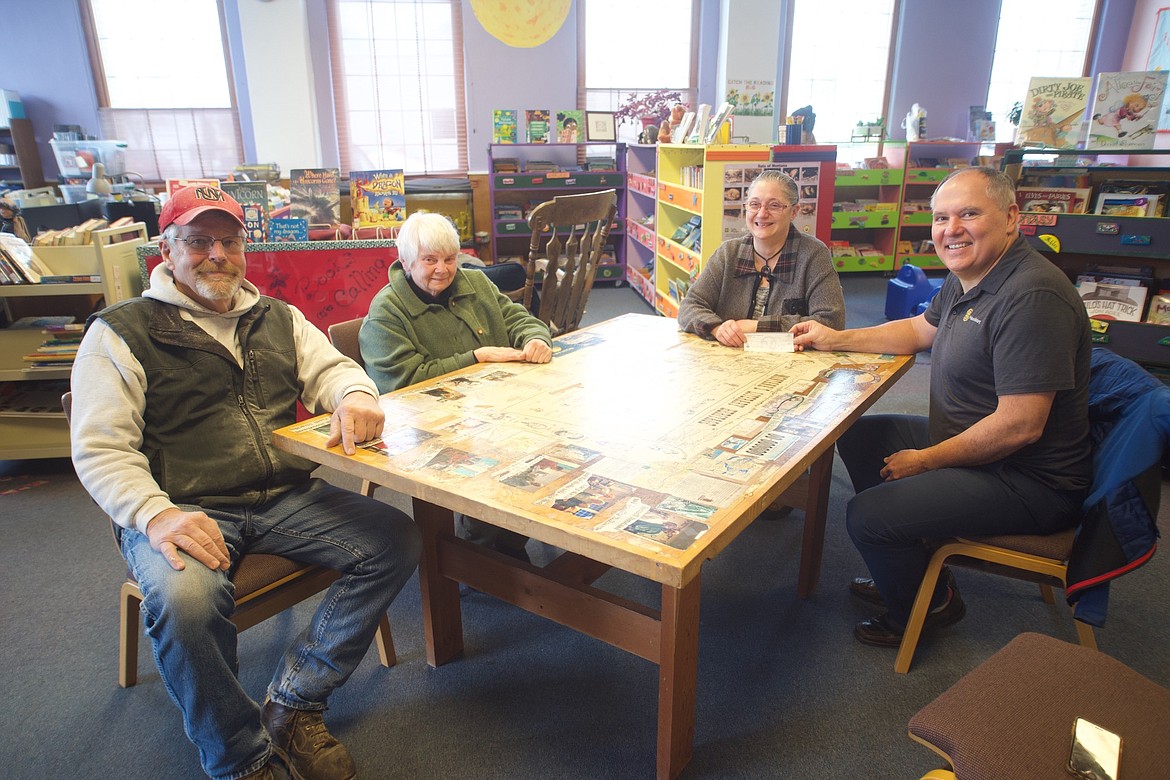 Rotarian Hu Beaver, Vickie Radford of the Friends of the Library, Ronan librarian Michelle Fenger and Rotarian Bret Richardson kept their jackets on last Thursday as Polson Rotary gave the library $10,000 to finance a new heating system. (Kristi Niemeyer/Leader)
by
Kristi Niemeyer
Editor
|
January 19, 2023 12:00 AM
Last Thursday was exceptionally lucrative for the Ronan City Library, which received $15,500 – the price-tag for installing a new heating system – in just a few hours.
The bountiful morning began at 11 a.m. when Hu Beaver and Bret Richardson of Polson Rotary arrived at the library with a check for $10,000 for the nonprofit Friends of the Ronan Library, which is heading up the fund drive.
Less than two hours later and three blocks away, the Lower Flathead Valley Community Foundation interrupted a celebration honoring longtime executive secretary Carlene Bockman just long enough to approve a donation for the remaining $5,500.
Ronan's first library was established in 1914 and, according to the library's website, had various homes, including schools, a room in City Hall, the basement of the Gambles building and Mrs. Lee Butcher's home on K Street. The library moved to its current location in the old Ronan State Bank on Main St. in 1972, thanks to a concerted effort by the Ronan Woman's Club and library board to pass a bond to purchase the building.
However, a half century later the library's main room has no heat, other than what emanates from space heaters or wafts over from the adjacent room that shares its heat source with City Hall.
"There originally was oil heat in here, but it was pulled out when they redid the library. The belief was that the heat over there would drift over and heat this side of building, but it doesn't really drift," explained Vickie Radford, head of the Friends of the Library. "And this is where the kids are. When we have story time we have little kids over here at 11 o'clock and it's cold in here for them and their caretakers." The same is true for the after-school crowd.
Librarian Michelle Fenger added that many senior citizens also use the library, whether they check out books, peruse magazines and periodicals, use the computers or try to get answers to vexing technology issues on their own devices.
"You have a lot of them who can't sit in here for very long. Even my own father-in-law says it's just too cold. After a half hour of sitting in here he has to go somewhere else or bundle up."
Indeed, everyone in the library during last Thursday's interview kept their coats on or wore extra layers.

The library was completely closed during December's cold front. "Not only was it very cold in this half but the heater on the other side broke down as well – so we had no heat at all," says Fenger.
After researching new heating systems, the board decided the most efficient solution would be a ground-source heat pump. They sought bids, and a local vendor, Big Sky Heating and Air Conditioning of Ronan, came in far lower than the Missoula firms that submitted prices. And because the owner's grandson was a regular library user, the owner and his son are giving the library a break on labor costs.
Beaver, a Polson-area contractor, voiced his support for the library's investment. "Heat pumps are efficient around this area because of our moderate winter temperatures," he said. "Plus, you get heating and air-conditioning from the same unit."
Fenger also hopes the new heating system will trim their bill for propane, which is used to heat the library's other room.
Radford, who also serves on the boards at Safe Harbor and Life Savers Animal Rescue, had reached out to Richardson initially and filled out a grant application for $5,000, but was clearly surprised at the generous response.
"Oh, my gosh – you can't imagine how much this is going to make a difference," she said.
"Rotary does a lot of projects in Polson, where a lot of our funds go to various youth organizations," said Richardson, a financial planner who lives in Polson and has an office in the Gauthier Building in Ronan. "We've been trying to get to Ronan and just widen our giving, so this was a good opportunity to do this."
Beaver explained that Rotary's annual Youth Foundation fundraiser – a summer brewfest – raises between $25,000 and $30,000 a year, which is then dispersed among area youth organizations.
However, members also "run into people with money who want to donate to a nonprofit and don't always have a place to put it," he said. "I'm often a go-to guy." That was the case recently, and bonus donations allowed Rotary to donate $11,000 to the food bank in Polson to help meet a match offered by Town Pump, and another $10,000 to the Ronan Library.
"We help people direct money to causes that work," Beaver said. "We try to get the biggest bang."
"We are very excited that we were chosen to get some of that bang," said Fenger.
Just a few blocks away, the Lower Flathead Valley Community Foundation convened just long enough to approve the other $5,500 needed to complete the heating project.
"If you drive down Main Street in Ronan after hours, you see cars parked in front of the library using their wi-fi because a lot of families don't have internet," Richardson told the LFVCF board. "It's a good resource for a lot of kids to go there to get homework done and use their computers."
Board member Mark MacDonald, who made the motion to approve the grant, noted that the foundation has a long history of supporting local libraries including the $3,000 given annually for summer reading programs in each community.
"I want to see them through the finish line," said board chair Brennin Grainey.
"It's great when nonprofits can work together like this," added former board member Bob Gauthier.
Back at the library, Radford and Fenger were already planning to mount a plaque honoring both organizations "for providing warmth to the library."
"I want everybody to know that it's because of you guys that this will happen," said Radford. "Anytime you help, it fans out to the whole community."
Recent Headlines
---