Polson fends off Ronan in two games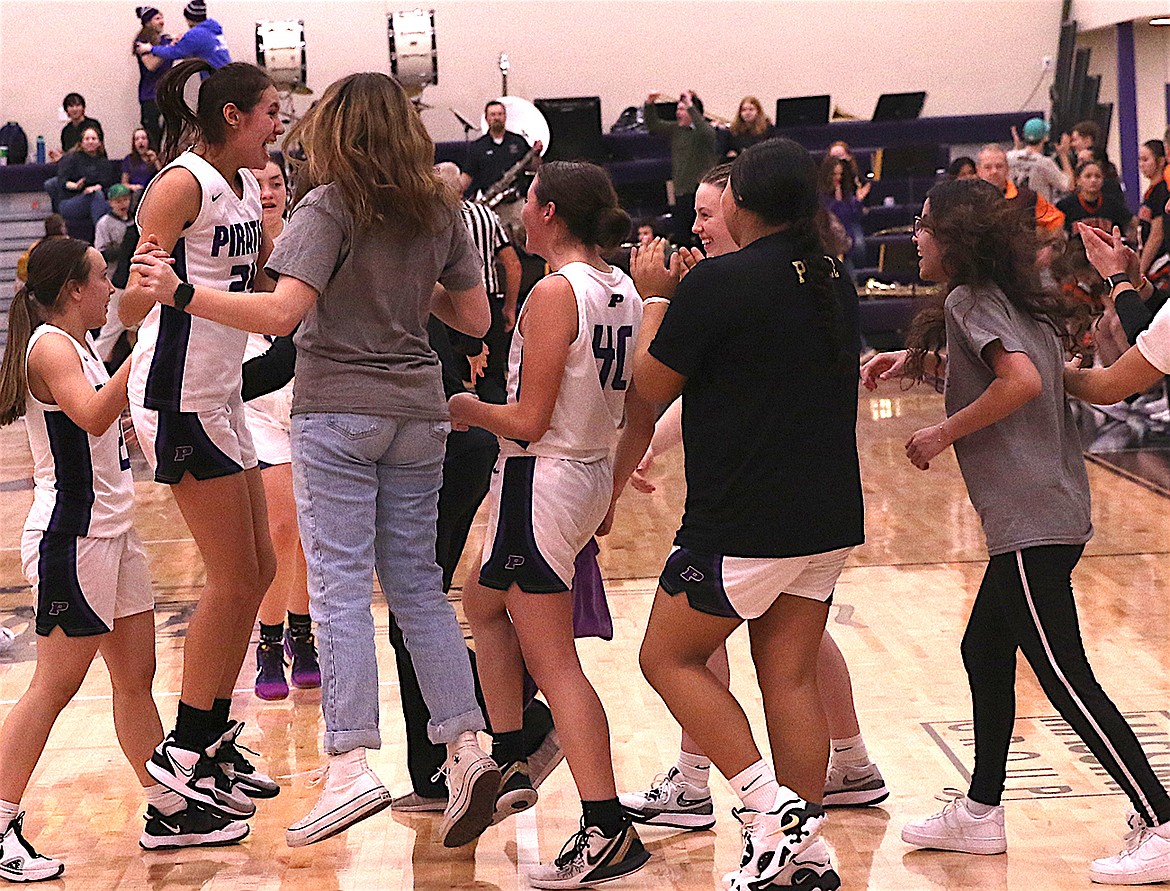 The Lady Pirates celebrated their first win agains Ronan in a decade after last Saturday's matchup. (Bob Gunderson Photo)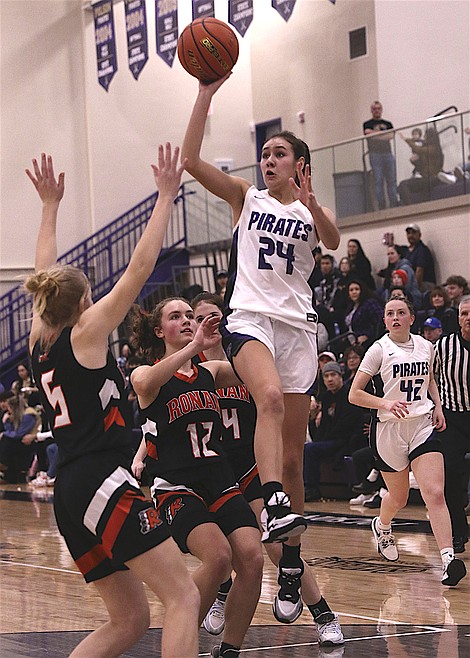 Polson's Ashtyn Wagner hits a floating jumper in last Saturday's game against Ronan. (Bob Gunderson Photo)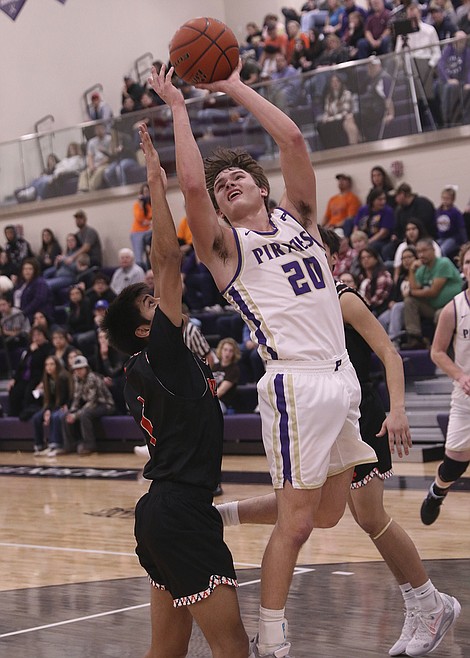 Jarrett Wilson scores on drive to the bucket in last Saturday's game. (Bob Gunderson Photo)
Previous
Next
by
Brandon Hansen / For The Leader
|
January 19, 2023 12:00 AM
You will not find many more spirited and heated rivalries than Polson and Ronan on the basketball court. Polson won round one of the regular season, surviving a fourth-quarter rally by the short-handed Chiefs for a 61-55 Northwest A Conference victory on Saturday, Jan. 14.
"Rivalry games are fun," Polson Head Coach Jake Halgren said. "Ronan made it tough on us, which we expect from them. We are happy to get a conference win at home. We will need to continue to win in our gym and get some wins on the road down the stretch."
Espn Fisher, who finished with 16 points, iced the game for Polson, knocked down a 3-pointer in the fourth while sealing the game with three free throws in the final 26 seconds.
"Espn played with confidence on both ends of the court and made some key plays in big moments," Halgren said. "His free throws helped us stave off a couple of Ronan runs."
Jarrett Wilson was his typical self for the Pirates, scoring 25 points as Polson opened a 34-17 lead after one half of play.
"Our defense was able to string together consecutive stops, which feeds our offense, and we had more guys playing aggressively and willing to attack offense," Halgren said. "We took better shots on offense which helped limit the easy buckets we gave up against Frenchtown."
The Chiefs are no strangers to adversity this year and battled back with a 16-9 run in the third quarter, and the final stanza was a close affair.
Marlo Tonasket led the Chiefs with 12 points, but the balanced offense also saw Kolby Finley score 10 points, while Josiah Misa and Laurance Lozeau each added seven points.
Polson's Trent Wilson and Tyler Wenderoth each added six points apiece.
Ronan is still without star player Elijah Tonasket who was injured against Whitefish on Jan. 6.
The win moved Polson to 3-1 in league play, which is good enough for third place in the Northwest A Conference. Ronan fell to 1-4 as they have had league losses to Libby, Browning, and Columbia Falls.
"We need to be more consistent on defense," Halgren said. "Offensively, we need to leverage Jarrett's playmaking ability into getting shots for other players. We need to have a more balanced attack going forward."
Last year, Polson defeated Ronan 56-35 at home and then 56-47 in the Chiefs' gym. They will host Corvallis on Friday and Libby in another conference game on Saturday. Ronan is traveling to Alaska next week for the Alaskan Airlines Classic in Anchorage.
At Polson
POLSON 61, RONAN 55
Ronan - 10 - 7 - 16 - 22 - 55
Polson - 15 - 19 - 9 - 18 - 61
RONAN: Marlo Tonasket 12; Kolby Finley 10; Josiah Misa 7; Laurance Lozeau 7; Ted Coffman 6; Drake Finley 5; Jordan Gatch 4; Robbie McCrea 4
POLSON: Jarrett Wilson 25; Espn Fisher 16; Trent Wilson 6; Tyler Wenderoth 6; Owen McElwee 4; Colter Wilson 2; Cymian Kauley 2
Polson girls reverse trend against Ronan
The Lady Pirates had a decade-long streak of losses against Ronan, dating back to when the Maidens played in Class B. That ended, however, on Saturday, Jan. 14, when Polson picked up a thrilling 52-49 Northwest A Conference victory at home.
Mila Hawk led the Lady Pirates with 15 points, while Julia Barnard and Nikki Kendall each added 12 points. Hawk's free-throw shooting would ultimately lift the Pirates to victory.
Ronan led 29-24 at halftime, and for the game, the Maidens were led by Arianna Zepeda's 15 points, Olivia Heiner's 11 points, and Leina Ulutoa's 10.
Zepeda hit a three-pointer with 1:15 left in the fourth to put Ronan up 47-46. Polson's Nikki Kendall hit two free throws to put her team ahead. Zepeda wasn't done as she hit one free throw and then put back her missed second one for a 49-48 lead.
It was here where Hawk came up big, drawing a foul and hitting both free throws. With 29 seconds left, she drew another foul and hit both to second the win.

Polson won just four games last year, including three in the conference. They've already surpassed both those totals, and are second in the conference with a 3-1 conference mark and a 5-3 overall record.
Ronan is fourth in the conference with a 2-3 league record and a 2-5 record. They will be traveling to Alaska this week to participate in the Alaska Airlines Classic in Anchorage.
At Polson
POLSON 52, RONAN 49
Ronan - 8 - 21 - 6 - 14 - 49
Polson - 9 - 15 - 11 - 17 - 52
RONAN: Arianna Zepeda 15; Olivia Heiner 11; Leina Ulutoa 10; Kylie Fetui 6; Oceana Arnoux 3; Margaret Cordova 2; Lauryn Buhr 2
POLSON: Mila Hawk 15; Julia Barnard 12; Nikki Kendall 12; Ashtyn Wagner 5; Samantha Rensvold 3; Grace Simonich 3; Ilysia Adams 2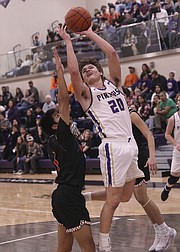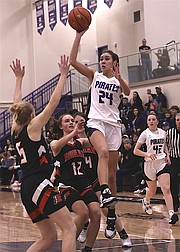 Recent Headlines
---