Local boxers compete in national championship
by
Brandon Hansen / For The Leader
|
March 2, 2023 12:00 AM
Polson Boxing Club coach Matt Lee is excited about the opportunities young boxers in Montana can have even when training in small, rural gyms. He's seen these opportunities first-hand as two Lake County athletes recently competed at the Silver Gloves National Championships in Independence, Mo.
"It's huge for us," Lee said. "We're a town of 5,000, so to have two at nationals is a big deal."

The boxers competed in single-elimination brackets, with eight fighters in each bracket based on weight.
Araeya Nelson, a 13-year-old boxer from Polson Boxing Club, competed at the championships, where she fought against Evelyn Hernandez. Lee said that although Araeya lost, she was able to take a lot out of Hernandez, making her barely able to box on the following day.
Araeya still has three more years left to compete in the Silver Gloves Tournament. She plans to move to Billings this summer to train at Grit & Grind, where she will have a chance to train with current National Champion Mia Garcia, who is two weight classes above Araeya.
Oziah HeavyRunner of Arlee also competed at the Silver Gloves National Championships, losing to Stevan Khudhur in a close bout. Despite the loss, Oziah plans to continue competing in smokers throughout the Northwest, and his next big opportunity will be at the National Qualifier in Detroit, Mich., from March 18-25.
"Oziah is the guy to beat in Montana. He has been walking through most of the competition for about nine months," Lee said.
The age of the Silver Gloves boxers goes up to 16, and offers a sneak peek into the future. Lee said the top fighters will soon be fighting for the national team and later the Olympic games. Boxers must experience national competition to develop the necessary skills to compete at the top levels.
"These tournaments are a consolidation of the best fighters in the country," Lee said. "This is a start for a lot of young people, and the talent gets better as they move up through the ranks."
In order for these two local boxers to move on to nationals, they had to win their respective regional tournament for their weight class.
It's impressive that two from a smaller area made it that far, but Polson Boxing Club is committed to developing athletes, so this shouldn't be a surprise. The club trains the boxers for free, and the Polson VFW allows the club to use its second floor at no charge.
Typically the club has between 15 and 30 members. The club receives donations to help fund the program, and the Lower Flathead Valley Community Foundation substantially contributed to the tournament's program. At the same time, the Confederated Salish & Kootenai Tribes assisted Nelson.
Competitive boxing requires travel, insurance and equipment, so having a gym that lets youth train for free is a godsend, according to Lee.

After finding out at the national championships that their headgear needed to be updated, the Polson Boxing Club is currently seeking donations to purchase new gear. For more information on the club, go to facebook.com/groups/477599522444896.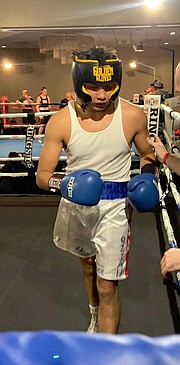 Recent Headlines
---