Believe: Brandie Buckless helps Lady Pirates blossom
by
Brandon Hansen / For The Leader
|
March 9, 2023 12:00 AM
Going into this year's basketball season, the Polson girls had struggled to find consistency for over a decade. They found it in the form of first-year head coach Brandie Buckless.
The new coach was a standout at Ronan and second-place finish at the 2003 State A tournament and a third-place finish in the 2004 State A tournament. During her high school career, she was a four-year varsity starter, four-year All-Conference, and three-time All-State player. Buckless then played at Montana State, fulfilling a dream of Division I basketball.
After attending grad school in Minnesota, she moved back to Polson to raise a family and coach in the youth and AAU circuits. She volunteered on the Lady Pirates' coaching staff last year and took over as head coach this season. The program hadn't been to the state tournament since 2012 and has languished at the bottom of the Northwest A Conference standings for several seasons.
This year, however, was different.
Polson went 8-3 in conference play and finished second in the standings. At regionals, the Lady Pirates picked up their first regional victory in a long time and played other conference powers to within a couple of points.
"The team really blossomed and flourished," Buckless said. "It was fun just coaching this season. As the coach, you always have high expectations, but we far exceeded that."
COMMITMENT TO WINNING
In the 2020-2021 season, Polson went 0-15. In 2021-2022, the team went 5-16.
This year the Lady Pirates had 12 wins total, including a three-game winning streak near the beginning of the season and another four-game winning streak later in the schedule.
"When you plan out the season, you're always kind of thinking the team will be progressing and getting better, resulting in you peaking at the right moment," Buckless said. "Really, we started fundamentally and began to build, improve, and got better and better."
Buckless said that even though this was her first year as a varsity head coach, her previous year of volunteering had allowed her to build relationships with players. The team saw two transfers in senior point guard Mila Hawk from Charlo and Addyson Gallatin from Snohomish High School.
"When I came in, I wanted to hit the ground running and get my girls in the gym," Buckless said. "We put together some camps; we did a team tournament in Billings. The gym was open twice a week."
Work for this winter's season began in the spring, and while there was a learning curve for a new coach, the Polson seniors had seen three different coaches in four years.
"With the transfers from other schools, it was complex how we got going, but the girls were amazing," Buckless said. "They were like sponges, ready to soak it all in. There was great leadership, both vocally and in terms of leading by example. They committed to coming to open gym."
While they had won a handful of games last season, their goals this winter were lofty.
A COACHING HISTORY
Buckless' family is no stranger to coaching basketball. Joe McDonald, her grandfather, coached boys basketball for 15 years, including 11 years of high school coaching across the state at schools like Plevna, Miles City State School (where he coached the legendary George Yellow-Eyes), Hamilton and Ronan. He also tallied four years of college coaching at both Montana State-Northern and Montana. Her dad, Bill, coached 15 years of boys basketball at Wyoming Indian High, Ronan and Browning, and was her coach at Ronan for another two years of coaching girls basketball.
"It helps me as a head coach to be familiar with the conference and the area," Buckless said. "You know many of the coaches and the refs who were in the game back when I was playing high school."
It's history that Buckless aimed to recapture. She knew the Polson girls' basketball program was a storied one. It just hadn't had recent success, which she needed to overcome.
"I've been living in Polson since I moved back to Montana seven years ago and had been a parent in the school system, and watching the program wanted to help somehow," Buckless said.
She added her dad to the coaching staff, along with former Dartmouth basketball player Betsy Wade and softball coach Jamie Hanson. That's a mountain worth of coaching knowledge that all helped shape the program this year.
"A lot of these girls have no memory of when Polson saw a lot of success," Buckless said. "I wanted to bring that back and make the girls proud to be part of this program. That is why we did the 1993 Polson Girls Basketball Team Alumni event and showed the players you are part of a program that has had lots of success and that we need to continue to build and grow it into something."
A PLAYING HISTORY
Buckless is no stranger to the basketball court. That happens when you're the kid of a basketball coach and grow up in a hoops-happy town like Ronan. Buckless turned her abilities into a Division I scholarship to Montana State University. There she played for Tricia Binford in her final three seasons.
"Playing college basketball at that level, you pretty much eat, sleep, and breath basketball all the time," Buckless said. "It's a huge time commitment, and I don't think many kids understand that. It's glamorized, and you don't realize until you're in it that it is a lot of hard work, and you don't get as much free time as other students."
Going from suiting up to standing on the sidelines can be an adjustment. Many players, even great ones, struggle to transition to coach.
"It's a very different mindset you must have," Buckless said. "High school is very different than college, and you have to learn how to break down things you want the team to learn."
Buckless said every player learns differently, so coaches must expand how they teach things.
"When you're a player, you're used to things you learned," she explained. "Now you have a team where everybody has a different skill set. It's a good challenge as a coach, and it pushed me every day. I enjoyed it."
Buckless saw first-hand how Binford at Montana State molded a struggling program into a great one in Bozeman. She's taken that first step here in Polson.
A FAMILY LEGACY
Bill Buckless is no stranger to the sideline of a Mission Valley basketball game. This time around, however, he is known as OCB or "Old Coach Buckless," while Brandie is known as just "Coach Buckless."
Growing up, Buckless said she bonded with her father through basketball and other sports.
"It's been cool having him here," Buckless said. "We can reconnect and bond with different roles now and in a different setting. He has a ton of experience and knowledge, and it's been a lot of fun challenging each other."
Family members always tend to have different opinions, but in this case, OCB and Buckless use this to improve each other and the team.
"He's been so great at player development and has fit right in and been very supportive," Buckless said. "The girls like him too. The program is lucky to have him."
TEAM MOTTO: BELIEVE
During the 2022-23 season, the Polson Lady Pirates had a motto: believe. While it was an acronym for several things, the message was simple and clear.
"It's hard for kids that are part of a program that hasn't had much success," Buckless said. "It's tough for them to believe in themselves, get better and turn it around to compete with other teams."
Buckless talked about believing from day one, making it a point to compete with other teams in a very tough Northwest A Conference.
"By the end of the season, we were able to get there," Buckless said. "We can compete with any other school in the conference. The games we lost at regionals, we didn't lose by much, and that will continue to build confidence for next season."
While the team didn't make it to state, it was close. That's an accomplishment for a program that doubled its win total from last year and then some.
"They played with all their hearts, and I think they felt good about being able to compete in every game we played in," Buckless said. "Once our kids got a taste of winning, they were relentless and continued to find ways to win all season."
Beating Ronan in the loser-out game was probably the best game of the tournament for Polson. The Lady Pirates earned a 3-0 season sweep of the Maidens. They also took Columbia Falls to nearly the limit before falling.
"Our girls were tired and sore playing four tough games in three days, so it challenges them and their mental toughness," Buckless said. "We got down early in the game and had to fight our way back in. Ultimately, it just didn't turn out in our favor."
Polson improved tremendously on defense during the year while also sharpening their ball movement and improving their offense. The Lady Pirates had the third-best offense in the conference year.
"I hope to get lots of opportunities for the girls to play together during the off-season, so they can continue building their team chemistry and feel for each other," Buckless said.
LOOKING FORWARD
Buckless had nothing but praise for her four seniors – Ashtyn Wagner, Mila Hawk, Grace Simonich and Ilysia Adams.
"They have been instrumental in turning this program around and are wonderful examples of hard work, dedication, and what it means to be unselfish team leaders," Buckless said. "I couldn't have asked for a better group to lead our team this year. I'm excited to see what they do in the next chapter of their lives."
The younger players got good experience and minutes in for the Lady Pirates. While every year in the rough and tumble Northwest A Conference can look different, Buckless is going to continue to push the need for commitment and belief.
"I'm looking forward to continuing to work with them and seeing them improve," Buckless said. "There is so much potential, and I want to see them reach that. The freshman class is talented coming in, and they will help us improve and get better."
Buckless also remarked that the coaching staff, the Polson High School administration, and the Polson community have supported the program tremendously.
"We're just going to keep things going and keep making Polson proud of their girls' basketball team," Buckless said.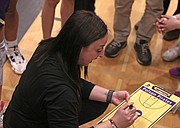 Recent Headlines
---