Rescheduled Shiver in the River raises $2,500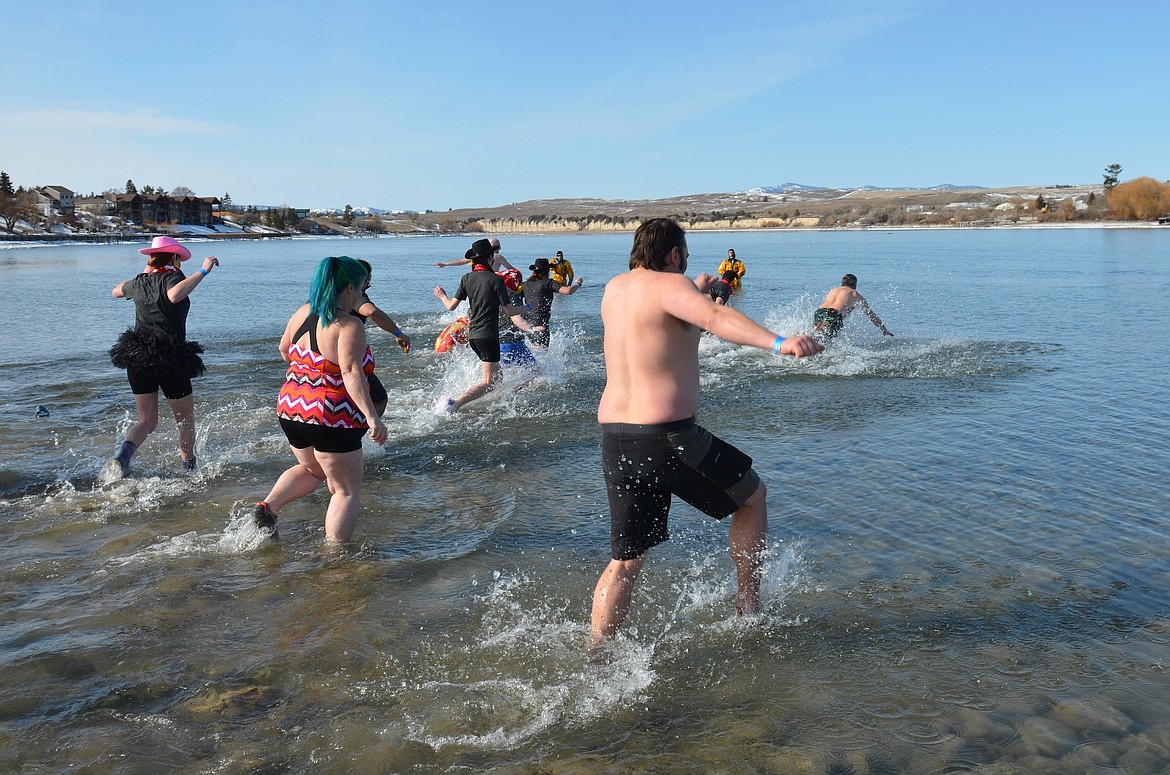 A brave crew of about 15 plungers splashed into the Flathead River at Riverside Park in Polson Saturday during Shiver in the River, a benefit for Montana Special Olympics. (Kristi Niemeyer/Leader)
Shiver in the River, a fundraiser for Montana Special Olympics, attracted about 15 intrepid plungers who took a dip into the 36-degree water at Riverside Park Saturday morning.
The event was originally scheduled for the end of January but was cancelled by Lake County Search and Rescue due to severe wind-chill temperatures. A S&R team was on hand Saturday to clear glass and other debris out of the plungers' path and make sure participants made it into and out of the water safely.
This marks the third winter plunge at Riverside Park this year; the first was held New Year's Day and a second was sponsored by the Elks Club in early February.
Mark Johnston, an accomplished open-water swimmer who seemed undeterred by the frigid water temperature, offered some tips to cold-water plungers:
• Go on days that are sunny (Saturday was);
• Enter the water gradually to allow the body to "get numb";
• Stay calm, take deep breaths;
• And for the final step of putting your head under, wear wax earplugs to avoid that "ice-cream freeze headache."
Kris Kelly, a special education teacher in Polson, helped organize the event, which raised around $2,500 for the Five Valleys Area Special Olympics. Additional sales of raffle tickets benefit local teams.
Next up on the Special Olympics calendar is April's Law Enforcement Torch Run. Learn more at www.specialolympics.org/programs/united-states/montana.
Recent Headlines
---