In transition: Library relocates during renovation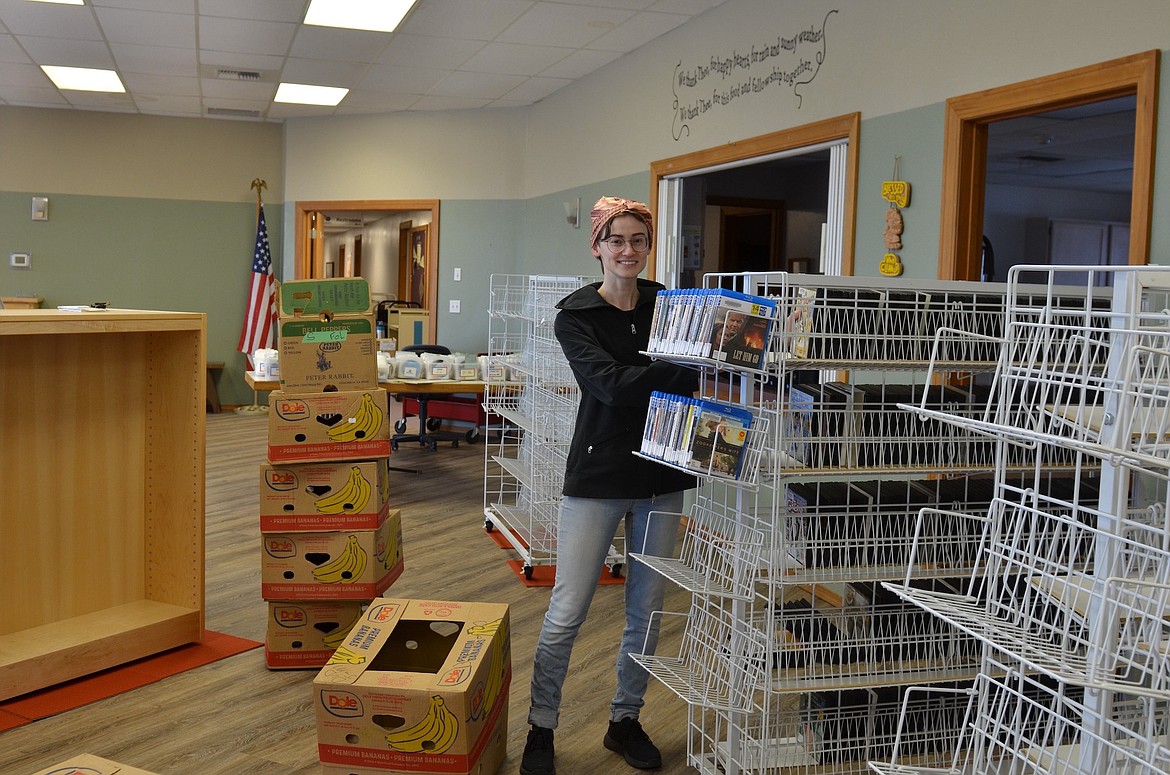 Technology librarian Sierra Ross unpacked boxes and organized their contents last Thursday at the United Methodist Church in Polson – temporary home of the North Lake County Library. (Kristi Niemeyer/Leader)
by
KRISTI NIEMEYER
Editor
|
March 9, 2023 12:00 AM
The North Lake County Public Library closed its doors last Thursday, and reopened them Monday at a new temporary location in the United Methodist Church at 301 16th Ave. E.
Technology librarian Sierra Ross was busy unpacking boxes and organizing CDs, DVDs and audio books last week in what has served as the church cafeteria. Other staff members and volunteers were ferrying truck-, van- and carloads of books, shelving and other paraphernalia up the hill as the library makes room for a major renovation.
"We still have a view of the lake," said Ross, gesturing to the large north-facing windows.
In preparation for the move, the library invited patrons to temporarily adopt books or collections and placed other books and supplies in storage for the next six to eight months.
New books, a large selection of children's books, plus a sampling of novels and non-fiction will appear in the new location.
"We kind of just took a little of everything and brought it with us," said Ross.
In addition, the library's new location will offer free access to wi-fi and at least two computers for public use, although there's no space for study rooms. E-readers are available for check-out, and library staff can help people download various apps to access digital collections.
For those who want to check out books that aren't on the shelves, the library can still send and receive book orders to and from nearly 40 partner libraries across Montana, including those in Missoula and Kalispell.
Also of note:
• Children's programming will continue at the new location, including Mother Goose at 9:15 a.m. Mondays and Story Time at 9:15 a.m. Thursdays. Stay tuned for details on the Summer Reading Program.
• Sunday church services will continue in the sanctuary.
• The outside book drop is available at the library until renovation starts.
• The library board plans to meet at the new location, although meeting space is not available for other organizations during the transition.
The library opened in its temporary digs on Monday and will maintain regular hours: 9 a.m.-6 p.m. Mondays-Fridays and 9 a.m.-4 p.m. Saturdays. The renovation is expected to be complete by the end of 2023.
For more updates, head to northlakecountylibrary.org.
Recent Headlines
---