Walt McDonald, Jean Turnage and the human history of Public Law 280 on the Flathead Reservation
by
Jim Manley
|
March 16, 2023 12:00 AM
November, 1978. I remember my first day in District Court. The case involved a tribal youth who had gotten in trouble for something. After the short proceeding, Judge Green pronounced sentence. I thought the case was over but no one left.
An older fellow stood up in the gallery. He had dark pants and a white shirt and held his black cowboy hat in his hands. It got very quiet. I didn't know at the time that "Indian Orator" was a recognized tradition. I was about to learn.

The silence went on for what seemed an uncomfortable length of time. Then the man started speaking, slowly and quietly at first so you strained to hear every word. Then the rhythm and volume picked up, and he had us. I remember him telling the youth he now found himself in the highest court in this county and what that meant to the youth and his family and community. The elder spoke like a grandfather, with wisdom and firmness.

"Who was that?" I asked County Attorney Heinz.
"Walt McDonald, the tribal leader," he said.
I made it my goal to get to know Walt McDonald. He and Viola lived on their ranch up Post Creek. He had served as chairman of the Tribal Council for a record 29 years and was greatly respected by both the tribal and non-tribal communities. Long retired from tribal politics, he still showed up and spoke to every tribal youth that ended up in District Court.
Walt McDonald: A statesman and a listener
Walt was a statesman and a listener, willing to compromise where that seemed right. He was a gentle and kind man. His civility could be mistaken for deference, but there was a lot of steel in the man.
After we became friends, he told me he had been in nine fistfights while he was tribal chairman, all with tribal members who came up to him angry over some action of the council. I'd bet the old rancher gave as good as he got. I later learned some fights started over Public Law 280.
Walt's family history was the history of this valley for the last 150 years. His ranch was at the base of McDonald Peak. His grandfather, Angus McDonald, was the factor for Ft. Connah near Post Creek. It was the last Hudson's Bay Trading Post in the lower 48.
Angus was succeeded as factor by his son, Duncan McDonald, who was a famous mountain man in his own right. McDonald Lake in Glacier Park is named for Duncan, as is McDonald Pass near Helena.
Walt told me Rogers Pass by Great Falls is named for another relative, who was an early trapper in the Bitterroot Mountains. Walt was also the uncle of Joe McDonald, the founder of the college, and great uncle of current Tribal Chairman Tom McDonald.

I took every opportunity to go up to Walt's house, where they gave me coffee and put up with my endless questions about the old days. We had to talk at the kitchen table, because every flat surface in the living room was covered by artifacts and historical documents. And what stories.
He told me that Duncan was married to a Nez Perce woman and, when Chief Joseph's Nez Perce were coming from Idaho 1877 with General Howard's army on his heels, the army thought the Nez Perce would come out of Lolo Pass and turn north and go through the Mission Valley to Canada. They were concerned Duncan would resupply arms to the Nez Perce when they came through, so the government had two spies with telescopes hiding up in the Mission Mountains by Ft. Connah.
Walt remembered how Duncan laughed telling the story because of course everyone knew the spies were up there. The Nez Perce turned south out of Lolo Pass anyway, to set up camp at the site of the Big Hole Battlefield.
Jean Turnage: A force in state government
Jean Turnage, also a tribal member, had become an important force in state government. I believe he was then president of the Montana State Senate. He would go on to be Chief Justice of the Montana Supreme Court.
Before our Pat Devries became Polson Mayor, she was living in Helena and Governor Tom Judge, who had a keen eye for talent, was putting her on every state board he could think of. One of his advisors gave Pat the political lay of the land: "There are four branches of state government: legislative, executive, judicial and Jean Turnage." He had that kind of influence.
But back in 1963, Jean Turnage was just the young Lake County attorney, Walt McDonald was chairman of the Tribal Council, and they both saw problems with a common solution: Public Law 280.
The underpinnings of PL 280
Criminal jurisdiction for major crimes committed by tribal members on the reservation was then exclusively within federal jurisdiction. Jean was extremely frustrated because, as he put it, "Unless you had a dead body in the street, you couldn't even get the BIA investigators to come onto the reservation to investigate a crime."
Walt told me his view of the problem. In 1963, tribal headquarters were at the old Dixon Agency. The tribes had little revenue, and no attorney or legally-trained court personnel. In summers they sometimes had volunteer intern law students. Marge Brown, later dean of the Montana Law School, was one. Evelyn Stevenson was another. Evelyn later became the first full-time tribal attorney, but that was many years later. Walt was concerned with he perceived as growing lawlessness which often involved tribal victims, and an inadequate legal system.
There is a story another old timer told me about a Missoula car dealer who brought his sketchiest cars up to the reservation the day before per capita checks were to be issued. He parked the cars for sale on the bank of the river within sight of the Dixon Agency. When the cars turned out to be junk, the tribal buyers had little practical recourse.
About the third time the dealer did it, and then went back to Missoula for the night, a tribal judge and tribal police officer sat in the agency, after everyone else went home, looking at the line of cars and talking. When the car dealer arrived the next day, the cars were found to have mysteriously rolled down into the river.

I knew that judge and officer. I never asked them if the story was true but I suspect it was. It seemed like practical "hands-on" justice, with perhaps some due-process problems.
Federal Indian Policy has been a swinging pendulum. In the Eisenhower administration, the policy favored assimilation and termination. In 1953, Congress passed Public Law 280 consistent with that policy. The idea was to transfer federal criminal prosecution on reservations to the state governments, and thereby get the federal government out of it.
Walt McDonald and Jean Turnage each saw this as the common-sense solution to the problems here, and they had the ability and respect to get it done. They were probably the only two who could have. So in 1963, Montana passed legislation to allow the state to take over criminal jurisdiction. In 1964, the Tribes agreed to the transfer by Tribal Ordinance 40-A, and the Governor signed the declaration.
It is not well-known, but these Tribes were also on the list for termination (of the Tribes and the Flathead Reservation). Walt told me about many trips he made to Washington, D.C., to prevent termination, and how he would just start going down the halls knocking on senators' doors.
Walt was not a self-promoter, and so most people don't know that he was largely responsible for the Tribes remaining the government and cultural institutions they are today.

I have stayed around long enough to watch the fascinating process by which time turns people I knew into important historical figures. Walt and Jean are gone now, but their work is all around us. I feel lucky I got to know them. And Pat Devries too.
Jim Manley, a self-described "country lawyer," served from 2013-2022 as 20th District Court Judge, overseeing Lake and Sanders counties. During his long career, he spent one year as a deputy county attorney before entering private practice, and also worked as city attorney for the communities of St. Ignatius and Hot Springs.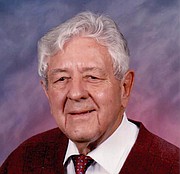 Recent Headlines
---