Lake Monsters nab medals in two state swim meets
Lake Monsters Hailey Cottet and Annie Kleinmeyer each brought home first place medals from the Montana Swimming State Championships in Hardin.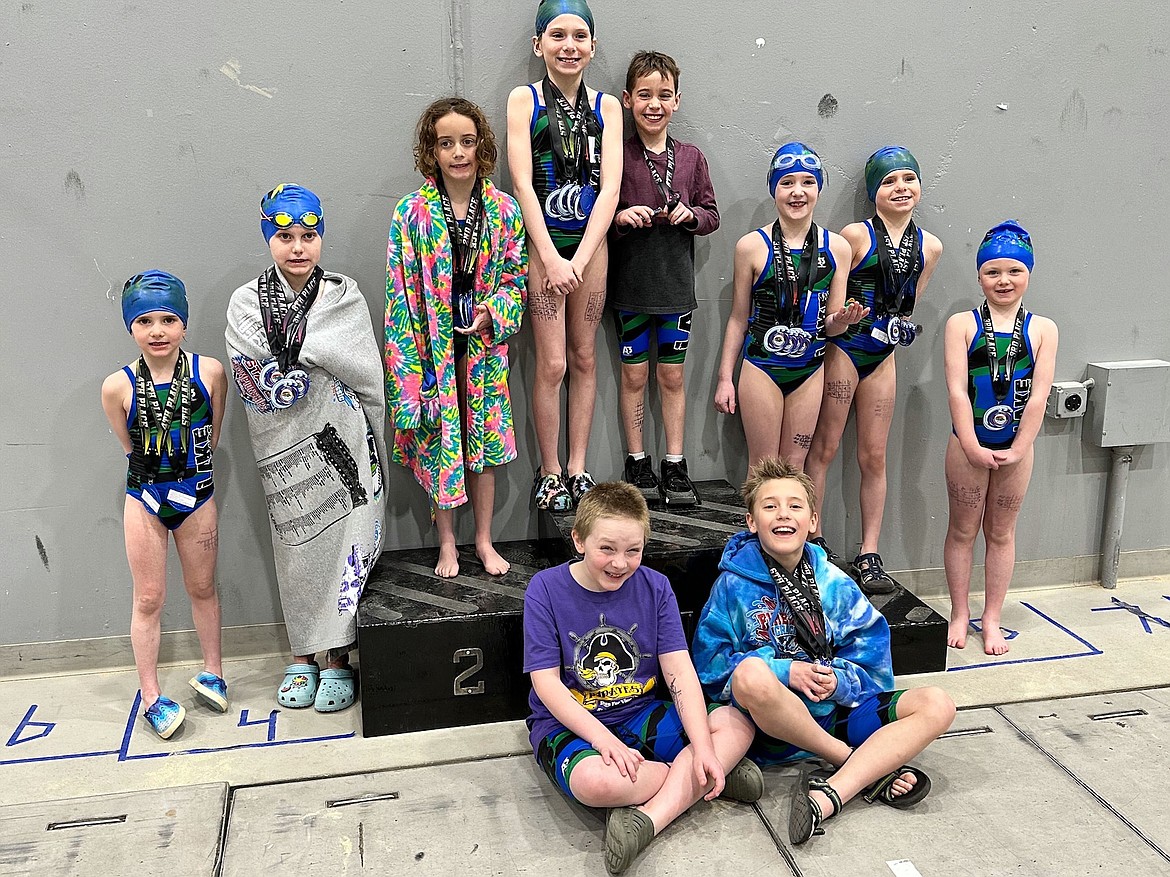 An excited gang of Lake Monsters, who placed third out of 11 teams at the Montana Short Course Junior B-C Championship Meet held March 3-4 in Missoula.
Previous
Next
|
March 23, 2023 12:00 AM
The Lake Monsters, a local swim club with around 40 members, had five swimmers finish in the top 25 at the 2023 Montana Swimming Short Course State Championships, held last month at the Hardin Community Activity Center. They also also finished third in the state out of 11 teams competing in the Montana Swimming Short Course Junior B-C Championship Meet, held March 3-4 in Missoula at the University of Montana.

Coaches William Lambson, Rick Reeves and Megan Pope called the team's scoring "an amazing accomplishment given how small the Polson community is and the number of swimmers."
For the state meet, the swim team traveled 460 miles from Polson to compete in Hardin's new pool. Here are the top finishers:
Haily Cottet (ages 8 & Under) took first in 50 Breaststroke, 100 Individual Medley, 25 Breaststroke and 25 Butterfly; and second in 25 Backstroke and 25 Freestyle.
Annie Kleinmeyer (8 & Under) claimed first in 25 Backstroke; second in 50 Freestyle, 50 Breaststroke and 25 Breaststroke; and third in 100 Individual Medley.
Briggs Delaney (10 & Under) posted fifth in 50 Butterfly; sixth in 50 Freestyle; seventh in 50 Backstroke, 100 Individual Medley and 100 Backstroke; and eighth in 100 freestyle.
Olivia Cottet (11-12) took third in 50 Butterfly; fourth in 50 Backstroke and 100 Butterfly; seventh in 200 Individual Medley; ninth in 100 Individual Medley; and 10th in 50 Breaststroke.
Grace Olson (13-14) came in at ninth in the 200 Individual Medley; 10th in the 200 Backstroke; 12th in 50 Backstroke; 15th in 100 Backstroke; and 16th in 50 Freestyle.
The coaches noted that four swimmers – Annie, Hailey, Olivia and Grace – will age up to new levels next year "which will bring new challenges and opportunities," and praised all the swimmers for their hard work and dedication.
At the meet in Missoula, top finishers include:
Ages 8 and under, Cora Dumouchel claimed six first-place medals; Avery Harriman took two firsts and two seconds.
Among 10 and under, Sara Dumouchel brought home two firsts and a second; Finnian Murphy placed first; and Leo Reilly posted two firsts.
For the 11-12 year olds, Boden Sloan brought home two first- and three second-place medals.
For the 13 and over age range, Gus Hertz claimed two firsts; Dixie Montgomery brought home three first- and four second-place wins; Gavin Moore took a first; and Amelia Stene left the meet with three firsts and a second.
The Lake Monsters swim at Mission Valley Aquatics and Fitness Center in Polson. For more information, visit mvaquaticsfitness.com/swim-team.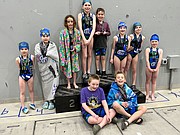 Recent Headlines
---