Three Polson grads make the UM cheerleading team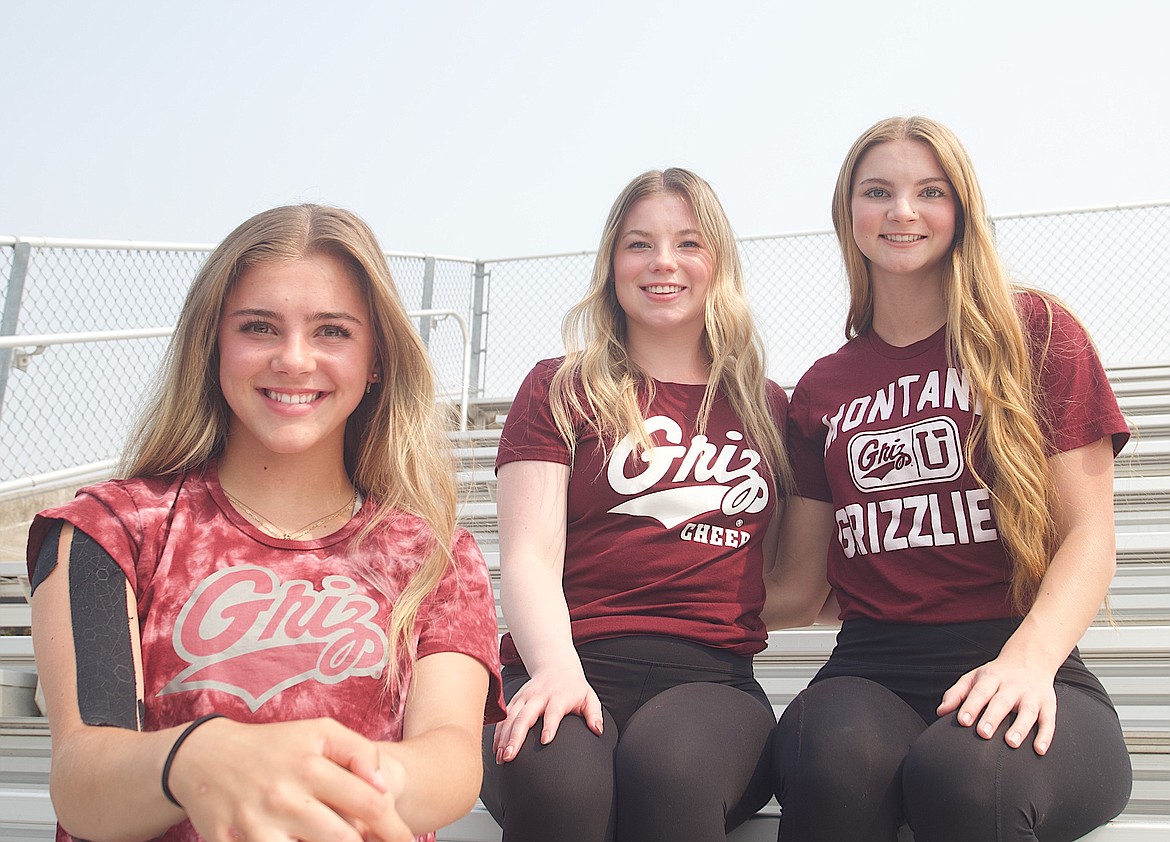 Polson seniors Lucy Violett, left, and Kendall Straub, right, are ready to join Polson grad Taylor Collinge, center, on the 14-member Griz Cheer Squad this fall. (Kristi Niemeyer/leader)
by
KRISTI NIEMEYER
Editor
|
May 25, 2023 12:00 AM
"I'm in a little bit of a pickle," admits Polson High senior Lucy Violett, who recently won a spot on the UM Griz Cheer Squad.
All of her family members are MSU Bobcat fans. "Everyone supports me but my parents kind of like to joke around about it," she says.

Senior Kendall Straub faces a similar predicament. "My whole family either has been or is currently at MSU. I'm the one who is breaking with the program and going to UM," she says. "My parents are fully on board and are so excited to see me cheer."
Violett and Straub, along with second-year Griz cheerleader Taylor Collinge, also from Polson, were among 15 young women selected for the squad during rigorous tryouts, held April 15-16 on the University of Montana campus.
Collinge led the way. The former Polson High cheerleader tried out for the UM Spirit Squad her freshman year and has been selected each season since. It's a big commitment, she says.
Beginning Aug. 1, the girls will practice up to four hours a day, five days a week in preparation for the first football and volleyball games of the season. Once the season starts, they'll practice three times a week and work out three times a week at the UM Champion Center.
"You have to be a very hard worker, very persistent and be a very outgoing person," says Collinge. Experience with cheerleading, dance or gymnastics is also essential.
Violett and Straub grew up participating in the local gymnastics program, with Straub even travelling to Kalispell to compete. She now coaches kids at Head Over Heels in Polson and has been on the Pirate cheer squad throughout her high school career.
Violett was a member of the cheer squad as a freshman and joined the Pirate dance team her senior year. She also plays tennis and volleyball.
Collinge joined the Pirate cheerleaders her senior year. She placed fourth at State in tennis and was a member of the 2021 state championship team. Like the other two, she has a background in gymnastics.
Clearly, agility and athleticism pay off. The girls are no slouches academically either. Collinge aims to become a radiology tech, Straub will major in biology and pre-med, and Violett plans to major in business and finance.
To prepare for tryouts, the two newbies headed to Missoula on Sundays for stunt classes and on Fridays for open gym at Mismo Gymnastics to hone their tumbling skills and learn dance moves.
Tryouts begin with a clinic, where participants rehearse the routines they'll perform before a panel of judges the following day.
During the competition, aspiring cheerleaders are scored on their dancing, gymnastic skills, stunts and crowd engagement. They're also interviewed by coaches "to see what you bring to the team," says Collinge.
The coaches and judges then deliberate and post the winners at the Adams Center. Of the nearly 40 girls who tried out, only 14 were selected.
Both Straub and Violett say they were nervous heading into tryouts.
"I had worked on my tumbling and stunting skills since November and tryouts were in April – so I worked really long and really wanted it," says Straub. "So I was really nervous – I just really wanted to make the team."
Violett says she started preparing in February and was apprehensive at the onset. But they practiced so much the day before, she entered the tryouts feeling well-prepared.
Among the more complex moves they'll have to master between now and the fall sports season are forming pyramids, partner stunting, where two people throw a third team member in the air and catch them, and baskets, where four people toss a fifth person in the air, who then performs flips or toe touches before landing. The airborne team members are referred to as "flyers," and a willingness to participate in these aerial stunts is a requirement for making the team, says Collinge.
"The first couple of times, it's scary because they throw you really high. But once you get the hang of it, it's really fun," she adds.
During the summer, the team will practice outdoors on the grass, and indoors on mats. "We always make sure we're confident in the skills we're doing before we go perform them," Collinge says.
Monte, the Grizzlies' famed mascot, will practice with the team this summer.
Violett and Straub agree that the most thrilling moment of their new pursuit will be running on to the field for the first home football game at Washington-Grizzly Stadium, which seats more than 25,000 fans.
Collinge offers a preview: first, the squad walks down the same tunnel the football players use, and warms up in the empty stadium. Next, they perform some cheers during the tailgate parties, before running through a different tunnel for the fight song and the state song, followed by the football team.
"It just erupts," she reports. "My first game, the coach told us to just take a moment and take it all in because it's a 360-degree stadium and you're hearing all the noise – it's insane and it's a lot of fun!"
Violett says she's ready "to get to it and get started. I think it's going to be incredible and it's not going to be like anything I've ever done before and I'll remember it forever," she predicts.
Straub went to Griz games last year, in part to watch the cheer team "because I knew I wanted to be them."
Now, she says, "I can't imagine what it's going to be like and I can't wait to find out."
Recent Headlines
---